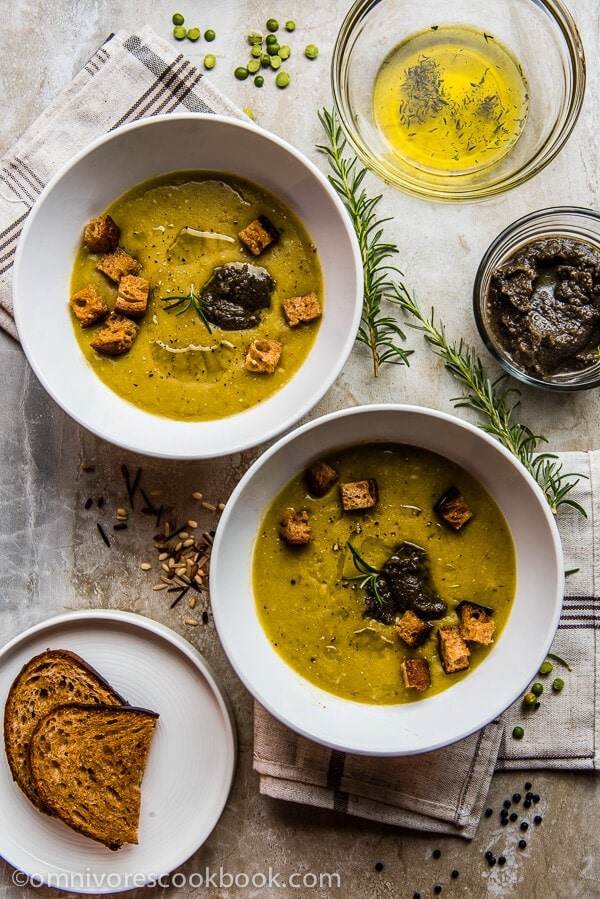 An easy split pea soup recipe that requires minimal effort and delivers wonderful flavor. The soup is so creamy, nutty, and comforting, with a seasoning that will pique your appetite.
I have been spending a lot of time cooking lately. The reason? It has been raining 80% percent of the time in Austin. Seriously. The week I arrived, it rained almost seven days in a row. It was raining so heavily last week that we were constantly receiving flood alerts. There were even a few tornado alerts. Our Memorial Day grilling plans were disturbed, as well.
What can you do on a rainy day?
My answer is, eat something comforting and watch some TV shows. But, before crawling onto the sofa and being lazy, first things first. I had to get dinner figured out.
The fridge was quite empty. Luckily, I still had a bag of split peas I got from Whole Foods. I saw these cute little things last week. They looked so refreshing and the color was so vibrant. Although I'd never cooked with split peas before, I couldn't resist buying a big bag of them, along with some black "beluga" lentils (they look really cool!).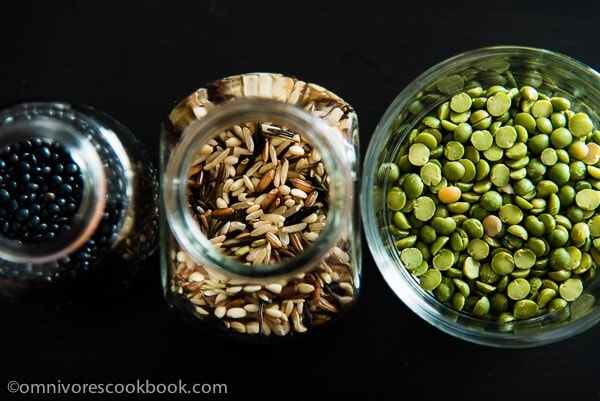 The recipe below was adapted from the Turkish red lentil soup with paprika and mint sizzle recipe from The Slow Mediterranean Kitchen. Instead of using red lentils, I used with split peas. I also included a few twists to make the recipe even easier.
The split pea soup turned out so comforting and creamy, with a seasoning that really piqued my appetite. The chicken broth based soup was drizzled with a thyme- and rosemary-infused olive oil, and served with butter-fried croutons.
A split pea soup might sound frugal. But on a rainy day, while I was standing in the kitchen stirring a dutch oven full of soup, the house smelled heavenly. The best part was that I did it with a nearly empty pantry.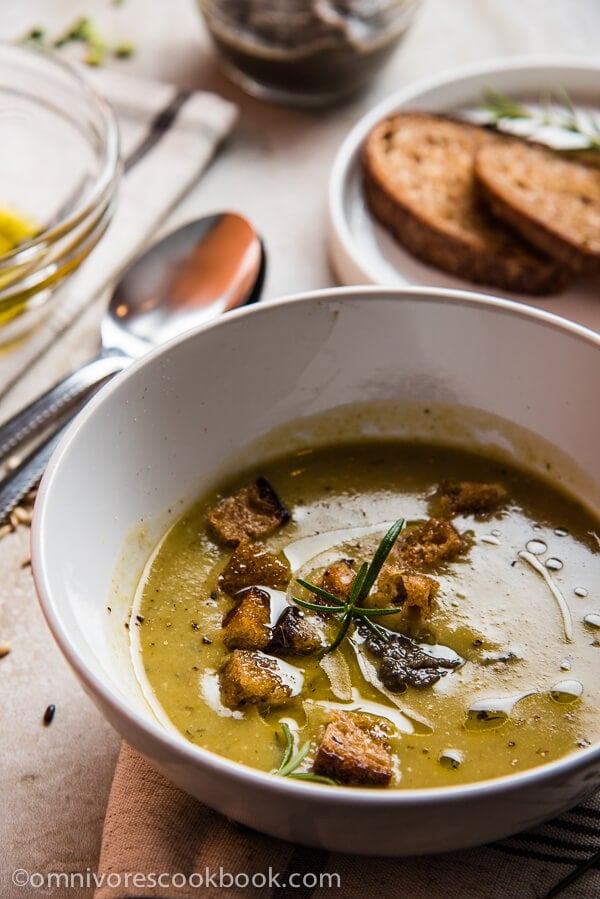 Cooking Notes
I used mixed whole grains (contains wild rice, brown rice, brown lentils, red rice, black rice etc.) in this recipe. If you don't have it, you could use any combination of brown rice or white rice.
You might notice this recipe skips a lot of ingredients called for in other recipes. This is because I used a clever short cut – oyster sauce. It adds a great savory flavor to the soup in no time. If you have oyster sauce in your pantry, try adding a bit at the end of cooking, to any soup you happen to be making. It works like magic!
I used a very stale nine-grain bread to create the croutons and they were the best croutons I'd ever tasted. They add such a great nuttiness to the soup. Try to use whole grain bread to cook the croutons, and do not skimp on the butter!
P.S. I created a lentil sauce that seasoned with coriander, cumin, and chili powder while I was developing the recipe. That is the black lump you can see in some of the photos. But I decided to not include the sauce in the end. It added extra depth of flavor to the dish, but was a bit too time-consuming to include in the final cut.
I love soup so much and enjoy cooking it any time of the year. How about you?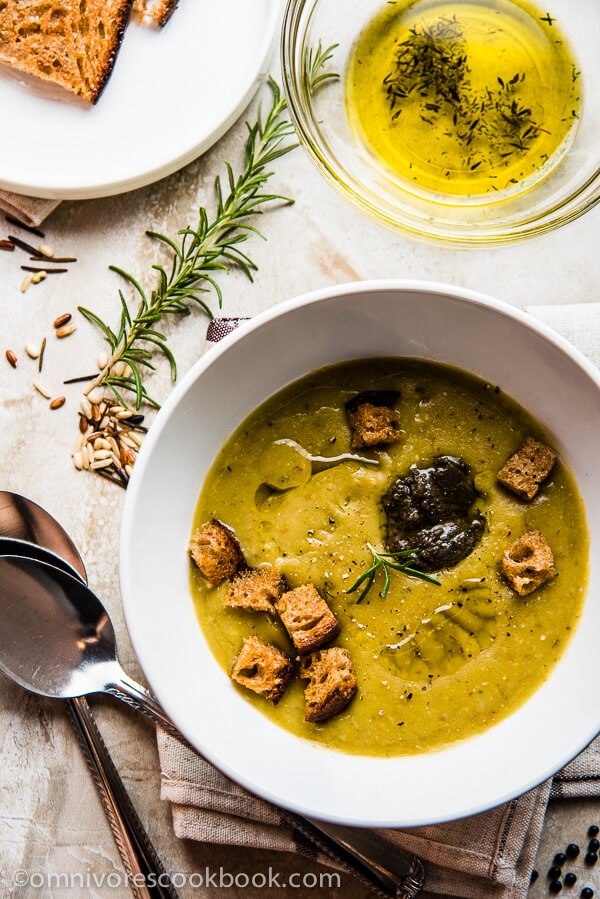 Want to Know More?
Receive our 5-Day Chinese Cooking Crash Course & Recipe Updates! Subscribe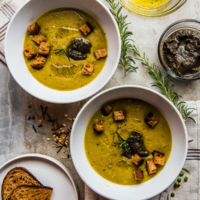 Easy Split Pea Soup
With a bit more bread, you can serve the soup as a main dish without problem at all.
Ingredients
1

cup

split peas

dried

2

tablespoons

mixed grains

or white rice / brown rice

3

tablespoons

butter

1/2

teaspoon

garlic

grated

1/3

cup

onion

finely chopped

1

teaspoon

sea salt or to taste

2

cups

chicken stock

2

tablespoons

olive oil

1

teaspoon

fresh rosemary

chopped (or 1/2 teaspoon dried rosemary)

1/2

teaspoon

thyme

dried

1

cup

stale bread

cubed

2

teaspoons

oyster sauce
Instructions
Rinse split peas and mixed grains a few times. Set aside.

Heat 2 tablespoons butter in a 3-quart (2.8 liter) dutch oven over medium heat until melted. Add garlic and onion. Stir and cook until the onion turns transparent and golden, about 5 minutes.

Add split peas, mixed grains, chicken stock, and 4 cups water. Mix well.

Bring to a boil over high heat. Carefully skim the foam from the surface and discard it, until the broth is clear. Cover and cook over medium low heat until the peas turn tender, about 50 minutes, stirring occasionally.

While cooking the soup, heat the remaining tablespoon of butter in a skillet until melted. Add bread cubes. Stir and cook until the bread is crispy and evenly browned. Transfer to a small bowl.

Heat olive oil in a skillet until warm. Add rosemary and thyme. Gently cook them until just sizzling. Transfer to a small bowl.

When the peas become tender, blend the soup with an immersion blender until it develops a consistent and creamy texture.

Continue boiling the soup at medium heat, uncovered, until it reaches the desired thickness, 10 to 15 minutes. Add oyster sauce and mix well.

Transfer soup to individual serving bowls, top with crouton and swirl with aromatic oil.

Serve warm.
The nutrition facts are calculated based on 1 of the 4 servings generated by this recipe.