A small twist on the classic Szechuan eggplant results in a plate of crispy eggplant with an appetizing and pungent sour-spicy sauce.
Szechuan eggplant, also called fish fragrant eggplant (鱼香茄子, yu xiang qie zi), is a great dish that has not yet gotten a lot of attention from food lovers outside China. I talked about this delicious eggplant dish in an older post, which teaches you how to grill the eggplant in a pan on the stove to generate quite crispy results without deep frying. I really like that recipe because it recreates the authentic flavor with an easier approach.
However, a few readers did mention to me that the eggplant was not as crispy as ones they had in restaurants. So today, I'm introducing another method for this dish, so you can enjoy truly crispy eggplant with this scrumptious sauce.
Creating super crispy eggplant at home is not easy, even if you deep fry. Eggplant is a tricky vegetable. If you're not careful, it will end up absorbing a lot of oil and become soggy and greasy. My recipe teaches you the right way to fry eggplant at home. By following this recipe, you should be able to create crispy eggplant without it soaking up tons of oil.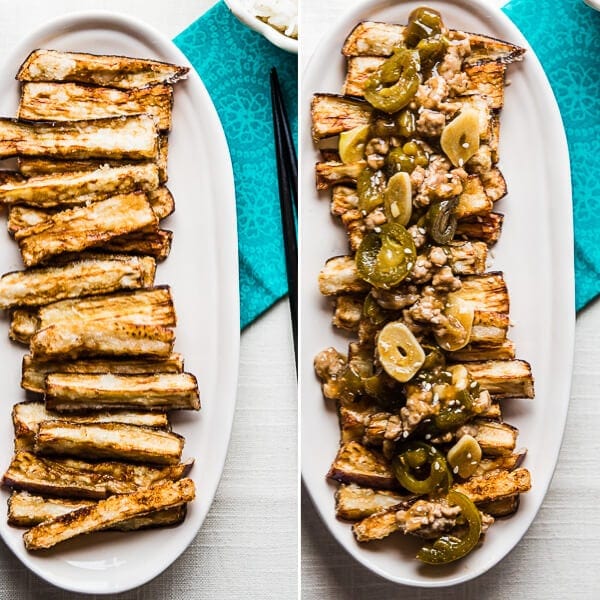 The method for cooking authentic Chinese eggplant at home is very different from how it's done in a restaurant kitchen.
Ideally, you would be able to fry all the eggplant within seconds in a huge wok with a powerful gas stove. The crispy eggplant is then cooked with the sauce briefly (less than 10 seconds), again, in a large wok with a powerful stove. In the finished dish, the eggplant should stay crispy with the sauce evenly mixed. Unfortunately, we are not able to cook like this in our home kitchens, especially not with an electric heating element.
That is why you need to take the time to prep the eggplant, so it will be cooked faster without absorbing too much oil. You'll also need to fry the eggplant in small batches, so it will be browned evenly and quickly without causing the oil temperature to drop too much. In the end, you will need to pour the sauce onto the eggplant, instead of cooking the sauce and eggplant together. This way, the eggplant stays crispy when served.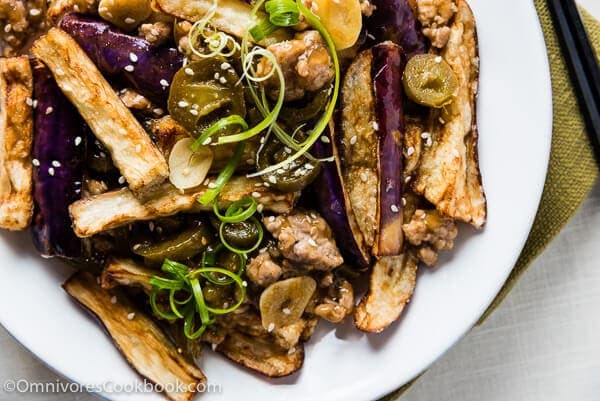 Cooking a nice plate of eggplant requires patience and effort. This is not a dish I'd want to cook if I was in a rush and needed to put dinner on the table as fast as possible. On the other hand, it delivers a great meal with superior texture and flavor. Start steaming some rice right before prepping for this dish, and you will have a lovely one-dish meal for two ready in 45 minutes.
By the way, the recipe below emphasizes how to cook perfect crispy eggplant. The sauce tastes very close to that used on authentic Szechuan eggplant, but it uses jalapenos instead of pao jiao (泡椒), a Szechuan pickled pepper (I was too lazy to run to the Asian market). If you have pao jiao at home, use them instead to create an even more authentic flavor.
Besides the meat sauce in this recipe, you can also serve the crispy eggplant with any other sauce you prefer (for example, sweet and sour sauce, garlic sauce, or black bean sauce).
Hope you enjoy!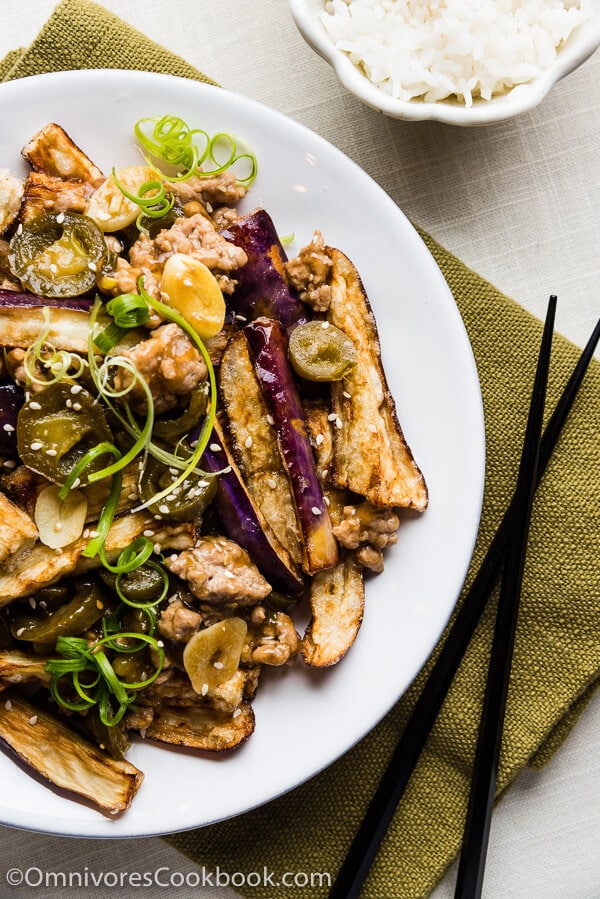 Do you like my recipes? Sign up for Omnivore's Cookbook's weekly newsletter to get the latest updates delivered to your inbox and a free e-cookbook! And stay connected via Facebook, Instagram, Pinterest and Google+. Thanks for reading and happy cooking!
Want to Know More?
Receive our 5-Day Chinese Cooking Crash Course & Recipe Updates! Subscribe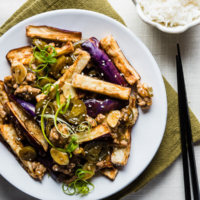 Crispy Eggplant with Szechuan Meat Sauce (鱼香茄子)
A small twist on the classic Szechuan eggplant results in a plate of crispy eggplant with an appetizing and pungent sour-spicy sauce.
Ingredients
2

long eggplants

about 600 grams / 1.2 pounds total (*see footnote 1)
Sauce
1

and 1/2 tablespoon

light soy sauce

1

tablespoon

black vinegar

1

tablespoon

Shaoxing wine

2

tablespoon

sugar

1/4

teaspoon

salt

2

teaspoons

potato starch
Cook
Vegetable oil for deep frying

1/3

cup

potato starch

(or more to coat the eggplant)

2

green onion

, chopped

4

cloves

garlic

, minced

1

teaspoon

ginger

, grated

1/2

cup

jalapeno

, pickled (or Sichuan pickled pepper, chopped)
Instructions
Cut eggplant into long strips, about 1/2 inch (1 cm) thick and 3 inches (8 cm) long. Line a big tray with paper towels and spread eggplant on top without overlapping. Sprinkle salt onto eggplant and let sit for 15 to 20 minutes. (*footnote 2)

Combine pork, light soy sauce, and Shaoxing wine in a small bowl. Mix well and let marinate for 15 minutes.

Combine light soy sauce, black vinegar, Shaoxing wine, sugar, salt, and 1/4 cup water in a bowl (do not add potato starch). Mix well. In another small bowl, add 2 teaspoons potato starch and 2 tablespoons water to make a slurry.

Heat enough oil for frying in a deep pan over high heat until it reaches 350 degrees F (180 C).

While heating the oil, use paper towels to pat the eggplant dry. (*footnote 3)

Transfer the eggplant to a large bowl. Add 1/3 cup potato starch. Toss eggplant to coat evenly with potato starch.

Place a large strainer on top of a big bowl. Line another big plate with paper towels.

Fry eggplant in small batches without overcrowding the pan (I fried them in 5 batches by using a flat bottom wok). Keep the oil temperature at 320 degrees F (160 C) during the frying process. (* see footnote 4) Fry the eggplant until the surface turns golden brown. Flip once to get both sides fried evenly. It should take about 2 minutes to fry each batch, and the eggplant shouldn't shrink too much after frying. If it takes much longer than 2 minutes to fry a batch, it means your oil temperature is not high enough.

Transfer the cooked eggplant to the strainer and continue to fry the next batch. When the next batch is done, transfer the eggplant from the strainer to the plate with paper towel. Place the newly fried eggplant onto the strainer. Continue this until all the eggplant is cooked. (*see footnote 5)

Transfer 2 tablespoons frying oil to a large skillet and heat over medium high heat. Add green onion, garlic, and ginger. Stir a few times until fragrant.

Add jalapeno. Stir and cook for a minute. Move all the ingredients to one side of the skillet.

Add pork to the other side of the skillet. Stir and cook until the surface turns white.

Mix the pork with the rest ingredients. Cook until the pork is almost cooked through.

Mix the sauce again and add it into the skillet. Cook until the sauce begins to boil. Let cook for 1 minutes to thicken. Turn off heat. Stir the potato slurry again. Slowly add it to the skillet to thicken the sauce. If you don't want the sauce to be too thick, you might not need to add all the slurry.

Transfer eggplant to a serving plate. Right before serving, pour the meat sauce onto the eggplant.

Serve immediately with steamed rice.
Notes
Asian long eggplant is firmer and produces crispier results. You can use other types instead, but they might not taste as crispy as the long eggplant.
This process will remove moisture from the eggplant, for crispier results.
You'll remove some salt when patting dry the eggplant, so the finished dish won't end up very salty.
I was using highest heat throughout the process, on my electric stove. If you're using a more powerful gas stove, you might need to use slightly lower heat.
After frying, the oil shouldn't reduce too much. If it does, it means your oil temperature was not high enough.
Nutrition
Serving:
275
g
,
Calories:
324
kcal
,
Carbohydrates:
29.8
g
,
Protein:
15.4
g
,
Fat:
16.4
g
,
Saturated Fat:
2.4
g
,
Trans Fat:
0.1
g
,
Cholesterol:
37
mg
,
Sodium:
878
mg
,
Potassium:
612
mg
,
Fiber:
5.8
g
,
Sugar:
12.2
g
,
Vitamin A:
150
IU
,
Vitamin C:
8.3
mg
,
Calcium:
30
mg
,
Iron:
1.4
mg