These fun and delicious Chinese hot dog buns use an easy milk bread dough for an extra light and fluffy texture, making them a great snack that children and grownups alike will love anytime!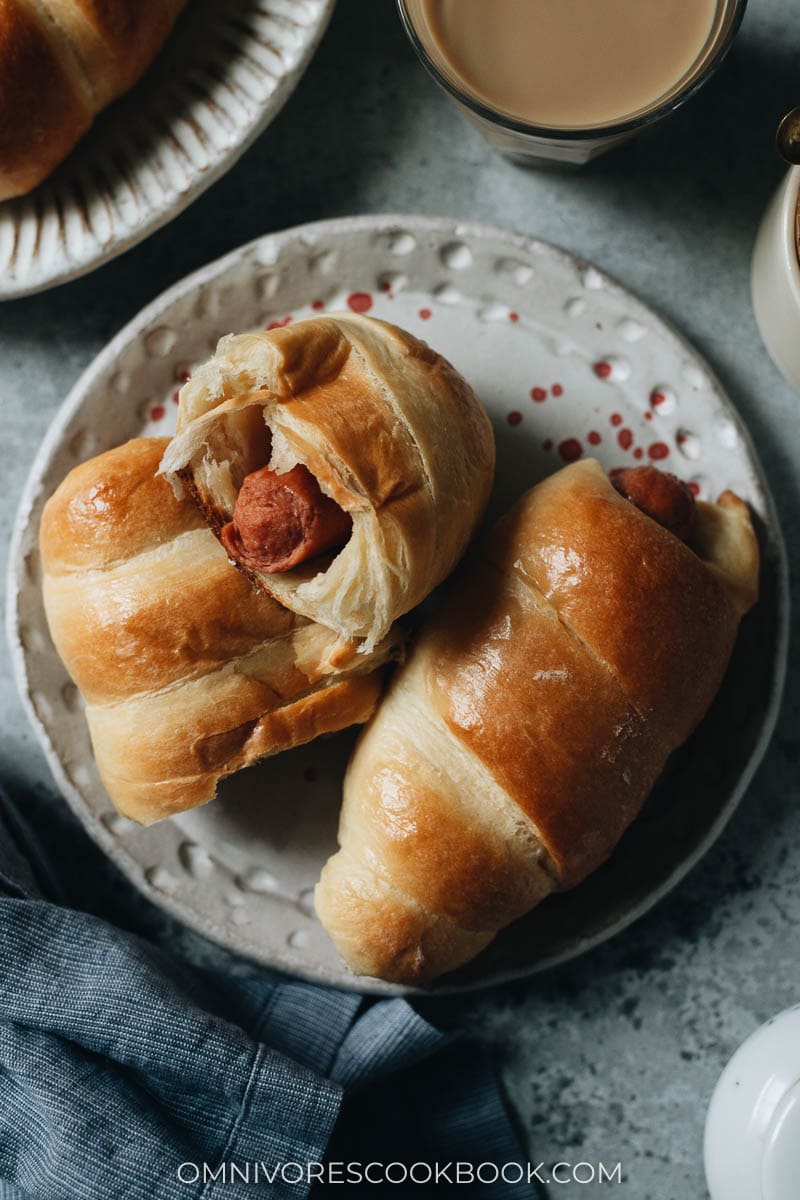 Chinese hot dog buns are one of my favorite snacks to get at the Chinese bakery. But now, I don't live near a Chinese bakery. That means I can't get these Chinese hot dog buns nearly as often as I'd like. To remedy this problem, I decided to find out how I could make this tasty snack at home.
Chinese hot dog buns are just what they sound like – buns baked with hotdogs inside of them. But not only is it like a larger version of pigs in a blanket, done Chinese style, the dough itself is extra fluffy, tender, and moist. For this recipe, I used a super easy milk bread dough that you can put together in no time if you use a stand mixer. You can make the dough by hand too, though it is much harder since the dough is wet. A stand mixer will definitely save you some time and energy.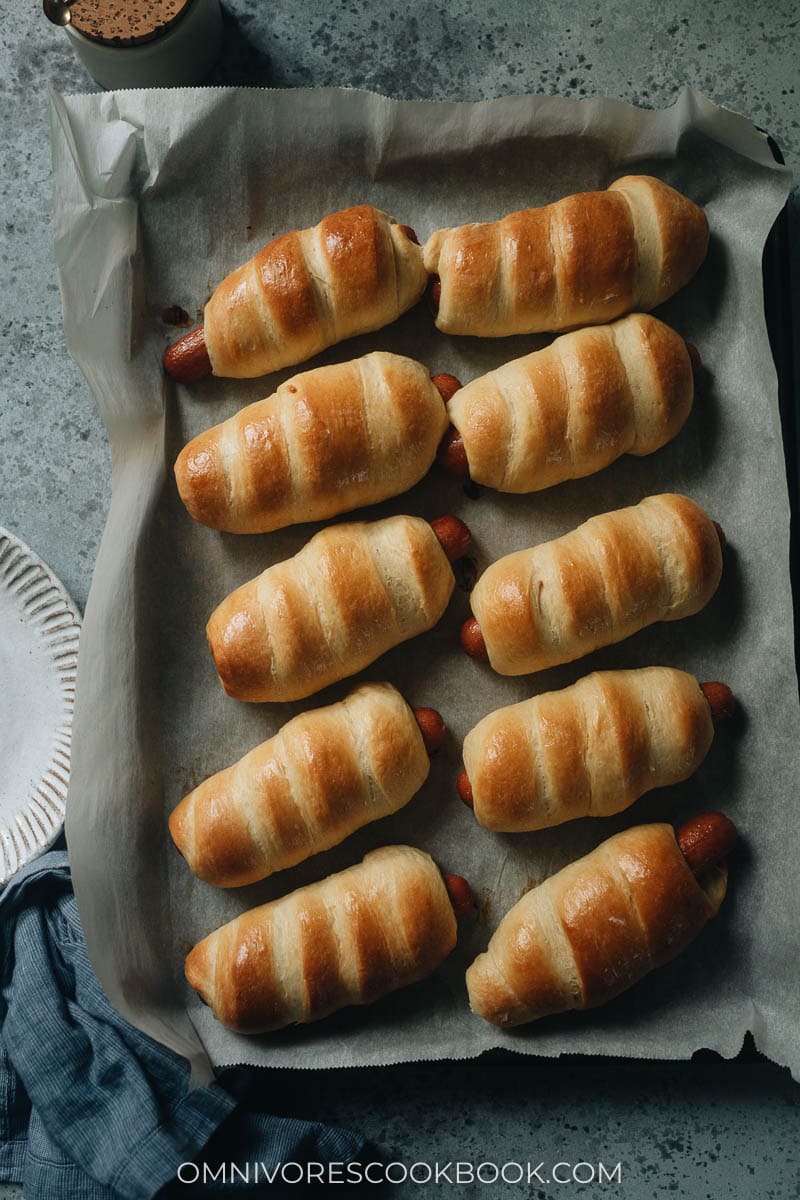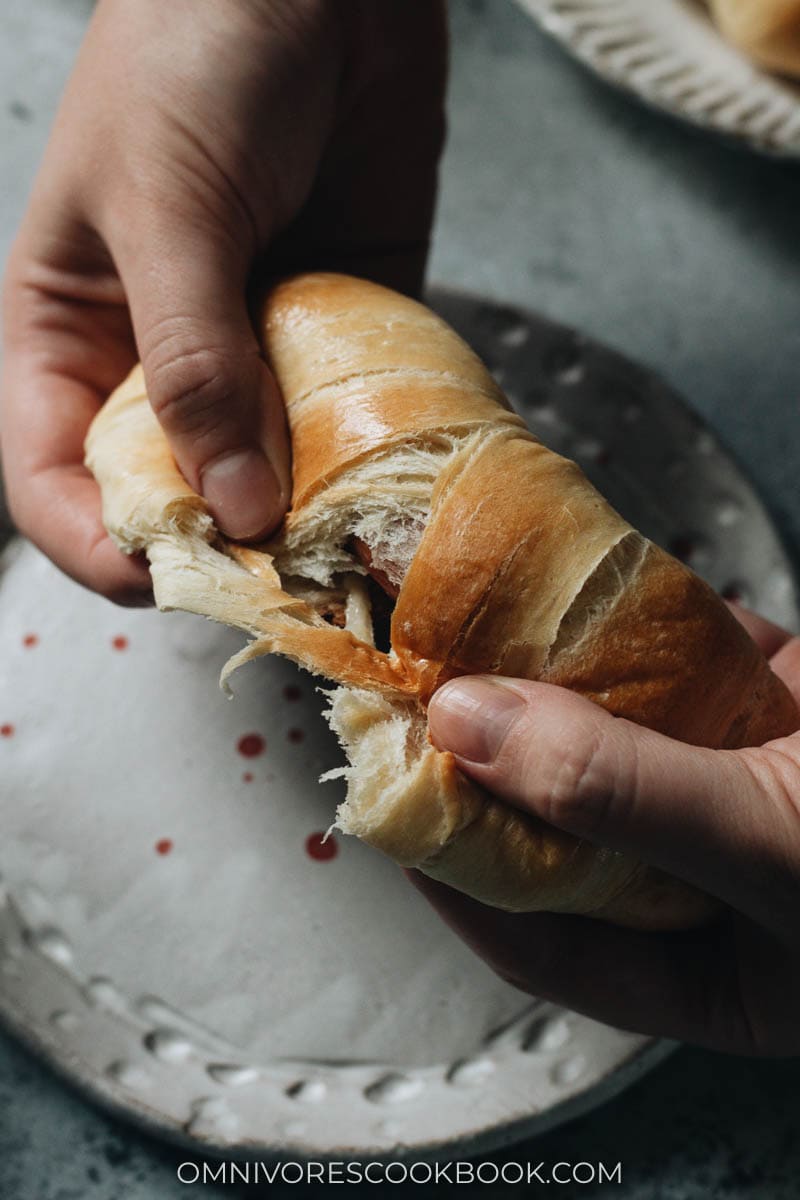 Cooking process
To prepare the dough
Combine the wet and dry ingredients in a mixing bowl and stir well
Knead for 10 minutes, then add the butter
Knead for another 5 to 10 minutes
Stretch out the dough – it should form a thin, semi-transparent sheet without tearing
Cover the dough and let it rest
The dough is ready to use once the size has doubled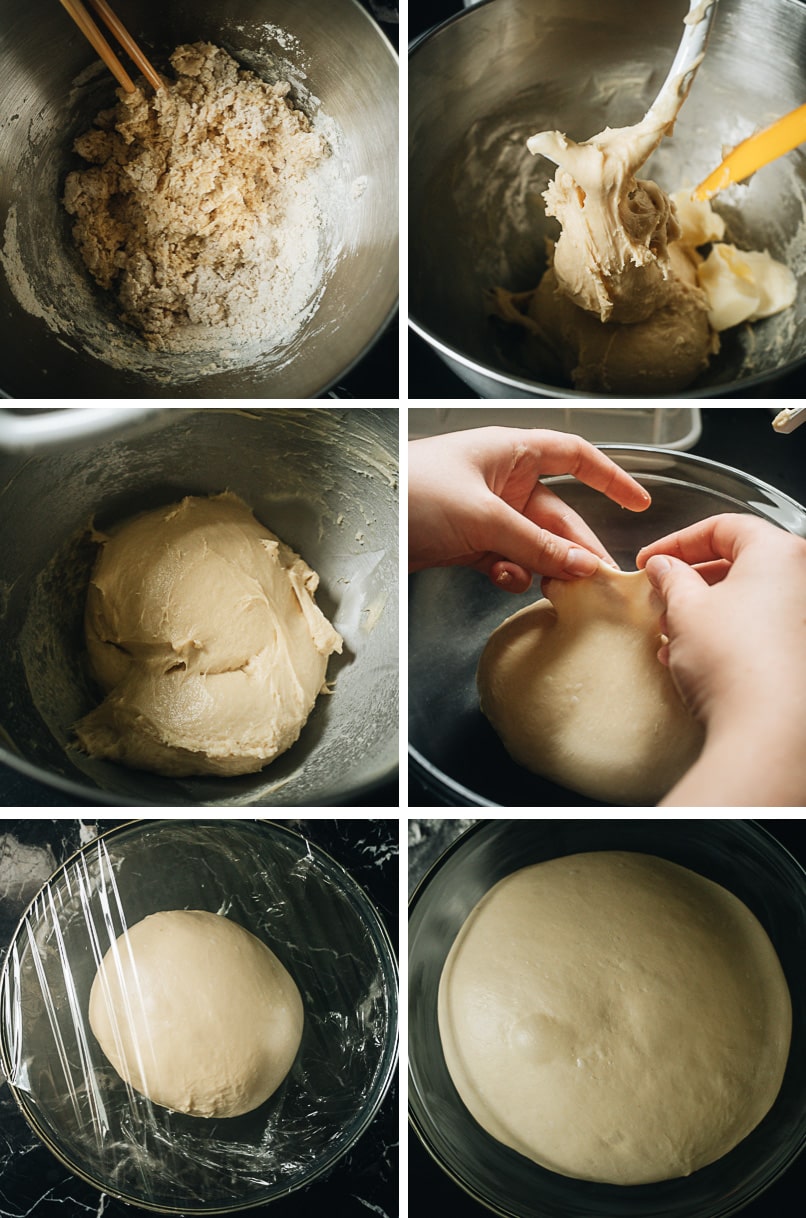 To assemble the hot dog buns
Press the dough into a large sheet
Cut the dough sheet into strips
Wrap the hot dogs with the dough strip one by one
Let the assembled buns rest again for about 30 minutes
Brush with the milk wash
Bake and enjoy!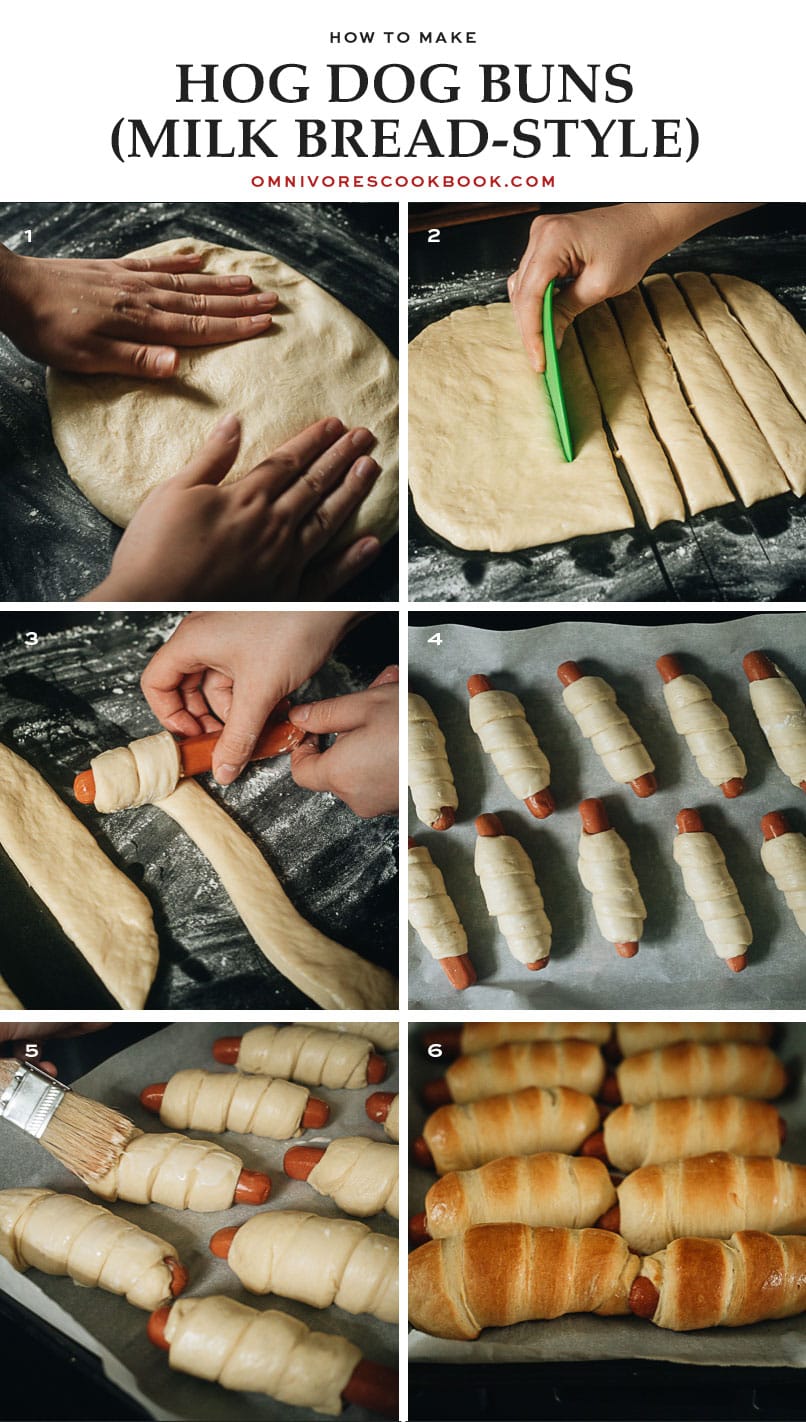 And the results? You get buns that are super light and fluffy. They're slightly sweet, which is such a divine contrast with the salty hot dogs contained within.
If you like, you can try using ketchup and / or mayonnaise with them too, however I recommend trying them as-is to enjoy that sweet and savory contrast. It's the perfect pairing!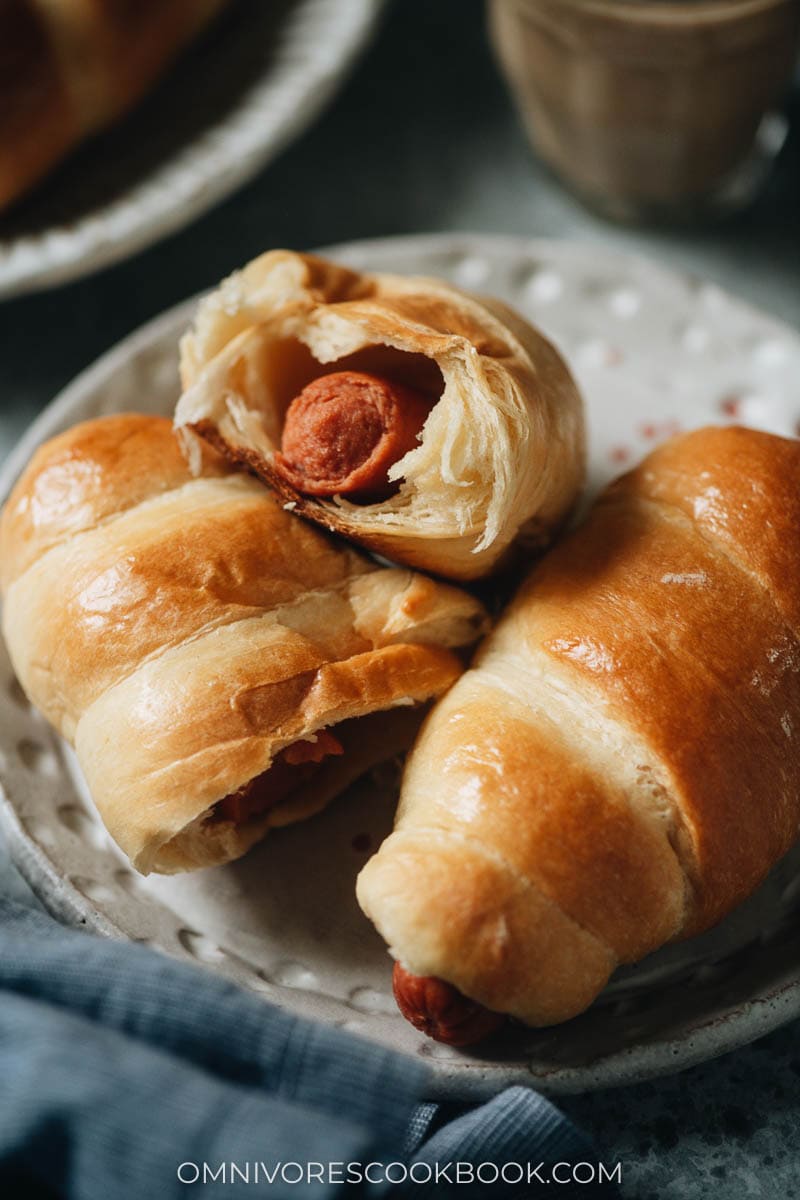 Storage and reheating
You can also make a bunch of them and store them in a Ziplock bag in your freezer. They'll keep for a month to two months in there and you can easily reheat them in the oven to enjoy anytime. It's perfect for snacks, a quick lunch, or for something to serve friends when they stop by.
This is a fun weekend project to do with kids or even grandkids. They love to help and the reward is so great at the end – a fun and tasty snack you'll all enjoy eating just as much as you enjoy making.
Want to Know More?
Receive our 5-Day Chinese Cooking Crash Course & Recipe Updates! Subscribe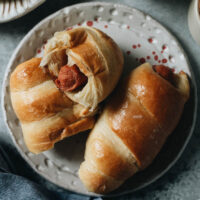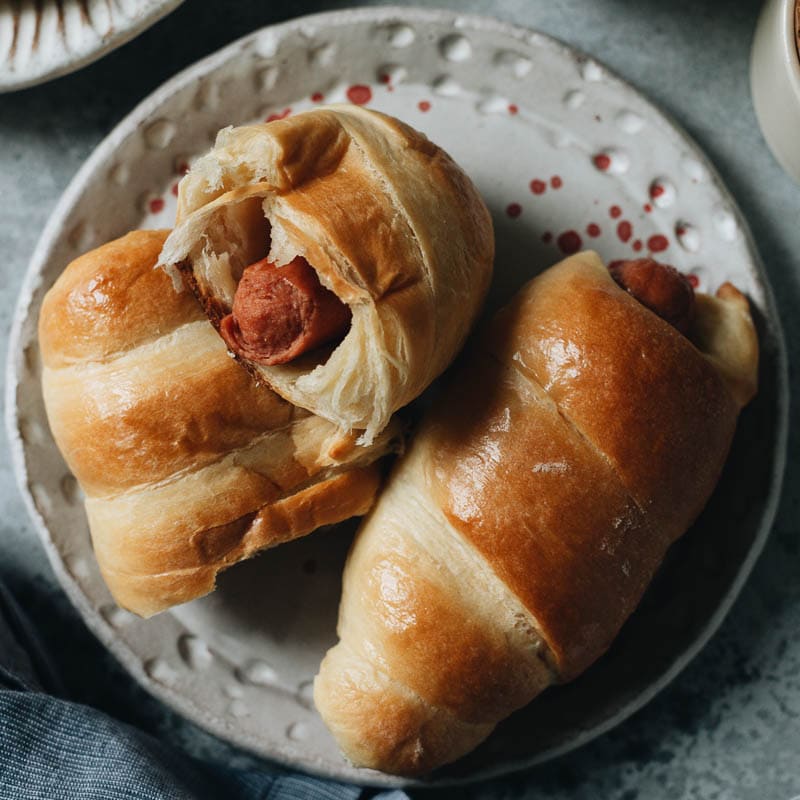 Chinese Hot Dog Buns
These fun and delicious Chinese hot dog buns use an easy milk bread dough for an extra light and fluffy texture, making them a great snack that children and grownups alike will love anytime!
Servings:
10
hot dog buns
Ingredients
Dough
300

g (2 cups + 2 tablespoons)

bread flour

(*Footnote 1)

6

g (2 teaspoons)

instant yeast

30

g (2 tablespoons)

sugar

6

g (1 teaspoon)

salt

200

ml (3/4 cup + 1 tablespoon)

evaporated milk

(or regular whole milk)

1

egg

56

g (4 tablespoons)

butter

, softened
Buns
10

hot dogs

1

tablespoon

evaporated milk

(or regular whole milk)
Instructions
Prepare the dough
Combine the flour, instant yeast, sugar, salt, milk, and egg in the bowl of a stand mixer (*Footnote 2). Mix together with a pair of chopsticks or spatula, until the liquid is fully absorbed and a shaggy dough forms. Attach the dough hook and turn the mixer on, gradually increase to setting 4. Knead for 10 minutes, occasionally scraping down the sides of the bowl.

Add the softened butter. Knead at speed 4 for another 5 to 10 minutes. After 5 minutes, pinch a small section of the dough using both of your hands, it should form a thin, semi-transparent film without tearing. Knead a bit longer if needed.

Prepare a large bowl and spray with a thin layer of oil.

Once the dough has finished kneading, grease your hands with some oil, lift the dough from the mixing bowl and tuck it a few times to make a round ball, then place into the large oiled bowl. Cover the bowl with plastic wrap and let rest until the size doubles. It can take anywhere from 45 to 90 minutes depending on the room temperature.
Assemble the hot dog buns
Line a baking sheet with parchment paper. Dust your work surface with flour. Once the dough is fully risen, transfer it onto the work surface. Flatten it out into a 8"x 10" (20 cm x 25 cm) rectangle. Along the 10" (25 cm) side, divide the dough into 10 equal strips.

Work on the hot dogs one at a time. Take a strip of dough and pinch it onto one side of a hot dog, then wrap the dough around the hot dog like a spiral until it reaches the other end of the dog. Place the wrapped hot dog on the lined baking tray, seam side down. Repeat with the remaining hot dogs.

Cover the buns and let rise until 1.5 times in size, about 30 minutes. While the dough is rising, preheat the oven to 350°F (176°C).

Once the buns have risen, gently brush them with the evaporated milk.
Cook the store the buns
Bake at 350°F (176°C) for 15 to 20 minutes, until the buns are golden brown. Let the buns cool slightly before serving. You can serve the buns hot or at room temperature.

For leftover buns, transfer them to a large ziplock bag once they have cooled completely. Store in the fridge for 2 to 3 days, or in the freezer for 1 to 2 months.

To reheat, you can warm the refrigerated buns in the microwave or in the oven. For frozen buns, you can either thaw them then heat them in the oven, or heat them in the oven directly at 300°F (148°C). If heating frozen buns, the bun will heat up faster than the hot dog part. One thing you can do is take the buns out once the bread part is heated, remove the hot dog from the bun (it can be done easily), and pop it back in the oven for a few more minutes. Assemble it again once both parts are heated through.
Notes
I highly recommend using the gram measurement for this recipe.
A stand mixer is highly recommended since the dough is very wet. It's possible to make it by hand if you're experienced, and you will need a dough scraper to knead the dough.
Nutrition
Serving:
1
serving
,
Calories:
317
kcal
,
Carbohydrates:
29.1
g
,
Protein:
10.2
g
,
Fat:
17.3
g
,
Saturated Fat:
7.7
g
,
Cholesterol:
59
mg
,
Sodium:
694
mg
,
Potassium:
116
mg
,
Fiber:
0.9
g
,
Sugar:
6.1
g
,
Calcium:
64
mg
,
Iron:
2
mg
More delicious Chinese baking recipes
Lilja Walter was a part of the Omnivore's Cookbook team and worked closely with Maggie to develop and test this recipe.