The century egg (皮蛋, pí dàn) is also known as millenium egg, pine flower egg or 'skin egg'. It is a preserved duck egg whose translucent, copper-colored jelly 'white' surrounds a dark grey-green yolk. To the uninitiated, this can be a seriously unpleasant sight. Don't let it put you off though! The yolk is super creamy and pungent with a hint of ammonia, like a strong blue cheese. That's why century egg is usually used as a savory 'garnish' atop many favorite Chinese dishes.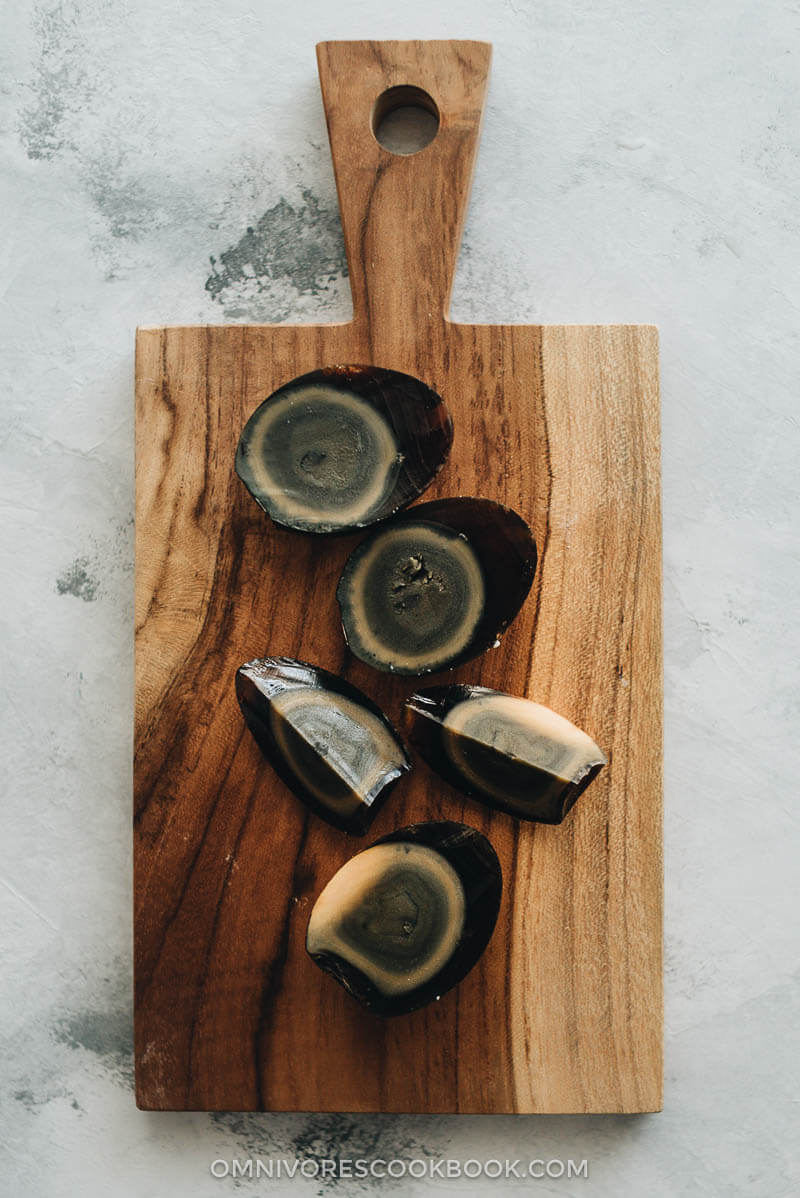 Understand
Century eggs are one of the many things that you might find lurking in the basement 'pantry' of a typical Chinese household, alongside the jars of fermented tofu, garlic and pickled greens. Misleadingly, the crazy ova has not been there for centuries, nor even decades. Sometimes it can be preserved in just a few weeks.
The duck egg, which is already saltier than a chicken's, acquires even more umami during its short preservation in clay. Back in the Ming dynasty about 600 years ago in Hunan province, folklore tells that a young man found duck eggs soaking in slaked lime while he was building his house. When, incomprehensibly, he tasted them, he found them to be delectable with a little salt, and the rest is history.
Some Chinese families today still make their own century eggs in vats of similar clay, with the addition of strong black tea, wood ash, calcium oxide (quicklime) and salt. Each egg is immersed in the mixture or bundled in the resulting paste before being rolled in rice chaff and stored in jars for weeks or months. This raises the eggs' pH and does something magical to the inside, making it almost unrecognizable when peeled.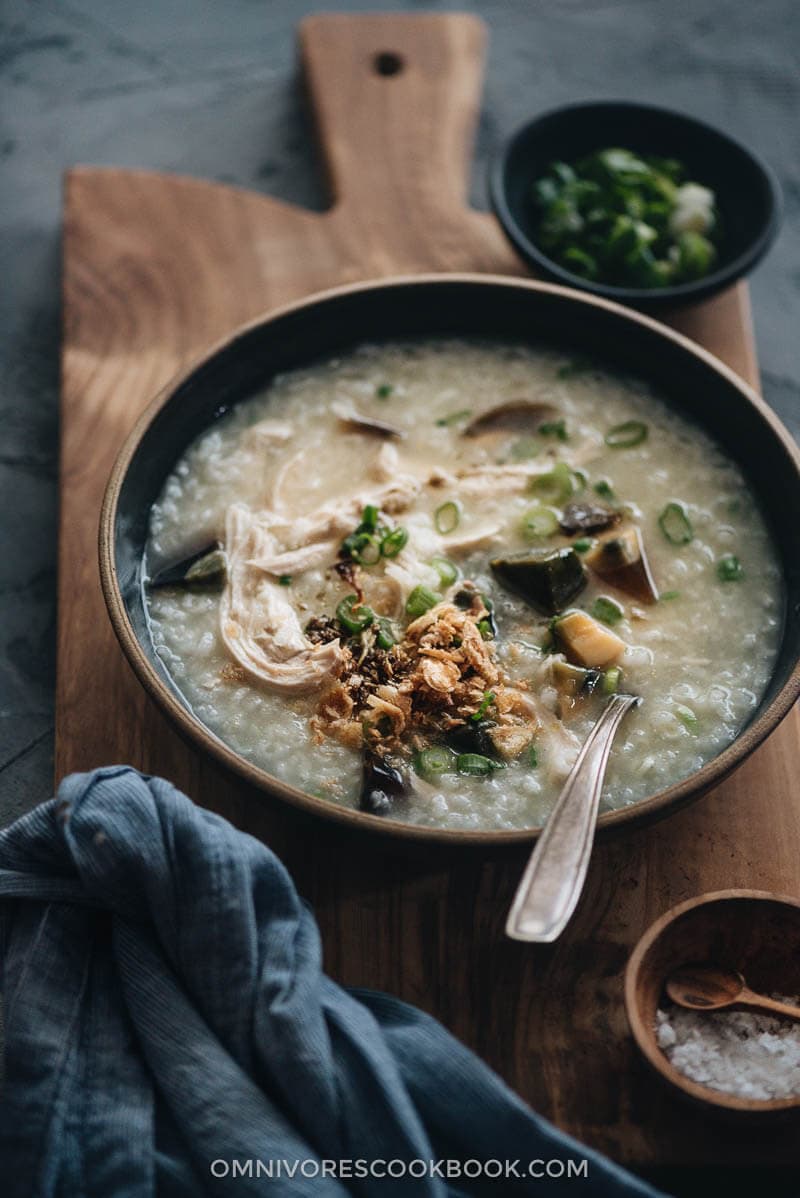 Use
Century eggs are normally chopped or sliced into segments lengthwise and used as a topper on typically 'bland' foods like rice congee or tofu. This makes both elements more palatable and interesting. You don't need to cook century eggs, just break them open. Try them in the following:
Century Egg Congee with Chicken – Congee with silky, creamy century egg is an absolutely classic Chinese breakfast. This recipe with chicken requires minimal prep and includes two cooking methods
Tofu with Century Egg Salad – A childhood favorite and a popular dinner food, the tofu with century egg salad requires just five ingredients and takes five minutes to make.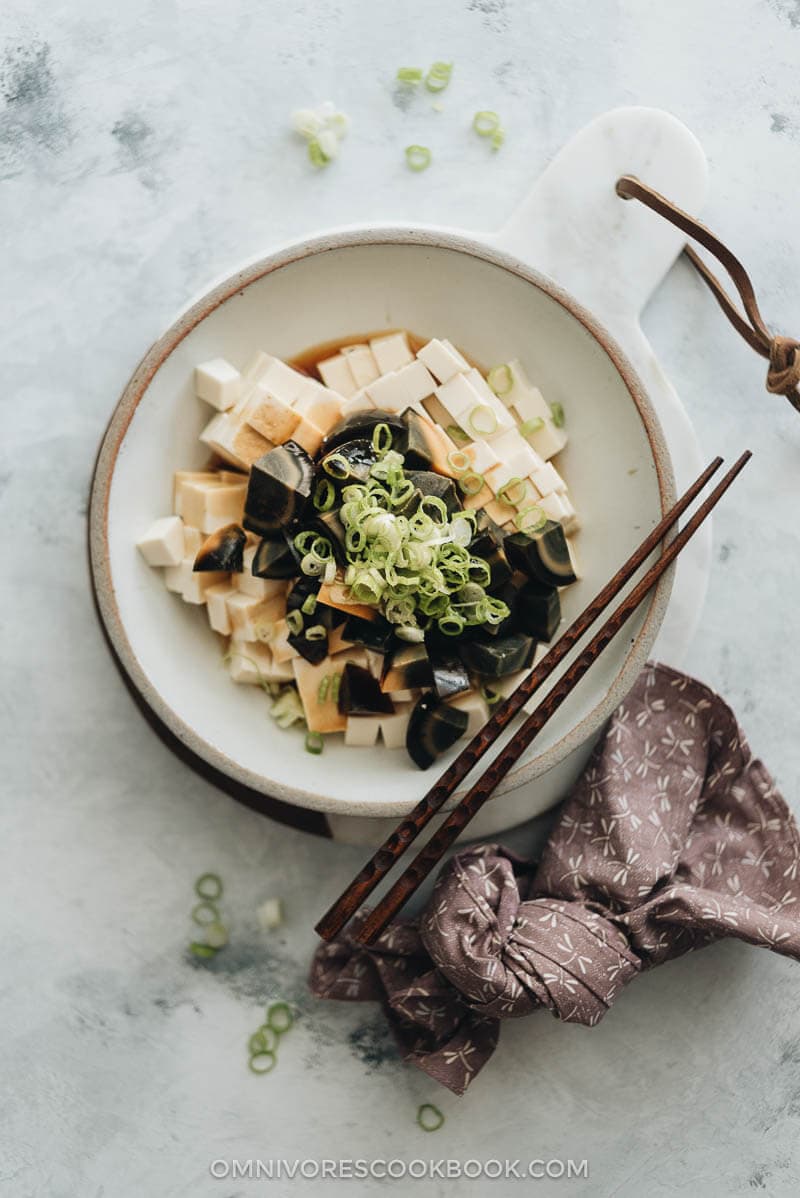 Buy
In China, supermarkets sell century eggs still in their furry rice chaff jackets, looking like mini hay bales or dug-up dino eggs. In the US you may be able to find them like this if you are lucky, in the refrigerated section. But they more usually come in a box with each egg in a vacuum-sealed plastic bag. Don't confuse them with salted duck eggs, which have a greyish-blue shell. Amazingly, I am shocked to find you can even buy them on Amazon!
When you buy century eggs, you might come across the type shown in my pictures here. These eggs have a creamy solid dark green yolk. There's another type of century eggs that have runny yolks that are between yellow and dark green. Personally, I love the runny yolks more, so when I find a brand that has the runny yolks, I usually stick with it.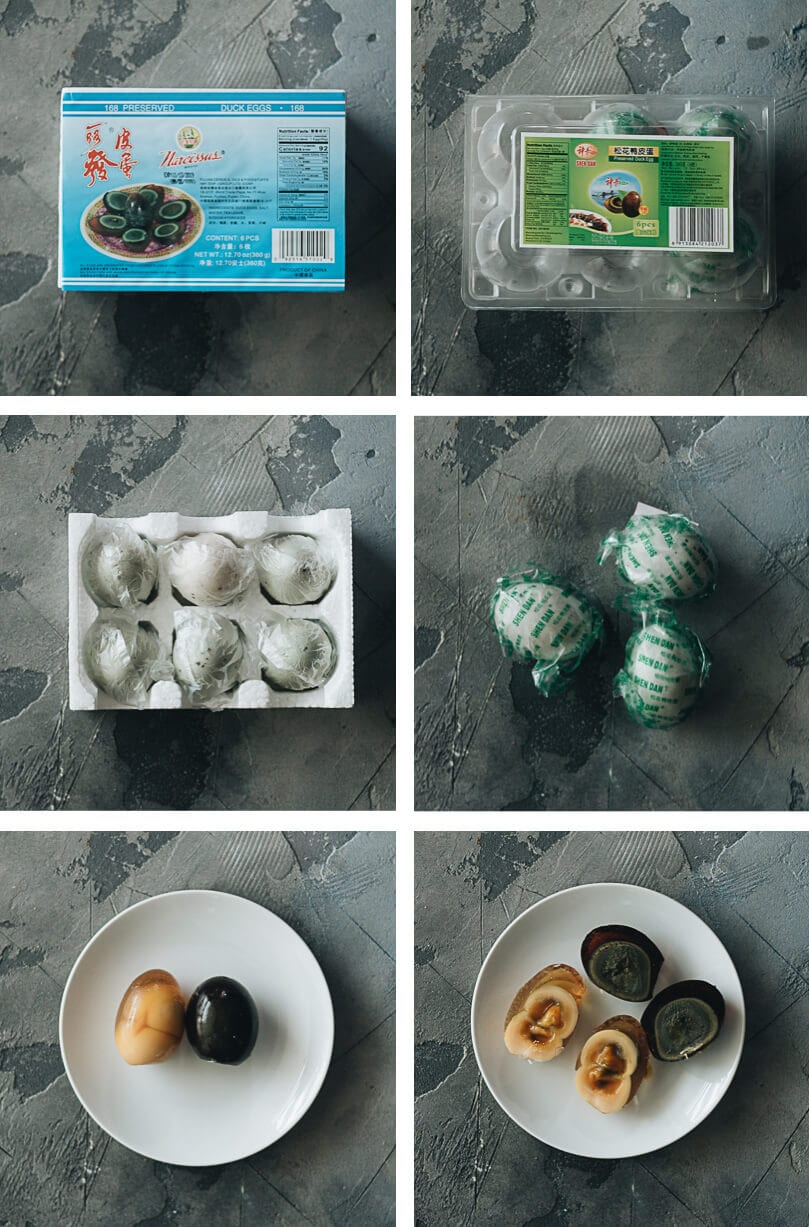 Store
As a preserved food, century eggs have an extremely long shelf-life when unopened. Therefore it is not necessary to store them in the fridge, but you can if you want to keep them fresh. However, I wouldn't recommend storing them for long once they are out of their shells. Don't open more eggs than you will need, but if need be, store peeled ones in the fridge for 2-3 days max.