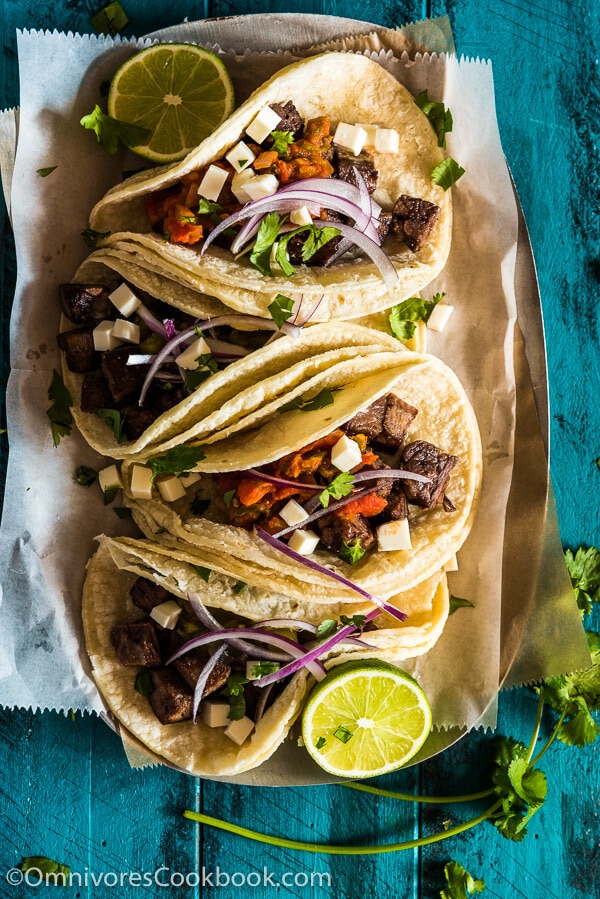 Beef tongue belongs in the category of foods that you wonder, why on earth someone would want to eat it, and once you taste it, you hate yourself for not having tried it sooner.
In this post, I introduced:
After 30 years of living in China, there's no piece of offal that seems strange to me. However, I don't usually cook with offal (except pork feet). My mom was not at all enthusiastic about me cooking with offal. As a result, I didn't have the chance to cook much of it, as compared to many Chinese households.
After moving to the US, the chance to cook offal seemed even rarer, since people do not have the habit of eating strange parts of an animal. To my surprise, I found beef tongue at H-E-B and didn't have to travel 40 minutes to the Asian market. (HEB is the Texas equivalent of a Safeway, Kroger, or Albertsons).
Raw beef tongue is not even a common product in China. You can get a cooked one at the market. But raw tongue is considered a luxury ingredient and you are more likely to find it on the menu of a Korean or Japanese BBQ restaurant.
Later on, I learned that Mexican cuisine also uses beef tongue extensively, where it's called lengua. There is even a famous taco dish called tacos de lengua. Although I'd never tried these tacos before, I couldn't wait to try cooking them at home, after my friend and reader Tom shared his favorite tacos de lengua recipe with me (adapted from the slow cooker lengua from Allrecipes).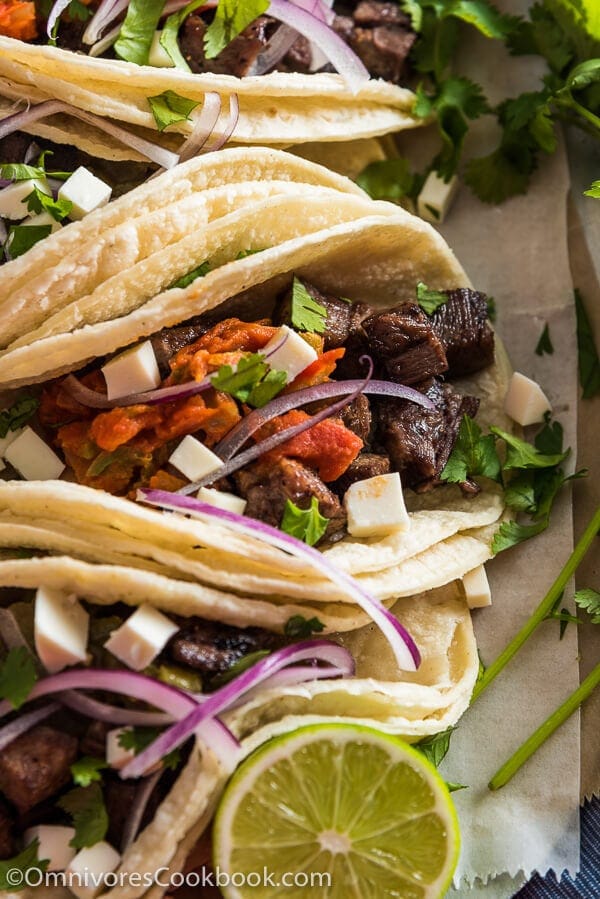 To my total surprise, cooking beef tongue is the easiest thing in the world. Even easier than cooking with regular beef. You simply need to add a few herbs and slow cook it for a few hours. That's it. Whenever you want to serve it, simply slice it into smaller pieces, sprinkle some salt on it, and brown it in a hot pan. What you get is a piece of meat that has a rich beefy flavor, a crispy crust, and a buttery texture.
Beef tongue is definitely something I'll add to my daily recipe list. Because:
It's cheap. I got a 3-pound beef tongue for $15, which is good for 2 to 3 very tasty meals for two of us.
It's so easy to prepare. You only need 5 minutes to prep it. That's all.
It stays good in the fridge for a week, so you can use the leftovers to cook other cool things.
It's even tastier than beef (try it once and you'll believe me). The science behind this – beef tongue has a very good ratio of protein to fat (Its fat content per ounce is double the amount found in beef brisket and one third that in foie gras). You will render some extra fat after boiling it, and even more after searing. In the end, you can get a very crispy crust and melt-in-your-mouth texture.
The most basic way to serve beef tongue is to slice it really thin, sprinkle sea salt on it, and sear until crispy. It'll be a wonderful snack or appetizer that goes well with beer.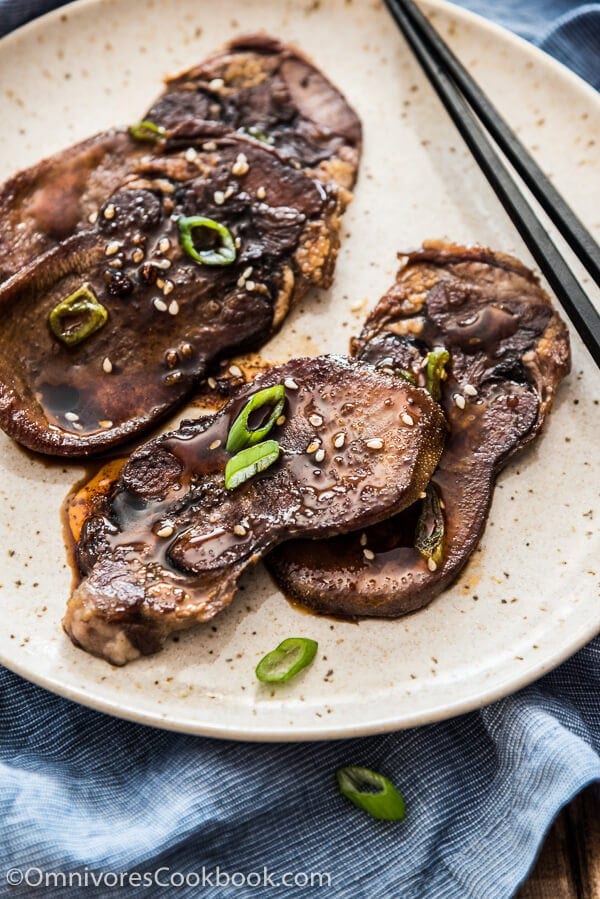 How to Cook Beef Tongue
To learn more delicious beef tongue recipes, click the buttons below.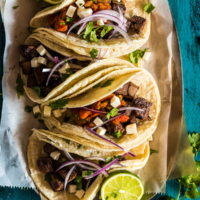 How to Cook Beef Tongue
Beef tongue belongs in the category of foods that you wonder, why on earth someone would want to eat it, and once you taste it, you hate yourself for not having tried it sooner.
Ingredients
1

beef tongue

1/2

big onion

, sliced (White or Yellow)

5

to 8 cloves

of garlic

1-2

bay leaves

Sea salt to taste
Instructions
Put beef tongue, onion, garlic and bay leaves in a slow cooker and add enough water to cover tongue. Cook overnight on low. You can also gently boil it on the stovetop for 2 hours to 3 hours, until the beef tongue turns very tender.

When tongue is cool enough to handle, peel off and discard rough tongue skin.

Cut tongue in 1/2-inch slices across grain then into 1/2-inch cubes. It can also be shredded or sliced, depend on the dish you cook. If you won't serve the tongue soon, store in an airtight container or ziplock bag in the fridge up to 5 days.

When ready to serve, heat oil in a large nonstick or cast iron skillet set over medium-high heat until shimmering. Add tongue pieces and cook, stirring occasionally, until tongue is well browned on all sides, 2 to 3 minutes total. Season to taste with salt and pepper.
Tacos de Lengua
After cooking the beef tongue, of course we made tacos with it. The tacos had very simple toppings – homemade salsa, red onion, queso casera, and cilantro. I suppressed my urge to dump cheese and sour cream on it. After one bite, I realized it really didn't need any more toppings. The beef tongue was so powerful a touch of homemade salsa and fresh cheese was just perfect 🙂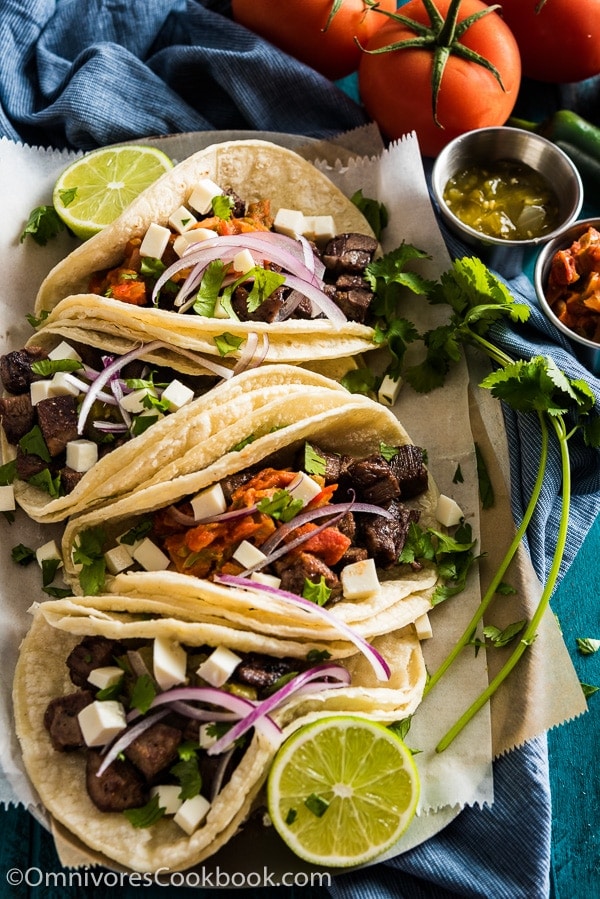 If you give this recipe a try, let us know! Leave a comment, rate it (once you've tried it), and take a picture and tag it #omnivorescookbook on Instagram! I'd love to see what you come up with. Cheers, friends!
Chinese Beef Tongue Salad
After making tacos, I started to spin off from the original recipe. I tried it the Chinese way, and served the beef tongue in a savory hot sauce, and it was SO GOOD.
Although we have some beef tongue dishes in China, I like my version much better.
The traditional Chinese way of serving beef tongue is to slow cook it with many herbs (such as cooking wine, soy sauce, ginger, cloves, cinnamon, Sichuan peppercorns, etc.). Let it marinate overnight. Then serve it cold with a garlicky, savory sauce.
However, I realized the texture of beef tongue gets much better if you sear it and serve it warm. Plus, you can add as much flavor as you want afterwards, in the sauce. This means you just need one simple recipe, the one listed on the first page, to slow cook the beef tongue, and you can then use it in many different cuisines.
So here it is – the Chinese beef tongue salad with chili oil and seasoned soy sauce, developed from a Mexican recipe 🙂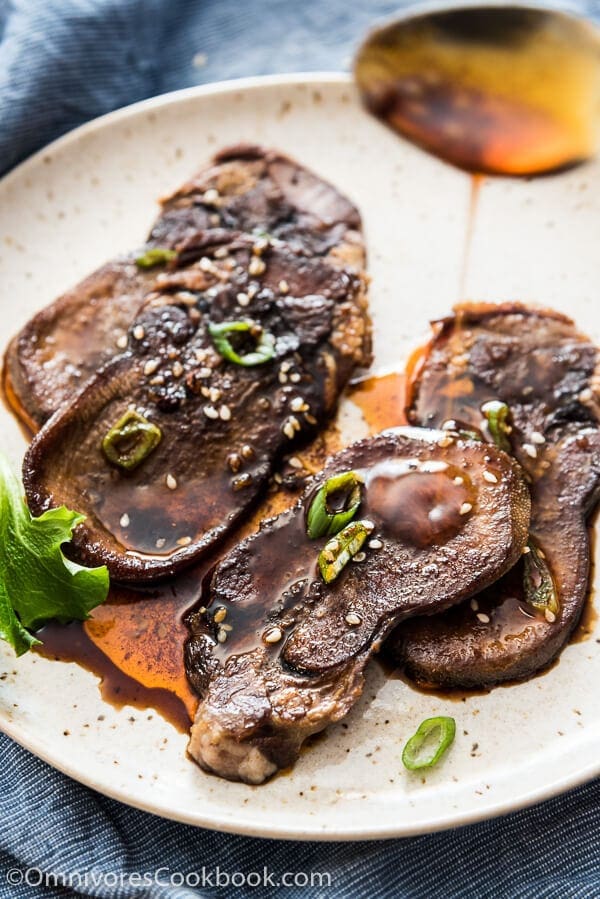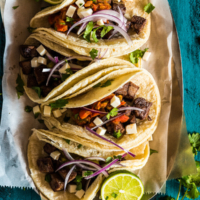 Chinese Beef Tongue Salad
Beef tongue belongs in the category of foods that you wonder, why on earth someone would want to eat it, and once you taste it, you hate yourself for not having tried it sooner.
Ingredients
1

cup

slow cooked beef tongue

, thinly sliced

1

teaspoon

vegetable oil

2

tablespoons

light soy sauce

1/2

tablespoon

Chinkiang vinegar

1/2

teaspoon

sugar

1/4

teaspoon

salt

1

teaspoon

Chinese chili oil

Chopped green onion to garnish
Instructions
Mix everything except the green onion until the solid ingredients are dissolved.

Heat oil in a nonstick skillet until hot. Cook the beef tongue until both sides are charred. Transfer to a plate.

Pour the mixed sauce over the beef tongue and garnish with green onion. Add more chili oil if necessary.

Serve warm over rice or on top of green salad.