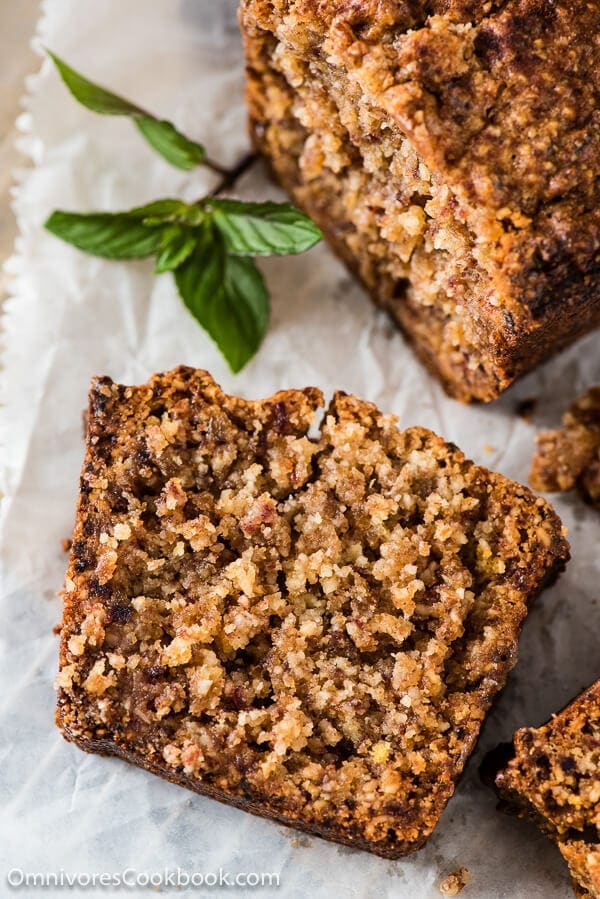 This almond cake (Djamilah) is perfect for a holiday gift. It requires very little prep time. It's refreshing and does not taste too sweet.  It is gluten free and requires no leavening agent, yet the cake turns out so moist and crumbly.
This is an Algerian family recipe (originally called Djamilah) that my dear friend Kara sent me a while ago. She got the recipe from her Algerian friend's mom. To quote from my friend Kara, this is a dense date cake made from almond flour. It's crumbly, semi-sweet, and pairs well with wine or tea. I tried the recipe and immediately fell in love with it.
This is one of the easiest cake recipes ever and it produces amazing results. If you look at the ingredient list, you'll be surprised at how simple it is. It's also super easy to prep, too. It does not require any chopping. You simply blend the almonds, sugar, and dry fruit (dates or plums) in a food processor until it becomes a sweet almond flour. Then you mix all the liquid ingredients together, and blend in the almond flour. In the end, you beat the egg white until foaming, and fold it into the batter to create a fluffy texture. That's it.
The amazing part is, the cake does not require yeast or baking powder at all. It does not even require a lot of butter and egg. The cake won't rise very high in the end, but it has an amazing texture that is moist and crumbly. The dates blend into the texture and flavor so well that you probably won't notice them at first bite.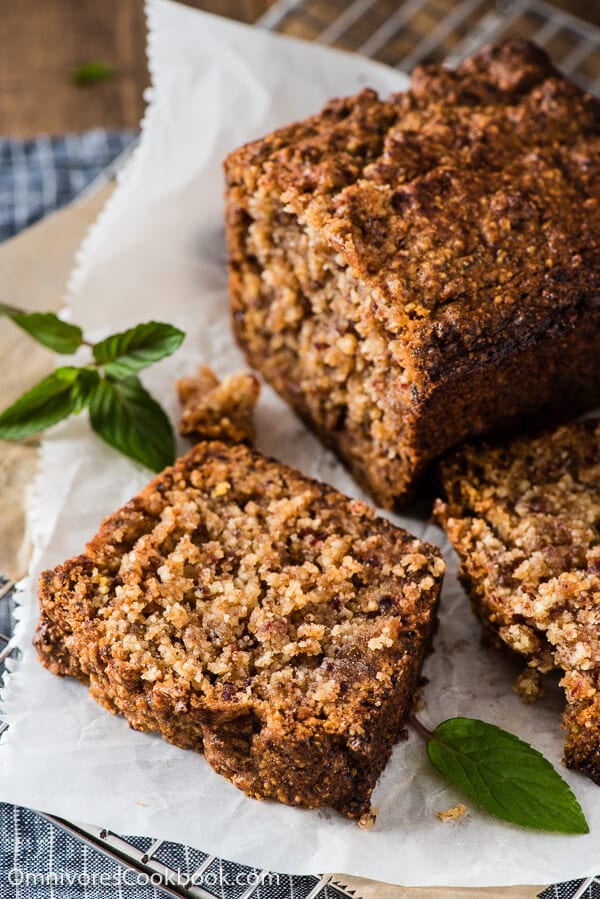 Kara suggested playing with other flavors in this recipe, too. So I tried replacing the dates with plums, and created a plum almond cake. Compared to the date cake, the plum cake is obviously heavier in texture and taste. I love both versions, but my husband prefers the date version. I included these two versions in the recipe below. Regardless of which one one you choose, the cake will turn out very delicious.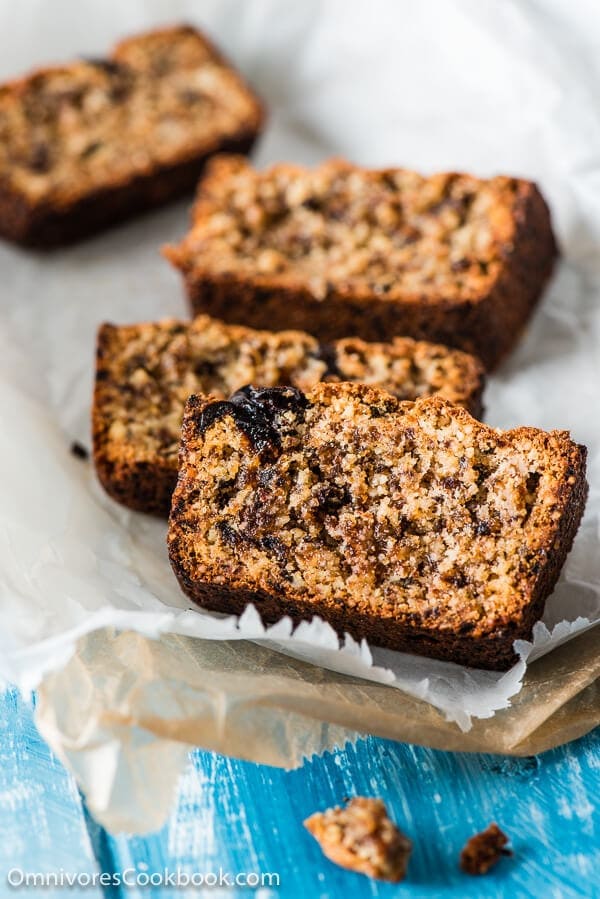 I've been making a few batches of this cake over the past few days. Today I'm going to make another three mini cakes as Thanksgiving gifts. The cake keeps its shape very well, can be kept at room temperature for a few days, and is so delicious. If you're looking for a simple holiday gift, definitely try this one out. If you're making these for gifts, I suggest you use this mini loaf pan set. The pans make mini cakes that are one third the size of a normal loaf pan. It's a perfect gift size.
This is a very versatile cake and you can play with with other ingredients. You can even skip the butter to make it a lighter cake that is just as fluffy and moist. If you made some experiments with this recipe, drop a comment below and show me your recipe. I'd love to see it 🙂
Do you like my recipes? Sign up for Omnivore's Cookbook's weekly newsletter to get the latest updates delivered to your inbox and a free e-cookbook! And stay connected via Facebook, Instagram, Pinterest and Google+. Thanks for reading and happy cooking!
Want to Know More?
Receive our 5-Day Chinese Cooking Crash Course & Recipe Updates! Subscribe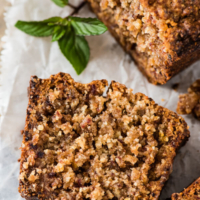 Gluten-Free Almond Cake with Dates
This almond cake (Djamilah) is perfect for a holiday gift. It requires very little prep time. It's refreshing and does not taste too sweet. It is gluten free and requires no leavening agent, yet the cake turns out so moist and crumbly.
Ingredients
2

cups

blanched almonds

1

cup

granulated sugar

1

cup

dried dates

(or 2/3 cup dried plums)

3

tablespoons

glutinous rice flour

(or tapioca starch) (*See Footnote 1)

4

eggs

, separated

4

tablespoons

butter

, melt (*See Footnote 2)

2

tablespoons

freshly squeezed orange juice

(or strongly brewed tea, cooled)

2

teaspoons

vanilla extract

cinnamon powder

(Optional)
Instructions
Preheat oven to 375 degrees F (190 C). Prepare three

mini loaf pans

(or a regular loaf pan, or a 9-inch squared baking pan) and spray a thin layer of oil into the pan. (*See Footnote 3)

Add almonds and 1/2 cup sugar into a blender. Pulse until fine.

Add dried dates (or dried plums). Blend until the dried fruit is grated into the flour. Add rice flour. Pulse a few times to mix well.

Combine egg yolks, vanilla, the remaining 1/2 cup sugar, butter, and orange juice (or brewed tea) in a big bowl. Stir to mix well.

Transfer the almond flour mixture into the bowl of egg yolk mixture. Stir a few times until the liquid is just mixed in.

Add egg whites to a separate bowl. Whisk with a hand mixer until the egg whites form stiff peaks. Transfer to the bowl with almond mixture. Fold with a spatula until the egg whites are just incorporated. Do not overdo it.

Pour batter into mini loaf pans, until the pans are eighty percent filled.

If you're making the date flavor, sprinkle cinnamon powder on top.

Bake until cooked through, about 35 minutes. If you use a normal loaf pan, you will need to extend baking time. If the surface of the cake already turns brown but the cake is not cooked through yet, cover the pan with aluminum foil to prevent from burning. Use a toothpick to poke the thickest part of the cake and it should come out clean.

Immediately transfer the cake onto a cooling rack and let cool completely.

You can wrap the cake loosely with baking sheet if serving on the day its cooked.

To serve the cake later, store in an air-tight container at room temperature up to 3 days, or in fridge up to a week.
Notes
Glutinous rice flour is gluten free. You can replace it with cornstarch or potato starch to make it a non-gluten-free cake too.
You can skip or reduce the amount of butter. There was one time I ran out of butter and cooked this cake without it. The cake turned out just as fluffy and moist. The crust was not as crispy, but I did like its light and crumbly texture.
If you cook half batch of this recipe, you can use two mini loaf pans to make shorter cakes. You should shorten the baking time, 25 to 30 minutes. If you use a big loaf pan, extend baking time, 50 to 60 minutes.