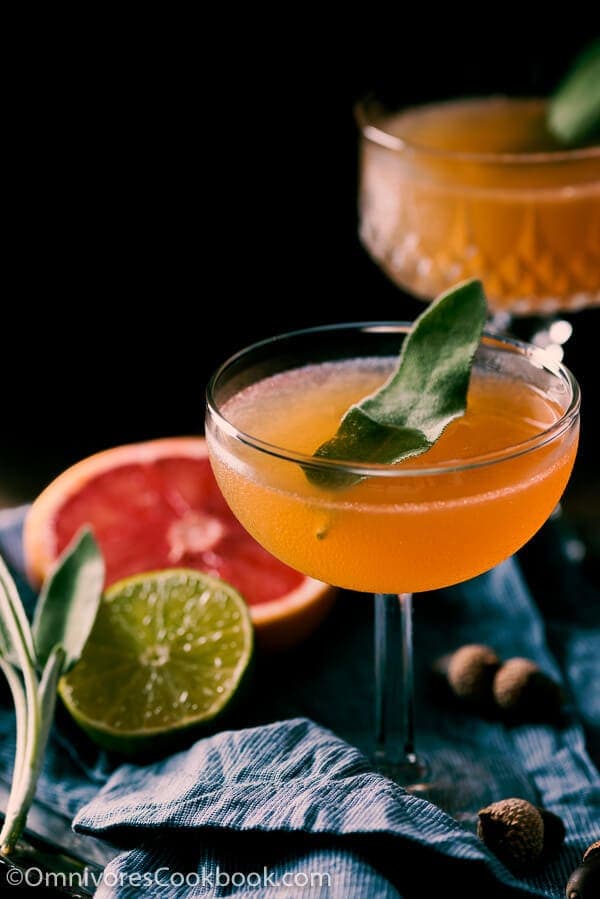 A refreshing and boozy winter drink that is perfect for daily enjoyment or a gathering.
If you've been following my blog for a while, you'll notice that I don't post many drink recipes. Part of the reason is that I'm a wine lover. We always keep a dozen bottles at home, usually a mix of red, white, and sparkling, and we drink it almost on a daily basis. The other reason is that I'm really lazy when it comes to making drinks. When I need something refreshing, I'll just grab a beer. It serves its purpose and I can save five minutes of mixing and washing.
On the other hand, I do enjoy a good cocktail, when someone else makes it for me. By the way, did I tell you that Thomas used to be a part-time bartender back in college?
We came across this grapefruit drink during Thanksgiving. As a family tradition, we got a giant bottle of Wild Turkey and everyone was drinking it. I'm not too big on straight whiskey and always prefer a cocktail (my personal favorite is an old fashioned). That day, my friend Laura made this Sage Brown Derby for me, with grapefruit, lime, and sage. It was so refreshing and delicious! So, I couldn't wait to share this recipe with you guys (the recipe is originally from Bon Appetit).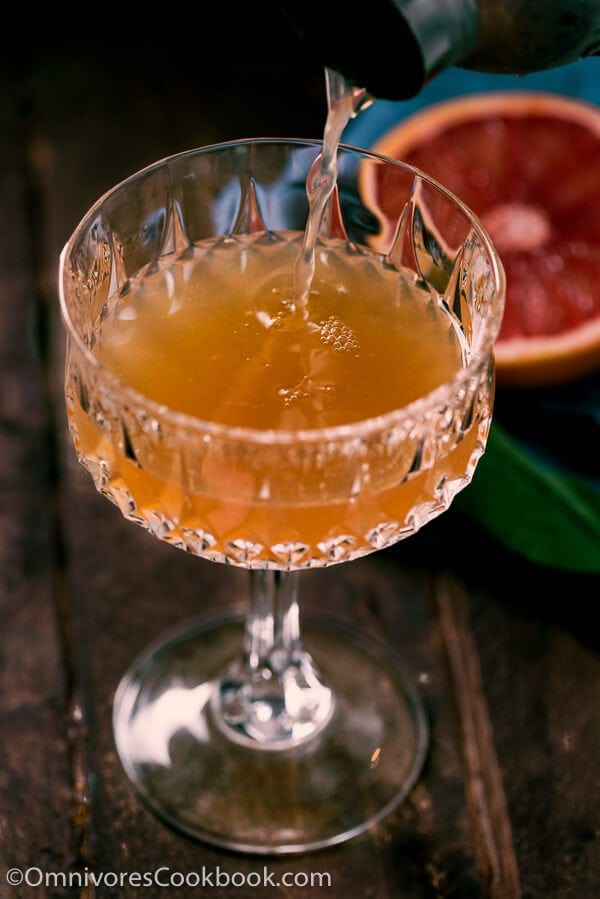 When we made this drink during the holidays, we didn't have agave syrup on hand. Plus, we made it pretty casually and did not measure at all. All we did is squeeze out the juice of half of a grapefruit (Texas ruby red, of course!), pour in a bit of whiskey, add freshly squeezed lime juice and sugar syrup (confectioner's sugar plus water), and top with a sage leaf. I'd say the recipe is very forgiving. Even with our limited ingredients, the drink still turned out very tasty.
Grapefruit reach their peak during the holiday season. Next time you're out grocery shopping, don't forget to grab a bag of them and serve this as your after-dinner drink!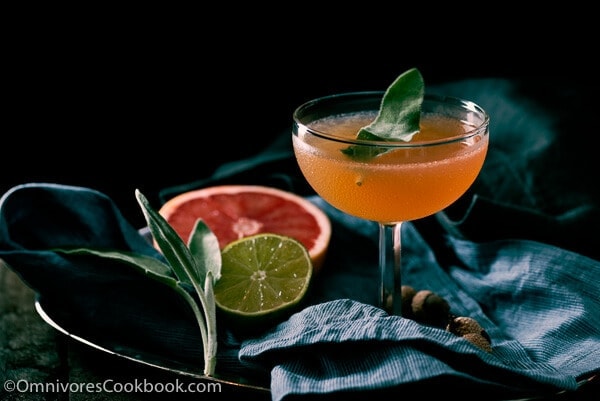 Do you like my recipes? Sign up for Omnivore's Cookbook's weekly newsletter to get the latest updates delivered to your inbox and a free e-cookbook!
Want to Know More?
Receive our 5-Day Chinese Cooking Crash Course & Recipe Updates! Subscribe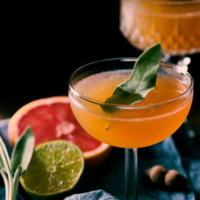 Sage Brown Derby (Whiskey and Grapefruit Cocktail)
A refreshing and boozy winter drink that is perfect for daily enjoyment or a gathering.
Ingredients
2

ounces (4 tablespoons)

whiskey

(I used Maker's Mark)

1

ounce (2 tablespoons)

red or pink grapefruit juice

1/2

ounce (1 tablespoon)

fresh lime juice

1/4

ounce (1/2 tablespoon)

agave syrup

2

dashes bitters

1

fresh sage leaf
Instructions
Combine everything except sage leaf in a cocktail shaker and fill with ice. Shake until the outside is frosty, about 20 seconds. Strain into a coupe glass.

Rub and slap the sage leaf with your palms until it releases its fragrance. Place on top of the cocktail.