A paleo salad that is great tasting, beautifully colored, balanced in nutrition, and low in calories. The ingredients are reduced to a minimum to achieve a superior flavor.
Thai beef salad has been on my to-cook list for a long time. After experiencing its great flavor in Thailand again during my trip last month, I finally decided to recreate it in my kitchen.
I have tried various versions of Thai beef salad, but there were two times that I enjoyed the dish the most. One time was in the US while traveling in California. The salad didn't use any grapes. It contained several types of vegetables, some charcoal grilled beef, and a sweet, sour, and spicy dressing. The other nice beef salad I had was the one in Bangkok. Afterwards, I learned it was the true authentic type. The main ingredients are beef and grapes, with very little dressing and only a few green leaves as decoration.
I love both types. The authentic type smartly uses the sweet, juicy grapes to accompany the beef. So you don't need a lot of dressing to get a great tasting salad. However, I do love the former type that contains more green veggies, because it is more healthy and the dressing keeps the salad moist.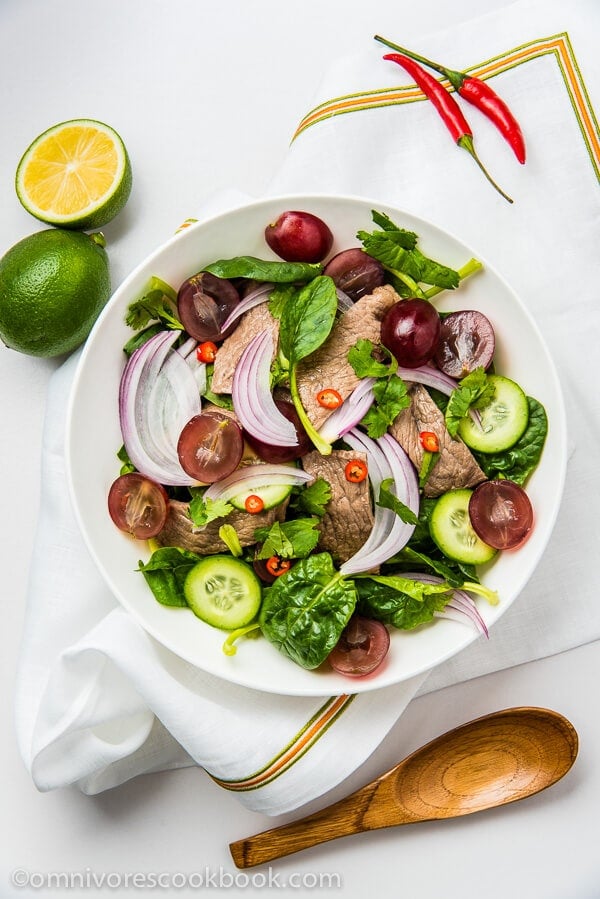 So I decided to combine the two types, and aim to create a super healthy paleo salad that could be enjoyed as a one-dish meal. It should be filling enough as a whole meal, but healthy enough for a light dinner.
I was a bit nervous to do this experiment at first. Thai cuisine is not my specialty. I only cook it once in a while. And I can't access many key ingredients, such as fresh kaffir lime leaves, fresh lemongrass, and fresh mint leaves. These are all very important spices if you're aiming to create an authentic Thai dish.
I decided to go for the next best option. I learned the recipe from the prestigious Thai food blog – She Simmers. I know the beef salad recipe from this site can be trusted and stays true to authentic Thai. However, I did a few twists based on my own experience and the limited ingredients I have access to.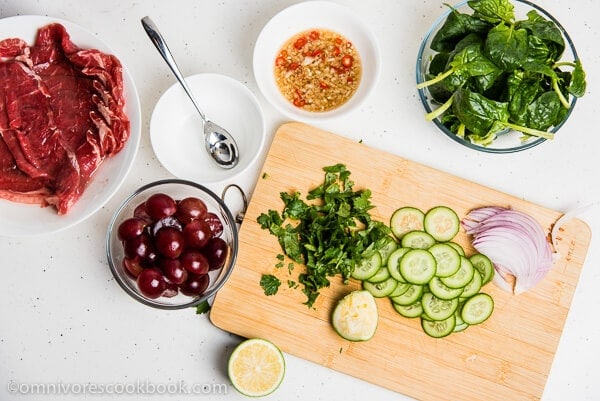 I combined quite a few other types of vegetables into the salad. I added baby spinach, onion, and cucumber. I also replaced the fresh Thai herbs with ginger and cilantro.
Surprisingly, the salad worked out great, even without a few key ingredients. The ginger added a nice kick and depth of flavor to the dressing. It was just as pungent and refreshing as the authentic one, even without lemongrass. And the cilantro works out great as an alternative to mint leaves.
The combination of beef, grapes, some salad, and the dressing created a superior taste that was ten times better than having them separately.
I won't say this is the best Thai beef salad. But I'm very glad that I created a really delicious Thai-style salad with very limited ingredients.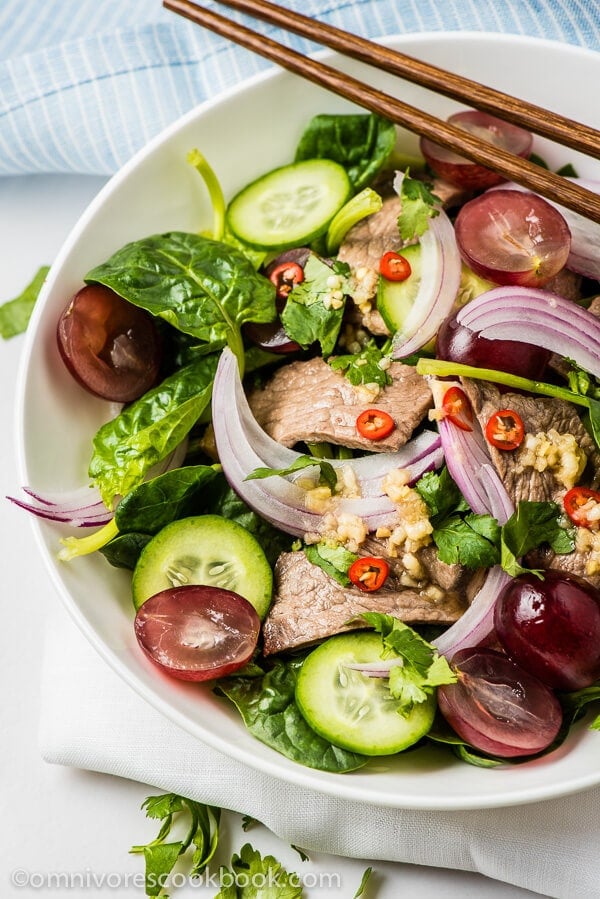 Are you looking for a beautiful spring dish or a light dinner to cook? Definitely try out this Thai beef salad! Don't forget to snap a picture of the dish you cook and post it on my Facebook Fan page! I'd love to see your work 🙂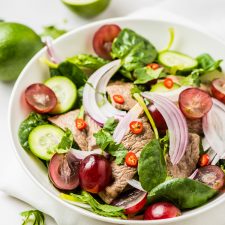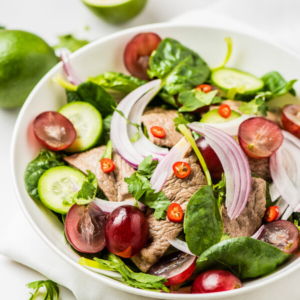 Thai Beef Salad
Thai beef salad has been on my to-cook list for a long time. After experiencing its great flavor in Thailand again during my trip last month, I finally decided to recreate it in my kitchen.
Print
Pin
Rate
Ingredients
1

tablespoon

sugar

2

tablespoons

fish sauce

2

tablespoons

fresh lime juice

of half a lime

3

cloves

garlic

, grated

1/2

teaspoon

ginger

, minced

1

fresh chili pepper

, thin sliced (*see footnote 1)

1

tablespoon

vegetable oil

280

grams (10 ounces)

sirloin steak

, pre-sliced (*see footnote 2)

4

cups

baby spinach leaves

, chopped

1/4 red onion, thin sliced

(optional)

1 small cucumber, sliced

(optional)

1

and 1/2 cup (200 grams)

seedless red grapes

, halved

1/2

cup

cilantro

, chopped
Instructions
Combine sugar and 1 tablespoon of water in a small bowl. Heat in microwave until warm, 10 to 15 seconds. Mix well until the sugar is fully dissolved.

Combine fish sauce, lime juice, garlic, ginger, and chili pepper in a small bowl and mix well. Add half of the syrup from step one and mix well. Taste the dressing. If you prefer a slightly sweeter dressing, add a bit more of the syrup until you're satisfied with the results (I ended up using 2/3 of the syrup).

Place beef on a plate and pour oil over it. Gently spread oil with hands to coat the beef evenly.

Heat a nonstick skillet over medium heat until warm. Place beef slices into the skillet without overlapping them, and spread them well. Grill until the bottom is cooked. Flip and cook the other side. When the other side is cooked and the inside of the beef is no longer pink, immediately transfer the beef to a plate. Continue to cook the rest of the beef with the same method (*see footnote 3).

Prepare the vegetables. Add spinach, onion, and cucumber to a large bowl. (*see footnote 4)

When the beef has cooled enough to handle, but is still warm, cut it into bite size pieces with scissors (or a knife). Add into the salad bowl.

Add the fish sauce dressing into the salad bowl and toss. Add grape and cilantro. Quickly mix again.

Serve warm or cold.
Notes
The original recipe called for 3 bird's eye chilis. I used Chinese chili peppers and the dressing was already super spicy (I wouldn't mind reducing that by half). If you are not sure about the spiciness of the chili peppers you're using, add them with caution. You can always add more later.
I used pre-sliced steak (the type intended for Korean BBQ) in this recipe and cooked it through. Alternatively, you can use a cut of steak, cook it to medium rare (you can refer to this recipe

to cook the medium rare steak), and slice the beef before adding it to the salad. It will taste even better this way, but you might need a slightly higher quality steak. As another option, you can follow

this recipe

to create super tender beef on the stove top. It requires a bit more time than this recipe.

The beef could be prepared beforehand and served cold. However, I found the beef is much more tender when it's freshly cooked and is still warm. Authentic beef salad is always served warm.
You could use other combination veggies, for example, mixed green salad instead of spinach.
Nutrition
Serving:
516
g
|
Calories:
462
kcal
|
Carbohydrates:
33.9
g
|
Protein:
47.4
g
|
Fat:
16
g
|
Saturated Fat:
4.7
g
|
Cholesterol:
125
mg
|
Sodium:
1538
mg
|
Potassium:
1450
mg
|
Fiber:
3.4
g
|
Sugar:
22.7
g
|
Vitamin A:
9650
IU
|
Vitamin C:
43.7
mg
|
Calcium:
120
mg
|
Iron:
28.8
mg