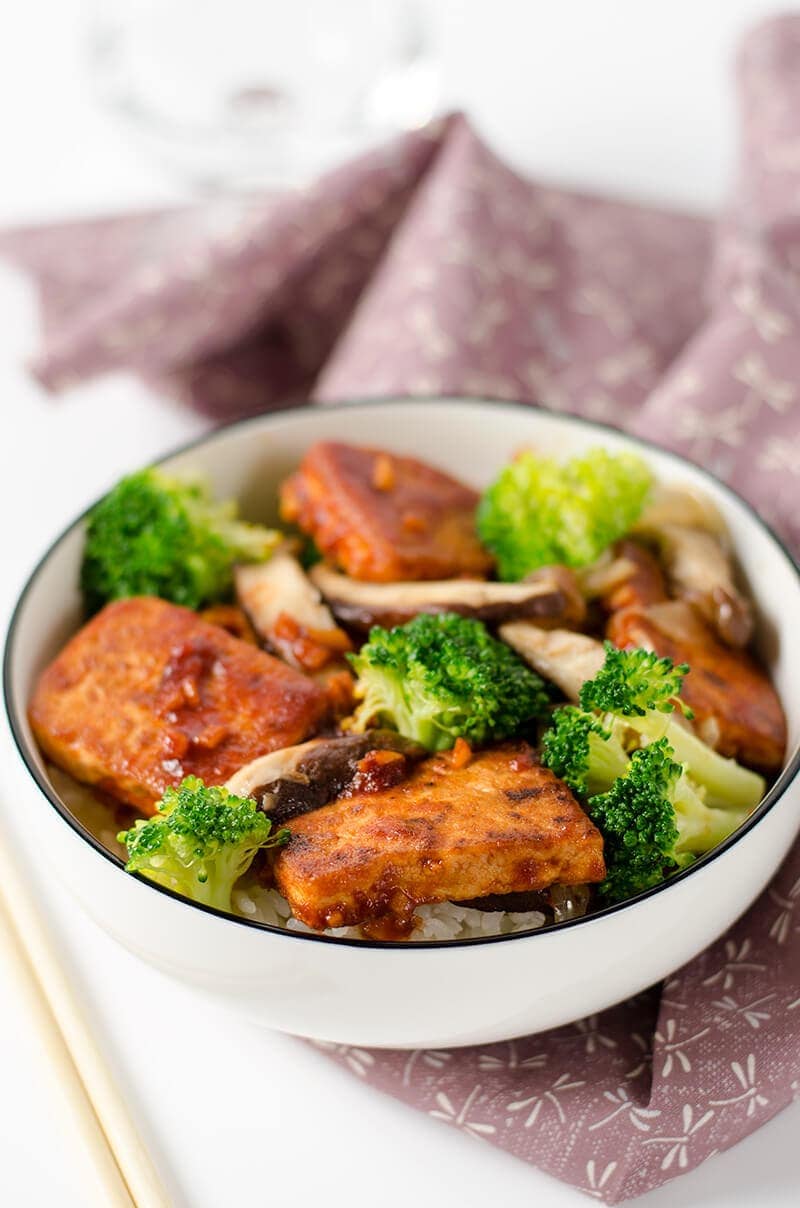 "Sweet and sour" is such a popular flavor profile for Chinese food that you see it everywhere. No matter whether with pork, chicken, veggies or tofu, if the food is indicated as "sweet and sour", it must taste good, right? My answer is a big YES, after I did this experiment to cook tofu with sweet and sour sauce.
I never tried to cook sweet and sour tofu until today, and I'm so regretful; I really should have cooked this earlier, because it is SO GOOD.
The truth is, I'm a big fan of meat and poultry dishes, so if I ever decide to make stir-fry, chicken and pork are always at the top of my list as far as ingredients go. I like tofu, no matter whether the appetizing mapo tofu, or the tofu in the soothing hot and sour soup. However since I am not a vegetarian, I never consider using tofu as a substitution for meat or poultry to create new dishes. That is, not until I came across this sweet and sticky cashew tofu on olives for dinner.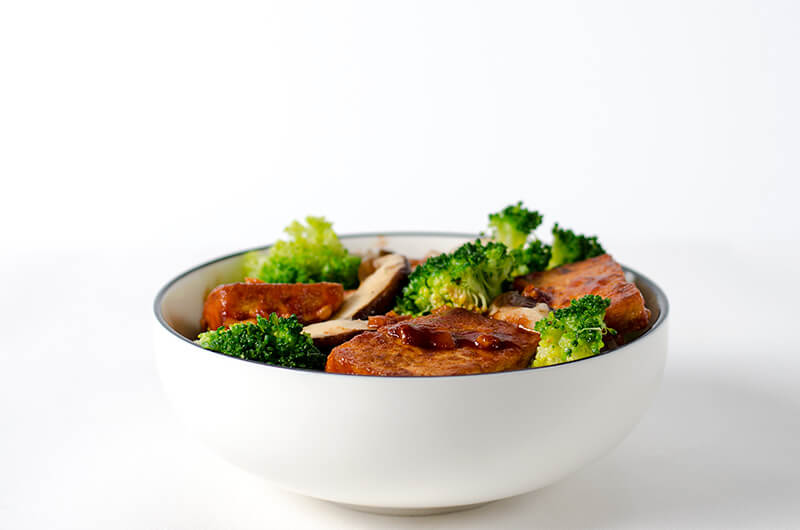 This sweet and sour tofu tastes so satisfying with this thick savory sauce with a wonderful fragrance of sweetness. It has a texture similar to that of pan-fried cheese (saganaki, anyone?) and feels a bit like eating meat. The tofu is pre-grilled, so it has a crispy and smoky surface, with a soft texture inside. The grilled tofu is much easier to handle during cooking and won't break apart when stirred. It also absorbs more sauce than normal tofu.
This sweet and sour tofu is a no-fail dish and is very versatile. Since you need to grill the tofu and prepare the sauce and vegetables separately, you could easily double the sauce to serve with rice, or add/reduce the variety and amount of vegetables. Assemble the bowl any way you like!
If you add a few types of steamed or blanched vegetables to serve with the tofu on top of steamed rice, it would be a great post-run or post-workout dish, which provides high quality protein, and good amounts of fiber and carbs. Plus, the dish has numerous health benefits. It contains no cholesterol and is high in manganese, selenium, and vitamins B6 and C.
If you're a fan of the sweet and sour flavor, try this one out and you'll fall in love with tofu!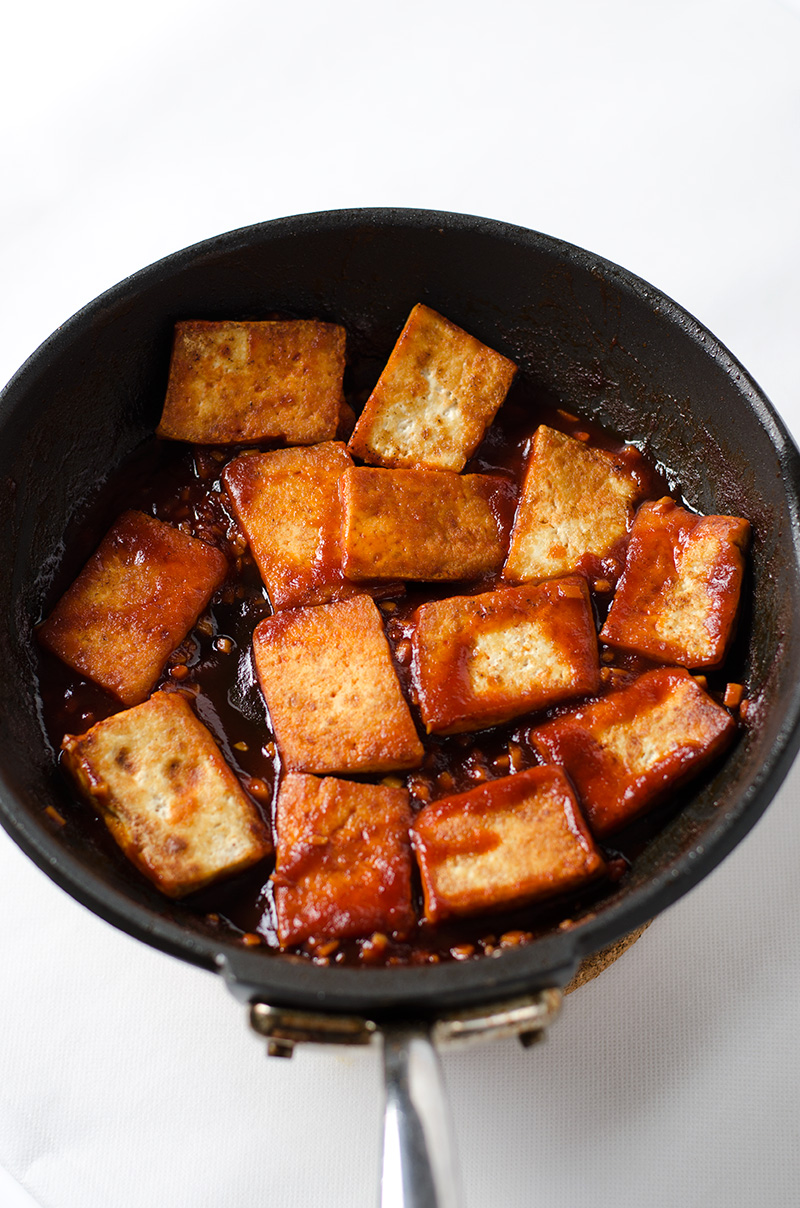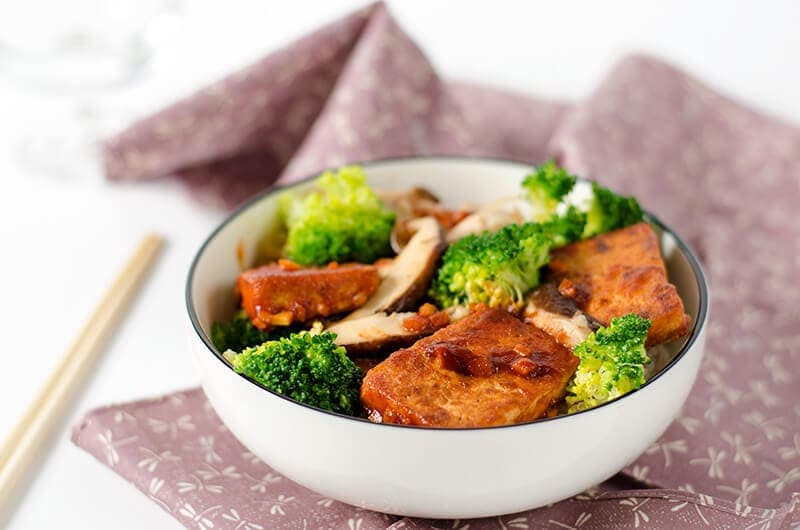 Sweet and Sour Tofu
The recipe will generate 2 serves as main dish with steamed rice, or 4 serves as side dish.
Ingredients
sweet and sour sauce
2 tablespoons light soy sauce
4 tablespoons Shaoxing wine (or water for a non-alcoholic dish)
1 tablespoon rice vinegar
1 tablespoon sugar
4 tablespoons tomato paste
4 tablespoons water
tofu and vegetables
1/2 head small broccoli, cut into bite size florets
3 tablespoons vegetable oil
1 pack tofu (385 grams), cut into squares (*see footnote)
1/2 small onion, sliced
4 - 6 shiitake mushroom, sliced
2 - 3 cloves garlic, minced
1 teaspoon minced ginger
Instructions
Mix all the ingredients for sweet and sour sauce in a bowl, set aside.
Bring a pot of water to a boil, add broccoli and boil until cooked through. Drain well and place in a plate.
Heat a tablespoon of oil in a non-stick skillet at medium high heat. When oil is warm, carefully place tofu into skillet. Grill the tofu until the bottom side turns golden brown, about 5 minutes. Flip tofu with a spatula and grill the other side to the same doneness. Transfer tofu to a plate and set aside.
Add a tablespoon of oil into the same skillet and heat on medium high heat. Add onion and stir several times. Add mushroom and stir fry till onion turns golden and mushroom is fully cooked. Lightly season with salt and mix well. Transfer the cooked onion and mushroom to a plate and set aside.
In the same skillet, add the rest of the oil, garlic and ginger. Cook at medium heat and stir until fragrant. Add the sweet and sour sauce and simmer until the sauce is getting thick, for 1 to 2 minutes, while stirring continuously. Add the cooked tofu and mix well with the sauce. Cook until the sauce has reduced to the desired thickness and stop heat.
In a large bowl, add broccoli, onion and mushroom. Pour the tofu and all the sauce on top. Serve with steamed rice or noodles.
Notes
You can either choose to press or not to press the tofu before cooking. For pressed and grilled tofu, it will be tougher and have the texture of pan-fried cheese. If you do not press the tofu, it will have a tender texture after cooking. The grilled tofu will still contain some water and might dilute the sauce when added them back into the skillet in the last step. You should boil it a bit longer in this case in order to thicken the sauce.
The nutrition facts are calculated 
based on 1 of the 4 servings produced by the recipe.