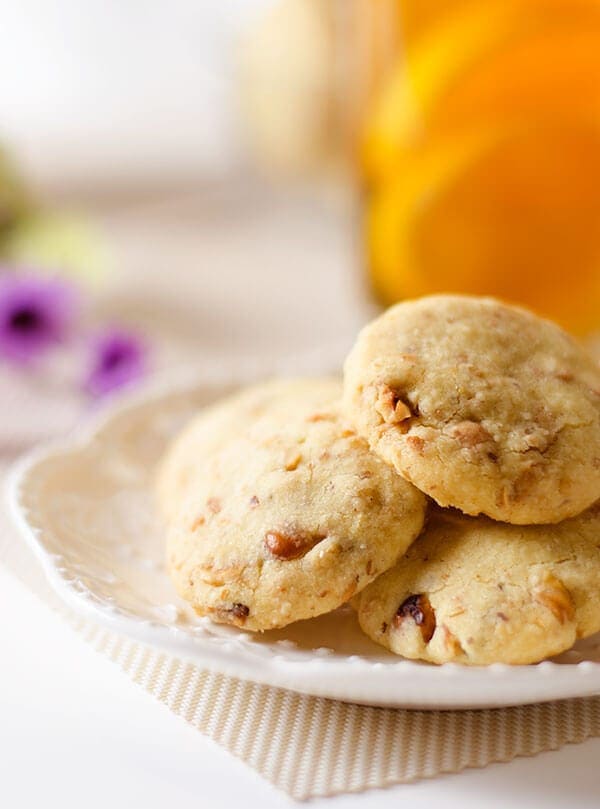 These shortbread cookies are light and soft. With a gentle bite, the buttery crumbs will melt in your mouth, with the toasted nuts lingering on your tongue. Then, with a sip of hot black tea with honey, you will feel your body grow warm with joy.
We have a routine in my family. We sit down together every Saturday afternoon and enjoy a cup of tea while indulging in a cookie or slice of cake from our favorite bakery. Our choices of drinks are freshly brewed coffee, black tea with milk, or black tea with homemade lemon honey. We chat about everything. From stories of office gossip to international events. We have a very healthy family relationship. At this peaceful moment of afternoon tea, I always feel that we are united and can overcome anything together.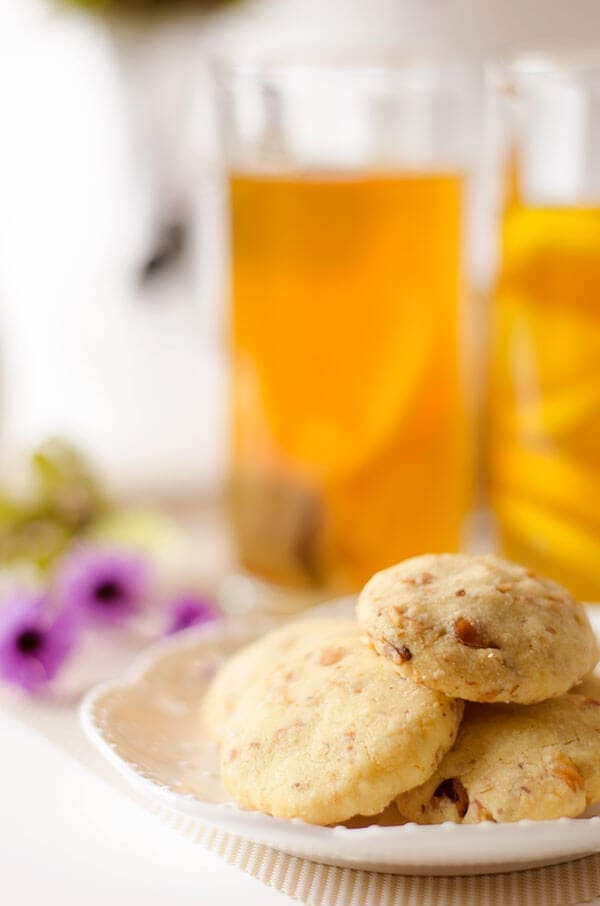 This family tradition lasted for years, until my dad was diagnosed with early-stage diabetes. His family has a history of diabetes, so it came as no surprise. Since then, my dad has been restraining himself at every meal, and seldom eats sweets. We still enjoy tea together as usual, but it seemed something was lacking when there was just a lonely cup of tea in my dad's hand.
Fortunately, these no-sugar shortbread cookies came to our rescue last year. We just purchased our first oven and started learning to bake. There was a buttery shortbread cookie recipe from my mom's friend that we really loved. We had made it so many times, tweaking the recipe to perfect its texture and add more nuts. Every time a new batch came out of the oven, my dad would taste half a cookie and say that it was so great that he wished he could eat all of it. We wished so too!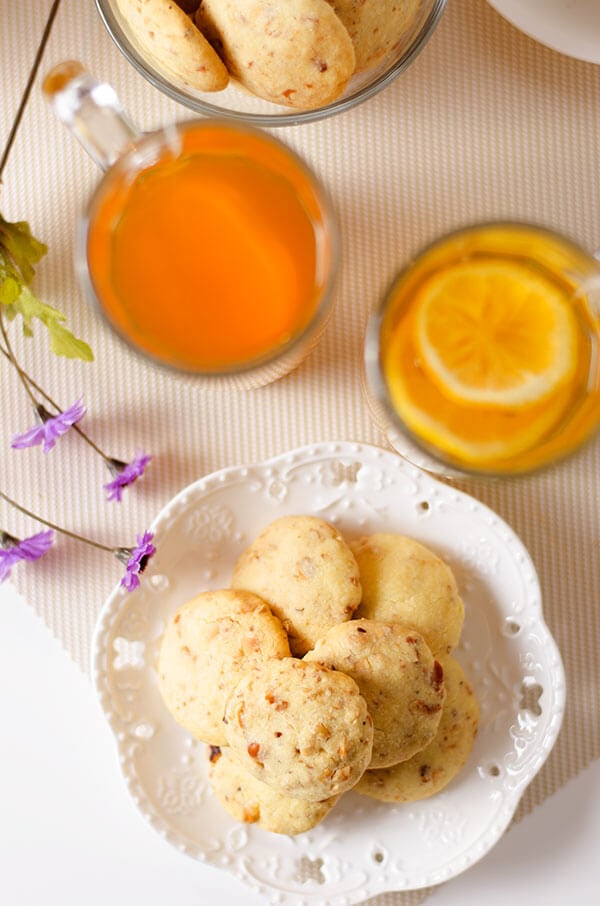 When I mentioned this to my thoughtful boyfriend, he suggested replacing the sugar with Splenda, and he brought that sweetener all the way from the US. It was a great idea!
We replaced the sugar with the sweetener, and tried the recipe again. The cookies came out wonderfully, and the texture was somehow even fluffier! The best part is, now our Saturday afternoon tea is back on the right track. Each of us will have a cup of hearty and warm tea with a few freshly baked cookies.
Isn't it the best moment of the week?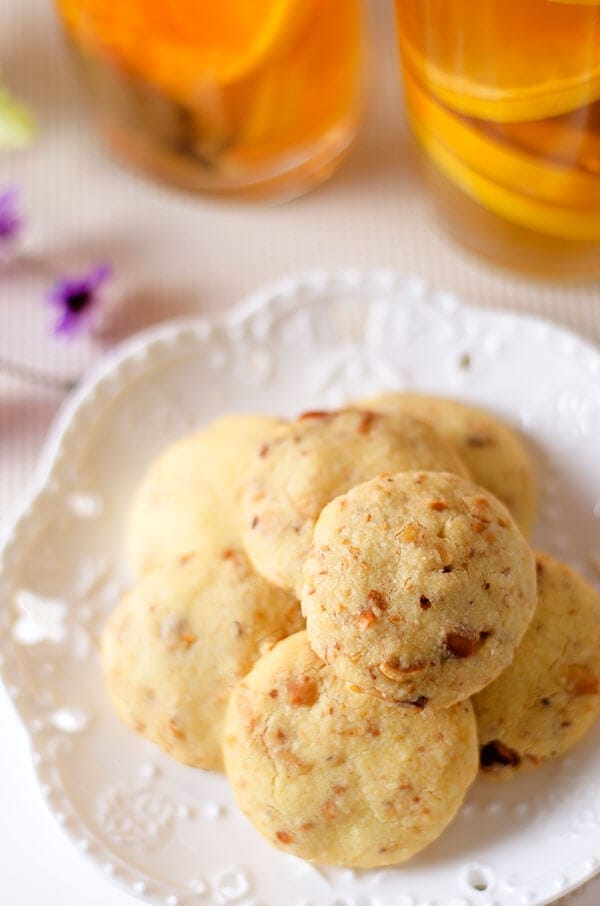 I have made a short video below to walk you through the cooking process. If you like the video, don't forget to subscribe to my video channel on YouTube to get the latest cooking tips.
I submitted the post to entered The Great Denby Cake Off  competition and hopefully I could get a new set of baking kit soon! 🙂
Print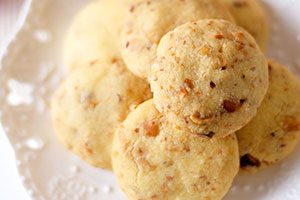 No-Sugar Shortbread Cookies with Nuts
---
Author:

Prep Time:

20 mins

Cook Time:

12 mins

Total Time:

32 mins

Yield:

40

cookies

1

x
Category:

Dessert

Cuisine:

British
Description
Disclaimer: Please note that some of the links below are affiliate links, which means I will earn a commission if you purchase through those links. I use all of the products listed below. I recommend them because they are products that I have found helpful and trustworthy.
---
Ingredients
250

grams (8.8 ounces) butter, melted

5 tablespoon

s Splenda no calorie sweetener (* see footnote 1)

1 teaspoon

salt

2 cup

s (310 grams /

11 ounce

s) all-purpose flour (* see footnote 2)

100

grams (3.5 ounces) hazelnuts, toasted and finely chopped

100

grams (3.5 ounces) walnuts, toasted and finely chopped
---
Instructions
Preheat oven to 160 degrees C (320 F). Line a baking tray with parchment paper.
In a large bowl, add butter and sweetener. Mix until fully combined.
Sift in half of the flour and mix until smooth. Sift in the rest of the flour and continue to mix until the flour is fully combined.
Fold in hazelnuts and walnuts. Mix until the nuts are evenly dispersed within the batter.
Roughly divide the batter into 4 parts (each part will make 10 cookies). Scoop out about 1 tablespoon of batter and shape it into a round cookie with your hands (5 millimeters / 1/2 inches in thickness). Continue to work on the rest of the dough in the same manner. Place cookies 5 millimeters (0.2 inch) apart on the parchment paper.
Place the cookies on the middle rack of the oven and bake for 12 minutes, until the edges start to turn golden (*see footnote 3). Transfer cookies to a wooden surface or rack to cool down.
Serve with coffee or black tea.
Store in an air-tight container at room temperature for up to 1 week.
Notes
(1) For normal shortbread cookies, replace sweetener with white sugar.
(2) You could replace the all-purpose flour with cake flour, which will result in a fluffier texture.
(3) If you use cake flour, the edges of the cookies are unlikely to turn golden. The cookies should be cooked through after 12 minutes in the oven, even if the color hasn't changed.
The nutrition facts are calculated based on 1 of 40 cookies generated from the recipe.