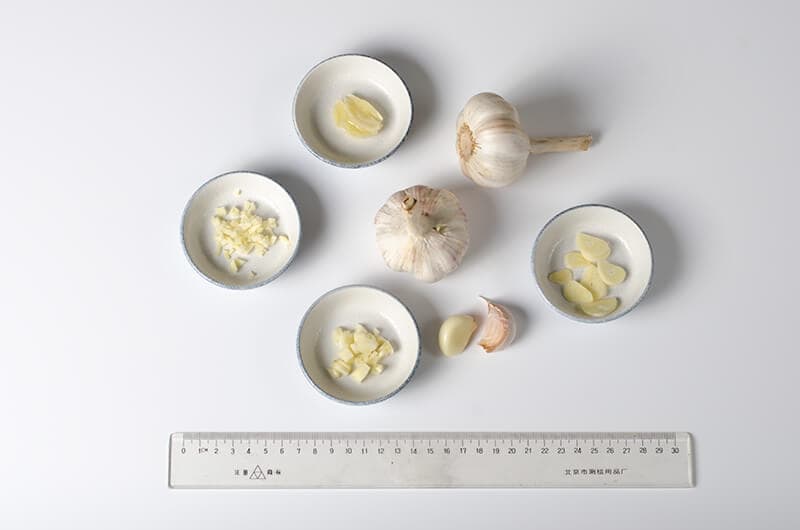 Garlic is one of the most important condiment in Chinese cooking, along with ginger and scallion / green onion. It is commonly used in cold appetizer, stir-fried dishes, braising or marinate.
Garlic does similar function as ginger, to eliminate fishiness of raw meat / seafood by adding into marinate mixture, or using in stir-fried dishes. At the same time, it adds quite strong pungent flavor to the dish. For a simple stir-fry or salad dish, garlic does great job, because its flavor is strong enough to make a dish tastes flavorful enough, without adding many other seasonings. If you look at the cucumber salad or stir-fried cauliflower, you'll understand how simple and good a dish could be. For some signature Chinese dishes, for example sweet sour dishes, Kung Pao dish, and chicken wings, garlic adds nice aroma to the sauce and meat.
The common ways to cut garlic are (top picture, from up left to bottom right): smashed, chopped, smashed then coarsely chopped and sliced. The smaller the pieces are, the faster it release aroma during cooking.  Also, the smaller pieces blend well into the whole dish, so you won't notice it while enjoy the dish. Chopped garlic is usually used in stir-fry dish, to infuse the flavor in a timely manner.For some dishes that requires even stronger garlicky flavor, smashed then coarsely chopped garlic is a good choice. For braised dishes, smashed whole clove is used, to release flavor in a slow process. Plus, it's easier to discard the clove before serve.
For storage of garlic, place the whole one in a cool place without direct sunshine. It should be peeled and cut only when you need to use it, in order to extend its shelf life and keep its aroma lasting. If you have left over peeled garlic cloves, save them in air tight bag or container and store in fridge. It should last 1 to 2 days.