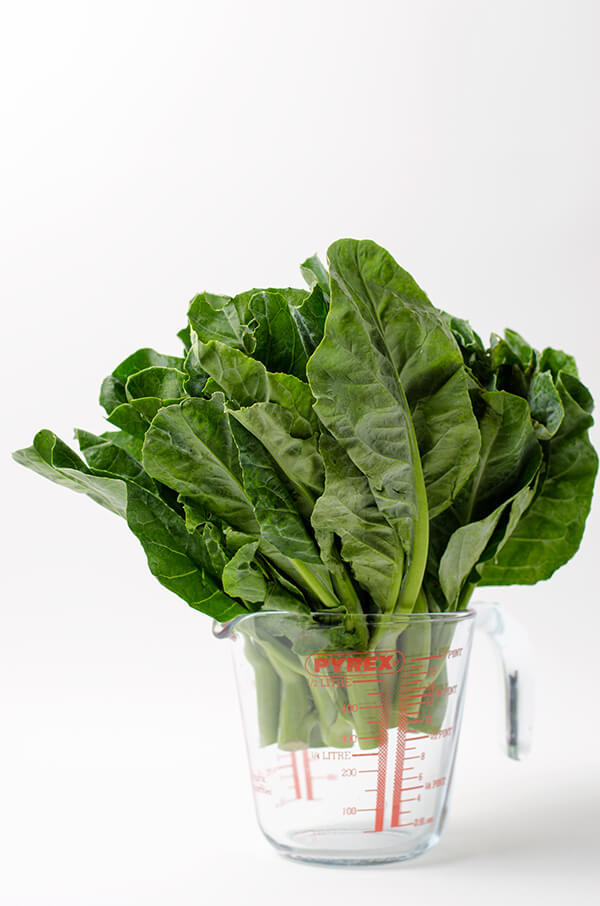 Chinese broccoli (芥蓝, kai lan) is a leaf vegetable featuring big, thick, flat leaves with fat stems. It is one of the most popular and widely used leafy vegetables in Chinese and Asian cuisine, no matter whether stir-fried, steamed or blanched. One of the most well known dishes is stir fried kai lan with oyster sauce. It's also great for cooking noodle dishes, such as stir fried noodles with beef and Chinese broccoli.
Buying
Try to buy smaller stalks with fresh-looking, dark green leaves. Avoid the ones with spots on the leaves.
Preparation
1. Snap off and discard the leaves that are too thick, don't look fresh, have spots or have other colors other than dark green. Do not worry if you have to snap off most of the leaves and leave only a few small ones.
2. Wash broccoli thoroughly and drain
3. Chop off the tough ends and discard
4. Use a knife or a peeler to cut/peel the tough surface of the lower stem. By removing that, the stem will absorb more sauce during cooking, and turn out more crisp and flavorful.
I have prepared a short video below to show you how to prepare Chinese broccoli before cooking.
Cooking
Chinese broccoli is usually cooked as whole stalk. However, if the stalk is too large, you could chop it into 2 parts. There are three main ways to prep it quickly.
1. Blanching – bring a big pot of water to a boil. Add several drops of vegetable oil and half a teaspoon salt, and mix well. Add broccoli and boil until the stem turns soft, about 2 minutes.
2. Steam – Add 2 cups water into a steamer. and place broccoli in the basket. Heat the steamer on medium high heat, covered, until the water comes to a boil. Turn to low heat and steam for 5 to 7 minutes. After 5 minutes, remove the lid, being careful of the steam coming out. Taste the broccoli and see whether it's cooked. If not, steam for another 1 to 2 minutes.
3. Stir fry – Pour a teaspoon of vegetable oil into a large skillet. When oil is hot, add broccoli and stir until it is coated evenly with oil, about 1 minute. Swirl in half cup of water and cover immediately. Turn to low heat and steam until the broccoli is cooked through, about 1 minute.
Pros and cons of the 3 methods above
Method 1 cooks faster but will cause some loss of nutrition. Method 2 is slower and requires a steamer, but it preserves the most nutrition. Method 3 is the fastest and most convenient way to prep Chinese broccoli for stir fry. However, the oil adds some calories to the dish.
Storage
Raw Chinese broccoli can be stored in an open plastic bag in the fridge for to 3 to 4 days.