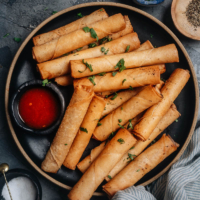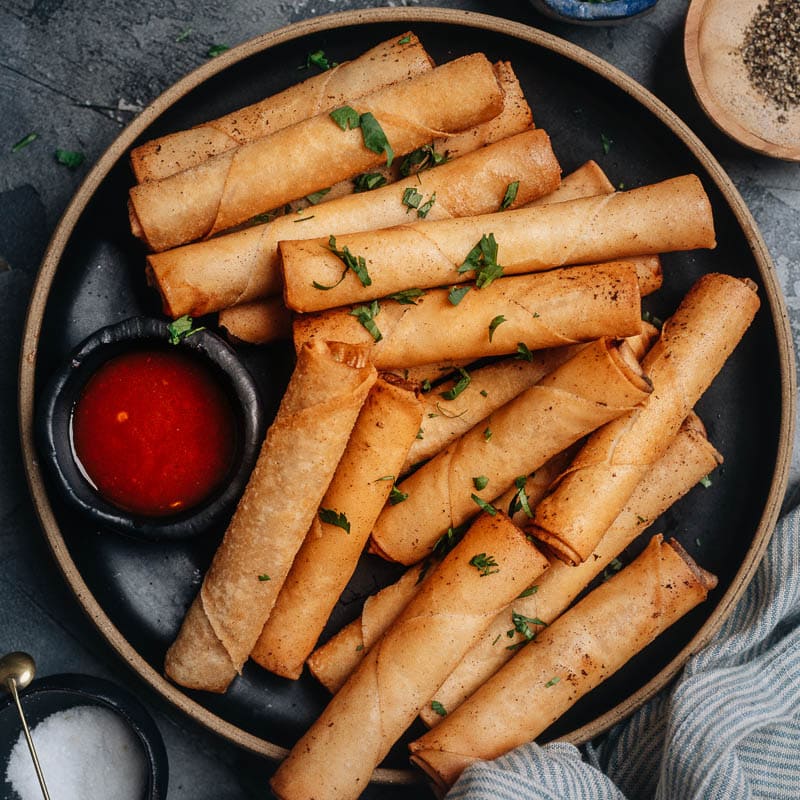 Lumpia Shanghai (Filipino Spring Rolls)
Lumpia Shanghai is a perfect appetizer and finger food for parties and festive dinners. These super crispy and crunchy egg rolls are packed with pork, carrots, celery, and onions and come with a sweet yet spicy dipping sauce that will have everyone sopping up every last morsel!
Servings:
12
servings (50 lumpia)
Filling
1 1/2

lbs (680 g)

ground pork

(*Footnote 1)

3/4

cup

carrot

, minced (about 1 carrot)

3/4

cup

onion

, minced (about 1/2 red onion)

1/2

cup

Chinese celery

, minced (about 3 stalks)

6

cloves

garlic

, minced

1

egg

2

tablespoons

soy sauce

1

teaspoon

salt

1 1/2

teaspoon

black pepper

1/2

teaspoon

sugar
Sweet and Sour Sauce
1

tablespoon

ketchup

1 1/2

tablespoons

hot sauce of your choice

(I like to use Sriracha)

1

teaspoon

rice vinegar

2

tablespoons

sugar

1/2

teaspoon

chili flakes

1/2

teaspoon

cornstarch

1/4

cup

water
Make the filling
Combine the filling ingredients in a big bowl. Use a spatula to mix it in a circular motion, until everything comes together and the pork feels elastic. It might take a few minutes to get this consistency.
Assemble
Place the lumpia wrappers on a plate and cover with a damp towel to prevent from drying out.

Take a wrapper and lay it in front of you with the pointed edge facing up. (*Footnote 2) Take a heaping tablespoon of filling and place it a few inches from the corner closest to you. Shape the filling into a 4 to 5" (10 to 12 cm) strip. Fold the bottom corner over the filling, then fold the two side corners. Roll the filling parcel up so the folded edges are tucked in. Gently use your finger to press out any air bubbles and make sure the filling is sealed in tightly. Continue rolling up the filling until just before it is completely sealed. Dab the upper corner with a small amount of egg wash with your finger, then fold the filling over to finish wrapping the lumpia. Set aside. Repeat with the remaining filling and wrappers.
Storage
Once you wrap the lumpia, you can store them uncooked in a large Ziplock bag with as much air squeezed out as possible, for up to 3 months in the freezer.

To cook the frozen lumpia, cook them according to the instructions below without thawing. The cooking time will take slightly longer.
Cook (*Footnote 3)
Add the oil to a medium deep pan or pot so that it comes about 1" (2.5cm) up. Heat over medium-high heat until it reaches 350°F (176°C).

Gently lower a few lumpia into the pan so they do not crowd the pan. Cook, flipping with a pair of tongs occasionally, until all sides turn golden brown, about 4 minutes total. Once the lumpia are cooked, transfer to a big plate or a tray topped with a wire rack to cool.

Combine all the sauce ingredients in a small pot. Bring to a gentle boil over medium heat. Stir constantly, until the sauce is thickened enough to coat the back of a spoon. Pour into a serving dish.

Serve the lumpia with the dipping sauce as an appetizer.

You can store the cooked lumpia as well and warm them up in a 400°F (200°C) oven until warmed through. The leftovers will be slightly chewy but still crispy.
Although you can use any type of ground pork, if you want a juicier and tenderer filling, you should use ground pork that contains a higher percentage of fat such as 30%.
If you plan to use an air fryer to cook the lumpia, spray a generous amount of oil to both sides of the wrappers before wrapping.
If cooking in an air fryer, set the temperature at 390°F (198°C) for 10 minutes, add the lumpia without overlapping, cook for 8 minutes per side.
Serving:
1
serving
,
Calories:
95
kcal
,
Carbohydrates:
14.2
g
,
Protein:
4.8
g
,
Fat:
1.7
g
,
Saturated Fat:
0.3
g
,
Cholesterol:
13
mg
,
Sodium:
270
mg
,
Potassium:
73
mg
,
Fiber:
0.1
g
,
Sugar:
1.2
g
,
Calcium:
14
mg