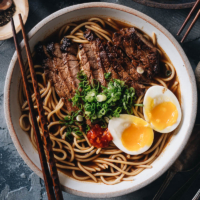 Yaka Mein (Beef Noodle Soup)
Yaka mein is a mishmash of Chinese and Cajun cuisines resulting in an easy, comforting, and rich beef noodle soup that will warm your soul. Chewy noodles are served in a savory and slightly sweet Asian-style beef broth. It's topped with juicy steak, hot sauce, and a boiled egg. Delicious served hot or cold, it's a perfect dish to cook on a busy weekday yet fancy enough to serve for Sunday dinner.
Servings:
2
to 4 servings
Cook
Cook the spaghetti according to the instructions on the package. Drain and set aside.

Heat the oil in a large cast iron or nonstick pan over high heat until hot. Add the marinated steak and save the marinade liquid for later. Let it cook without moving until the bottom is charred, 2 minutes or so. Flip to brown the other side, another 2 minutes. The steak is done if you prefer a medium-rare texture. For a well-done steak, turn to medium-low heat and cook for another 2 minutes or so. Transfer the steak to a plate and let sit for at least 10 minutes before cutting.

Add the garlic and cajun seasoning to the hot pan and saute until fragrant, about 30 seconds.

Add the leftover marinade and lightly scrape the bottom of the pan to release any brown bits.

Add the beef broth and bring to a boil. Turn off the heat. (*Footnote 2)

Once the meat is fully rested, slice it into strips.
Assemble
To assemble a bowl of yaka mein, add half of the spaghetti to a big bowl. Pour 2 cups of beef broth over the noodles. Top with the sliced steak, boiled egg, and green onions.

Serve with hot sauce and soy sauce on the side, if using.
Depending on how you prefer to assemble your bowl, you might have leftover spaghetti. I prefer my noodle bowl very soupy, so I usually only use 6 oz (170 g) of spaghetti. You can make a more filling meal by using the full 8 oz (225 g) of spaghetti.
To get a smooth soup, you can strain your broth to remove the chopped garlic or any chunks of caramelization. I prefer not to strain my soup for an easier cooking process.
Serving:
1
serving
,
Calories:
376
kcal
,
Carbohydrates:
37.5
g
,
Protein:
28.7
g
,
Fat:
11.9
g
,
Saturated Fat:
3.3
g
,
Cholesterol:
171
mg
,
Sodium:
619
mg
,
Potassium:
432
mg
,
Fiber:
0.3
g
,
Sugar:
5.1
g
,
Calcium:
42
mg
,
Iron:
4
mg