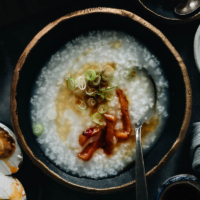 How to Make Congee (Plain Congee, 白粥)
Not only is plain congee the ultimate comfort food, it's also an important staple on the Chinese dinner table - just as popular as steamed rice. Check out the recipe below for how to make congee on stovetop or in an Instant Pot, with various toppings that spice it up! {Gluten-Free, Vegan}
1/2

cup

short grain rice

(or medium grain rice)
Instant Pot Method
Add the rice and water to your Instant Pot. Cover and seal the lid. Select high pressure, and set the timer to 25 minutes. Once done, let the pressure release naturally.

Once the pressure has fully released, open the lid and stir the congee with a ladle. It might look thin once it's done cooking, but it will thicken up a bit once you stir it well and let it sit for a few minutes. If you want to change the texture of the congee, turn on the "Saute" function and let it boil down for a few minutes and stir constantly, until it turns thicker. Or you can pour in a bit of hot water and stir it, to thin it out.
Stovetop Method
Add the rinsed rice and water to a medium-sized or big, tall pot. Bring to a boil over high heat. Stir a few times to make sure the rice doesn't stick to the bottom.

Turn to medium-low or medium heat to reduce to a simmer. Cover the pot halfway to keep the water boiling without spilling over. Simmer for 45 to 50 minutes, depending on the texture you're looking for. Stir the congee a few times during cooking. Towards the end of cooking, the congee will get quite thick and sticky. Stay near the pot and stir frequently over the last 10 to 15 minutes. It will easily spill if covered too much or if the heat is too high. The rice will stick to the bottom if you don't stir enough.
Store and reheat
You can store the congee in a sealed container in the fridge for 3 to 4 days. The congee will continue to thicken. To dilute it, you can add a splash of water to the congee and heat it either on the stovetop or in the microwave.
Serving:
1
serving
,
Calories:
84
kcal
,
Carbohydrates:
18.5
g
,
Protein:
1.7
g
,
Fat:
0.2
g
,
Sodium:
10
mg
,
Potassium:
30
mg
,
Fiber:
0.3
g
,
Calcium:
15
mg
,
Iron:
1
mg