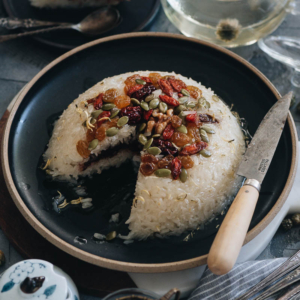 Print Recipe
Eight Treasure Rice (八宝饭, Chinese Rice Pudding)
A modernized eight treasure rice that tastes so much better than the traditional version. Lightly sweetened sticky rice stuffed with red bean paste and topped with dried fruits and seeds, then served with a fragrant chrysanthemum syrup that has an amazing earthy aroma. The recipe uses ingredients that are easy to source and the cooking is quite simple. It's a light and healthy dessert that is perfect to serve at the end of a meal. {Vegan, Gluten-Free}
Toppings (*Footnote 1)
3

jujubes

1

tablespoon

golden raisins

1

tablespoon

pumpkin seeds

1/2

tablespoon

goji berries

1

walnut half
1st steam
Once soaked, drain off the water and rinse the rice a few times.

Prepare your steamer by bringing the water to a boil.

Add the soaked rice into a heat-proof bowl and place it on the steamer rack. Steam, covered, for 30 minutes for overnight-soaked rice, or for 45 minutes for 3-hour-soaked rice. Once done, the rice should be edible, but still quite tough.
Assemble
While steaming the rice, arrange the rice toppings in the base of a wide heat-proof bowl. (*Footnote 2)

Once the rice is steamed, add the coconut oil and sugar. Stir thoroughly until the sugar melts and the rice is evenly coated with oil.

Press the seasoned rice into the bowl with the toppings. Be careful not to disturb the pattern you've created. Fill two thirds of the bowl with rice while creating a dent in the middle for the red bean paste.

Add the red bean paste in the middle and use the back of a spoon to flatten it into a thin layer.

Add the rest of the rice and use a spoon to flatten it.

At this stage, you can store the rice, covered with plastic wrap, in the fridge for 1 to 2 days. Follow the rest of the instructions prior to serving.
Syrup
Prepare the syrup while steaming the assembled rice. Combine the water, sugar, and chrysanthemum buds in a small saucepan and heat it over medium heat until boiling. Turn to medium-low heat. Simmer for 10 minutes.

Mix the cornstarch with 1 teaspoon of water until the cornstarch has dissolved completely.

When the chrysanthemum mixture is cooked, pour in the cornstarch slurry. Keep cooking and stirring constantly, until the syrup slightly thickens. Pour the syrup over a strainer into a bowl and discard the chrysanthemum buds.
Serving
When the treasure rice is done steaming, drizzle a few spoons of syrup onto the rice. Let it sit for 10 minutes.

To plate the rice, put a plate over the bowl and flip it in one swift motion. Remove the bowl and pour the remaining syrup over top of it. Serve warm.
The toppings of the eight treasure rice are super flexible. I prefer to use fewer toppings, which produces a tastier result. Ideally, you should use some berries, nuts, and/or seeds to create a varied texture. See my blog post above for other topping options.
The bowl I used can hold 2 1/2 cups of water. It's about 6.5" (16 cm) in diameter and 2" (5 cm) deep. It fits perfectly for this recipe. You can use a bowl of similar size. Or you can even use smaller bowls to make serving-sized portions.
Serving:
1
serving
|
Calories:
284
kcal
|
Carbohydrates:
52.9
g
|
Protein:
5.6
g
|
Fat:
5.7
g
|
Saturated Fat:
4.1
g
|
Sodium:
4
mg
|
Potassium:
187
mg
|
Fiber:
2.1
g
|
Sugar:
10.4
g
|
Calcium:
22
mg
|
Iron:
4
mg