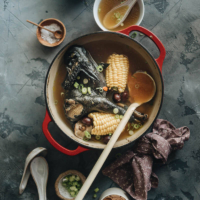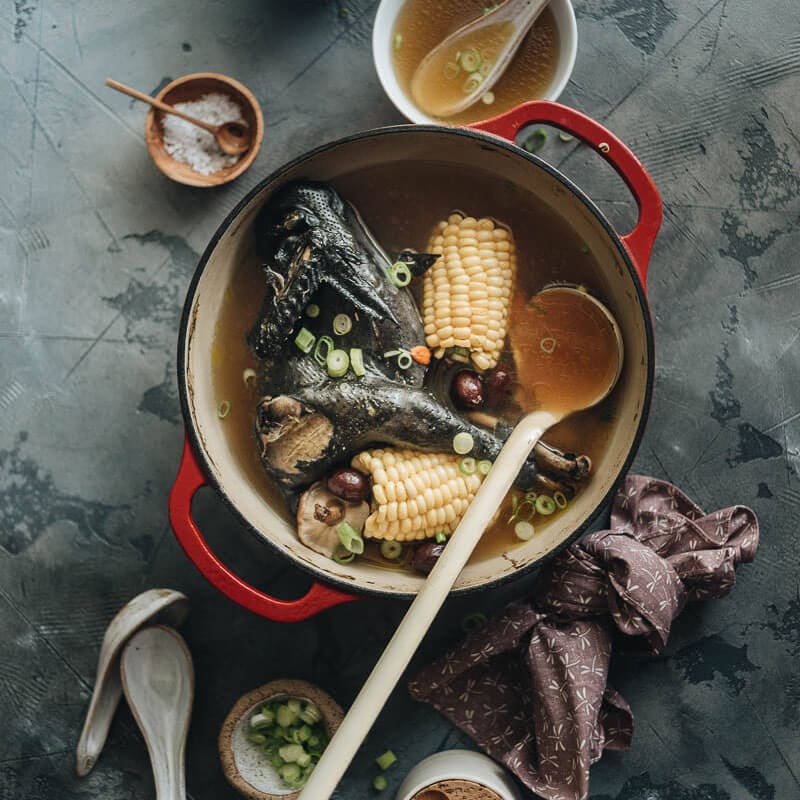 Silkie Chicken Soup (乌鸡汤)
A healthy, nutrient-rich savory soup with a touch of sweetness ideal for cooler weather or when you're under the weather!
Combine everything in a small dutch oven that's just large enough to hold the chicken. Add water to cover the chicken. It's OK if some of the chicken is above the water.

Cook over medium-high heat until bringing to a boil. Turn to medium low heat. Skim the surface with a fine sieve to remove the brown bits, for 10 minutes or so, until the chicken broth is clear. Simmer covered for at least 1.5 hours, up to 2 to 2.5 hours, until the chicken turns very tender and almost falls off the bones.

All the ingredients in the soup are edible. But for a clear broth, you could remove the chicken and drain the soup before serving.

The chicken meat will be quite tasty as well. I prefer to serve it with some homemade dipping sauce.
Serving:
1
cup
,
Calories:
128
kcal
,
Carbohydrates:
6.92
g
,
Protein:
17.81
g
,
Fat:
2.72
g
,
Saturated Fat:
0.696
g
,
Cholesterol:
60
mg
,
Sodium:
798
mg
,
Potassium:
284
mg
,
Fiber:
1
g
,
Sugar:
1.42
g
,
Vitamin A:
3250
IU
,
Vitamin C:
1.7
mg
,
Calcium:
20
mg
,
Iron:
1.1
mg