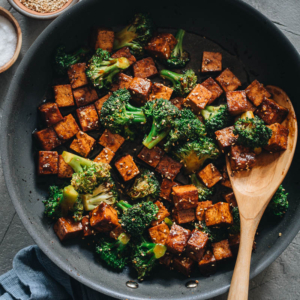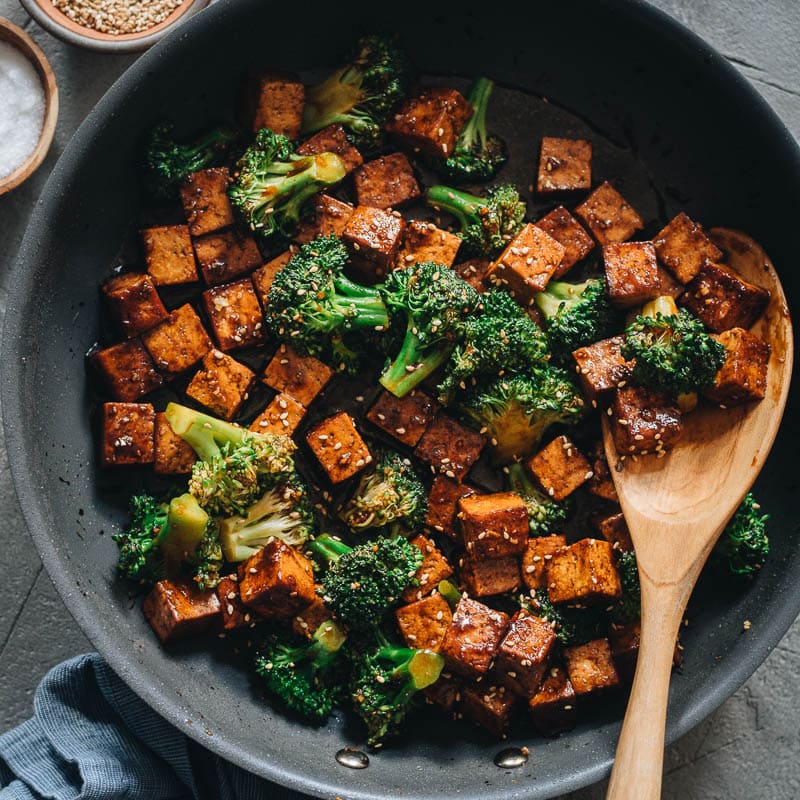 Print Recipe
Tofu and Broccoli Stir Fry
Make this easy tofu and broccoli for a healthy and delicious meal in 30 minutes! The tofu is cooked until perfectly browned and flavorful, then cooked with tender broccoli in a sticky ginger garlic sauce. {Vegan, Gluten-Free Adaptable}
Stir-fry
2 1/2

tablespoon

peanut oil

(or vegetable oil)

1

large head of broccoli

1

tablespoon

ginger

, minced

2

cloves

garlic

, minced
Cut the tofu into 3/4" (2 cm) cubes and place it in a sealable ziplock bag.

Combine all the marinade ingredients in a bowl and stir to mix well. Pour the marinade into the bag with the tofu. Press out as much air as possible and seal the bag. Gently swirl the bag around so all the tofu is coated with the marinade. Set aside, occasionally flipping as you finish your prep.

Combine all the sauce ingredients in a medium-sized bowl. Stir until the sugar and cornstarch are dissolved.

Cut the florets off the stalks of broccoli. If there is excess stem, peel it and cut it into 1/2" (1 cm) chunks. Wash them, drain them, and set them aside.

Drain the marinated tofu and discard the marinade.

Heat 1/3 cup of water in a large nonstick skillet over medium-high heat until boiling. Add the broccoli and cover with the lid. Steam until the broccoli is cooked to the tenderness you prefer, 2 minutes for a chewy texture or 3 minute for a softer one. Transfer the broccoli to a large plate. Wipe the pan with a few layers of paper towel held in a pair of tongs to get rid of any excess water.

Add 2 tablespoons of oil into the same pan. Add the tofu. Let cook until the bottom turns golden brown, 1 to 2 minutes. Flip and cook the other side until browned. Gently stir a few times with a spatula, then move the tofu onto one side of the pan.

Add the remaining 1/2 tablespoon of oil, the ginger, and the garlic to the other side of the pan. Stir a few times to release the fragrance. Then stir everything together.

Stir the sauce again to make sure the cornstarch is dissolved. Pour it into the pan and stir and cook until the sauce thickens.

Add the cooked broccoli and turn off the heat. Stir to coat everything with the sauce, then transfer everything to a serving plate.

Serve hot over steamed rice as a main dish.
Serving:
1
serving
|
Calories:
199
kcal
|
Carbohydrates:
12.7
g
|
Protein:
10
g
|
Fat:
13.5
g
|
Saturated Fat:
2.4
g
|
Sodium:
385
mg
|
Potassium:
328
mg
|
Fiber:
2.5
g
|
Sugar:
4.6
g
|
Calcium:
227
mg
|
Iron:
2
mg