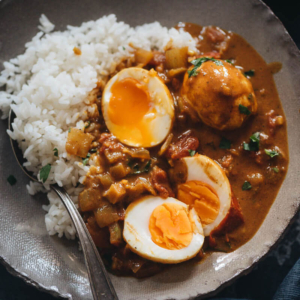 Print Recipe
Easy Egg Curry
Tender eggs are smothered in a super rich curry sauce with a tomato and coconut base. The recipe shows you how to cook a tasty curry using minimal ingredients, making it a perfect dish for a busy weekday dinner. {Gluten-Free}
1

tablespoon

butter

(or vegetable oil)

1

white onion

, minced

4

cloves

garlic

, minced

1

tablespoon

ginger

, minced

4

tablespoons

curry powder

(or 3 tablespoons for a less spicy dish) (*Footnote 1)

1

teaspoon

cumin powder

1/2

teaspoon

ground black pepper

1

can (14 oz / 400g)

tomatoes

, diced

1

can (14 oz / 400g)

full-fat unsweetened coconut milk

1/2

cup

chicken stock

(or vegetable stock)

1

tablespoon

soy sauce

(or tamari sauce for gluten-free)

Salt

to taste

Chopped cilantro leaves for garnish

(Optional)
Boil the egg
To boil the eggs, heat a pot of water (enough to cover all the eggs, but not including the eggs yeover high heat until boiling. Turn to low heat. Carefully place the eggs into the pot using a ladle, to prevent the shells from cracking. Boil 6 minutes for runny yolks, 8 minutes for medium soft-boiled, or 10 minutes for hard-boiled eggs.

While cooking the eggs, prepare an ice bath by combining ice and tap water in a big bowl.

Once the eggs are cooked, immediately transfer them to the ice bath to cool for 2 to 3 minutes. If you don't have ice on hand, simply run cool tap water over the eggs for a couple minutes until they cool down.

If you plan to serve the curry as soon as the sauce is done, peel the eggs and set them aside. If you're making the curry ahead and serving it later, store the eggs in the fridge for up to 4 days and peel them when you're ready to serve.
Cook the curry
Add butter or oil to a 4-quart / 3.78-liter dutch oven (or a medium-sized nonstick skilleand heat over medium heat until hot. Add onions. Cook and stir until soft and lightly golden, 8 minutes or so.

Add the garlic and ginger. Cook and stir for 1 minute to release the fragrance.

Add the curry powder, cumin powder, and ground black pepper. Stir and cook to mix well, 1 minute or so.

Add the canned tomatoes and coconut milk. Stir and cook for another 2 to 3 minutes.

Add the chicken stock or vegetable stock and soy sauce. Bring to a boil. Turn to medium-low heat. Simmer uncovered for 10 minutes, or until the curry thickens enough to coat the back of a spoon. Taste for seasoning and adjust with salt if necessary. Turn off heat and remove the pot from the stove. Add the eggs when you're ready to serve, especially for the runny yolk / soft boiled eggs, so they stay soft.

Serve hot over steamed rice garnished with cilantro (if desireas a main dish.
I used packaged curry powder mix in this recipe. The mild Madras curry powder will work well, too.
Serving:
4
g
|
Calories:
425
kcal
|
Carbohydrates:
18.9
g
|
Protein:
14.5
g
|
Fat:
35.4
g
|
Saturated Fat:
25.4
g
|
Cholesterol:
287
mg
|
Sodium:
472
mg
|
Potassium:
788
mg
|
Fiber:
6.4
g
|
Sugar:
8.1
g
|
Calcium:
90
mg
|
Iron:
5.9
mg