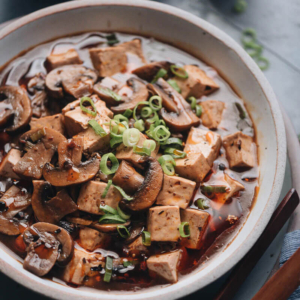 Print Recipe
Vegetarian Mapo Tofu
This vegetarian mapo tofu is so easy to make and irresistibly delicious.The tender tofu and mushrooms are simmered in a rich sauce that's bursting with flavor. If you want the authentic Chinese restaurant experience, look no further!
Add fermented black beans to a small bowl. Add water to cover, gently rub a few times with your fingers, and drain well. Use the back of a small spoon to smash the beans into smaller bits. Add the doubanjiang, chili flakes, and Sichuan peppercorns to the same bowl.

Heat 2 tablespoons oil in a large skillet over medium heat until warm. Add green onion, ginger, and garlic. Stir a few times to release the fragrance.

Add the spice mix from step 1. Cook and stir for 1 to 2 minutes, until the paste is cooked through and very fragrant. If the paste starts to stick to the pan, add a bit more oil or some vegetable broth and use your spatula to release any stuck bits.

Add the mushrooms. Cook and stir for 2 minutes or so, until the mushrooms are evenly coated with the spices. Add a bit of vegetable broth if it start to stick.

Add the vegetable stock, five spice powder, and sugar. Stir to mix well and bring to a simmer.

Spread the tofu in the broth in a single layer. Turn to low heat and simmer for 10 to 15 minutes or so.

Whisk cornstarch with 3 tablespoons water until completely dissolved. Swirl half of the mixture into the tofu, stirring gently with a spatula. Add more until the sauce reaches the desired consistency. Taste a piece of tofu with some sauce. Add more sugar to balance the taste if it is too spicy for you. Transfer everything to a big plate.

(Optional) If you want your dish to look like the authentic mapo tofu in Sichuan, swirl in a few tablespoons of homemade chili oil at the end of the cooking, to give the sauce a beautiful red color.

Serve over steamed rice as a main.
Serving:
4
g
|
Calories:
198
kcal
|
Carbohydrates:
13.1
g
|
Protein:
12.3
g
|
Fat:
12.1
g
|
Saturated Fat:
2.2
g
|
Sodium:
365
mg
|
Potassium:
429
mg
|
Fiber:
2.7
g
|
Sugar:
6.2
g
|
Calcium:
180
mg
|
Iron:
3.8
mg