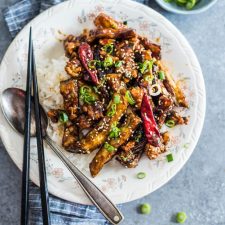 Print Recipe
Sichuan Eggplant Stir Fry (鱼香茄子)
Crispy eggplant covered in a sticky sweet, sour, savory and slightly spicy sauce. A signature Sichuan dish that turns eggplant haters into eggplant lovers. {vegetarian adaptable}
Servings:
2
to 3 servings
Chop eggplant into long sticks of about 2-inch (5-cm) long and 1/4-inch (6-mm) thick.

Place eggplant in a large bowl and add water to cover. Add 1 teaspoon salt, mix well. Place a pot lid on top to keep the eggplant under water for 15 minutes. Drain and pat dry.

Add all the sauce ingredients into a bowl. Stir to mix well.

Sprinkle eggplant with cornstarch and mix by hand, until eggplant is evenly coated with with a thin layer of cornstarch.

Add oil to a large nonstick skillet and heat over medium high heat until hot. Spread eggplant across the bottom of the skillet without overlapping (you might need to cook in 2 or 3 batches). Fry the eggplant one side at a time until all the surfaces are charred and the eggplant turns soft, 5 to 7 minutes. Transfer to a plate. Cook the remaining batch(es) with the same method. If the skillet gets too hot and starts to smoke, turn to medium heat.

Once the eggplant is all cooked, remove the pan from the stove. Drain extra oil and only leave 1 tablespoon in the pan by pouring the oil into a heatproof bowl, or wipe the pan with a few layers of paper towels attached to the front end of a pair of tongs.

Add the Sichuan peppercorns into the pan. Cook over medium heat until the peppercorns turn dark brown. Remove them with a spatula and transfer to a small bowl (*Footnote 3). Add the pork. Cook and chop with your spatula, until separated into small bits and cooked through. Add green onion, garlic, ginger, and dried chili peppers. Stir a few times to release the fragrance.

Stir the sauce again to completely dissolve the cornstarch, then pour into the pan. Stir until the sauce thickens. Return the eggplant to the pan and quickly stir to mix everything well.

Turn to the lowest heat and taste the sauce (be careful, it will be very hot!) Adjust flavor by sprinkling a bit more salt or sugar, if needed. Turn to medium heat and mix well again. Transfer everything to a plate immediately.

Serve hot over steamed rice as a main.
You can either use long Asian eggplant or regular eggplant. If you follow the steps in this recipe, both eggplants will turn out perfectly crispy.
You can skip the pork to make a vegan dish and the sauce will still be very tasty.
The cooked Sichuan peppercorns become fragrant with a more rounded taste, so they make a great seasoning. Save the fried Sichuan peppercorns and grind them into powder. Store in an airtight container in the fridge for 1 month and use it in recipes that call for ground Sichuan peppercorns.
Serving:
1
bowl
|
Calories:
353
kcal
|
Carbohydrates:
25.1
g
|
Protein:
2.7
g
|
Fat:
27.6
g
|
Cholesterol:
0.9
mg
|
Sodium:
846.7
mg
|
Sugar:
10.4
g