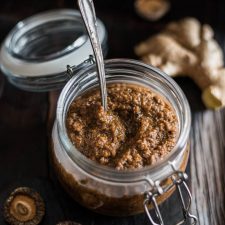 Print Recipe
Homemade Vegetarian Oyster Sauce (Vegan Stir Fry Sauce)
The recipe prep time does not include the time you use to soak the shiitake mushrooms.
1.4

oz (40 grams)

dried shiitake mushrooms

(slightly less than 2 cups)

2

tablespoons

peanut oil

(or vegetable oil)

2

cloves

garlic

, finely minced

1

teaspoon

ginger

, finely grated

1

tablespoon

light soy sauce

(or soy sauce, or tamari for gluten-free)

1

tablespoon

dark soy sauce

(or soy sauce, or tamari for gluten-free) (*Footnote 1)

2

teaspoons

miso paste

(Optional) (*Footnote 2)

1

teaspoon

agave syrup

(or sugar)

1/4

teaspoon

five spice powder

2

teaspoons

sesame oil

, toasted
Gently rinse the shiitake mushrooms to remove the dust on the surface. Transfer into a bowl and cover with 2-inches hot water. Soak until the mushrooms turn completely tender, 30 minutes to 1 hour. To test each mushroom, press the cap with your fingers. You shouldn't feel any tough spots.

Rinse the mushrooms in the soaking water by gently rubbing the caps with your fingers. Squeeze out extra liquid and transfer the mushrooms to a cutting board. Let the mushroom-soaking water sit for 10 minutes. Save the soaking liquid (we will use it later in this recipe). Slice the mushrooms into thin pieces.

Heat peanut oil in a medium size pan over medium heat until warm. Add shiitake mushrooms. Cook and stir until both sides turns golden, 3 to 5 minutes. Add ginger and garlic. Cook and stir for another minute. Transfer everything into a food processor.

Add 1 cup of the reserved mushroom-soaking liquid to the food processor. Puree until smooth. Return everything into the fry pan.

Add light soy sauce, dark soy sauce, miso paste, syrup and five spice powder in a small bowl. Whisk until the miso paste has dissolved completely. Pour into the frying pan and stir to mix well.

Cook over low heat until the sauce is brought to a gentle simmer and is thick enough to coat a spoon. If the sauce turns too dry, add a few more spoons of the mushroom-soaking water.

Remove the pan from stove, add sesame oil, and stir to mix well. Transfer to a big bowl to cool.

Once the sauce has cooled down completely, transfer to an airtight container and store in the fridge for up for 1 week or in the freezer for 2 months.
The miso paste is added as a hidden flavor to make the sauce more interesting. Either red or white miso paste can be used here. Skip this ingredient if you're cooking a gluten-free sauce, since most miso pastes contain wheat.
Dark soy sauce will add a dark brown color to this sauce. You can replace it with normal soy sauce. The color of the final product will be slightly lighter but it does not affect the taste.