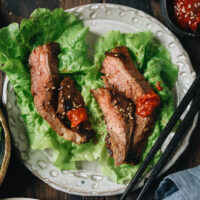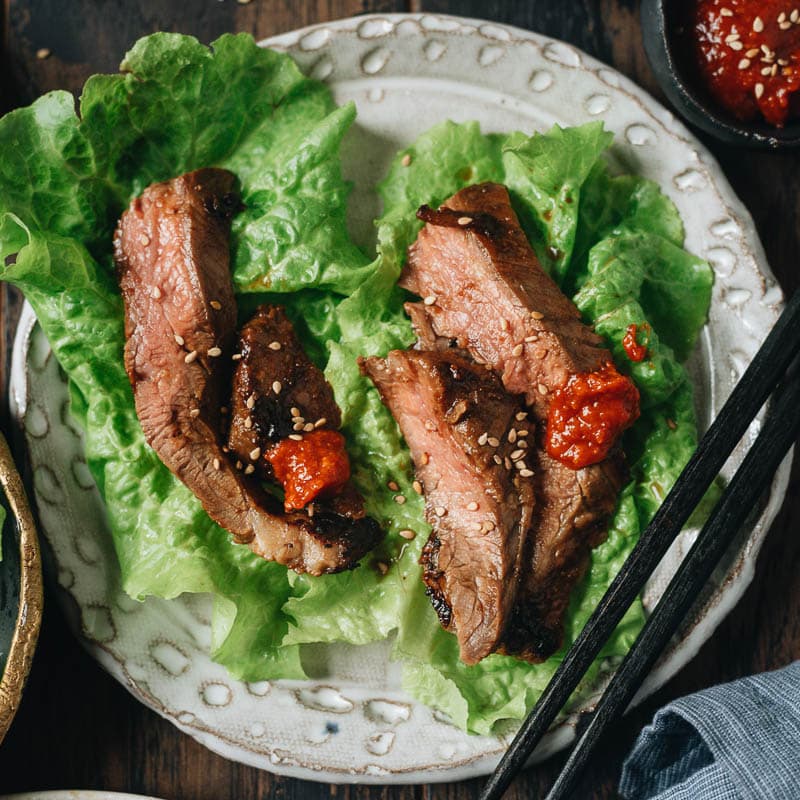 Galbi-Style Marinated Steak
My galbi marinated steak recipe gives you the super succulent and juicy, slightly sweet beauty of the Korean BBQ classic in a format you can cook with a grill or skillet, and it's even great with the more affordable cuts! It's perfect for weekend dinner guests or a date night at home.
Add the marinade ingredients in a blender or food processor. Blend on high until mostly smooth.

Place the steak in a ziplock bag or tupperware container. Pour the marinade over the flank steak. If using a bag, squeeze out as much air as possible then seal it. Marinate for a minimum of 1 hour at room temperature, or up to 24 hours in the fridge. Be careful not to over marinate when using kiwi, the fruit can begin breaking down the meat if left too long. (*Footnote 1)

(Optional) If you store the steak in the fridge, move it to room temperature about 30 minutes or so prior to cooking, so the steak will return to room temperature.

Transfer the marinated steak into a big plate without wiping off excessive marinade liquid from its surface. Preheat a grill or a skillet over high heat until smoking and add the oil. Carefully add the steak. Cook without moving for 3 to 5 minutes, or until the bottom turns golden brown. Flip and cook the other side for another 3 to 5 minutes for a medium-rare steak. Transfer the steak to a big plate and let rest for 10 minutes before carving.

Slice thinly against the grain and serve as a main dish. (Footnote 2)
If you plan to make the dish the same day, I highly recommend marinating the steak 3 to 4 hours ahead of time at room temperature. It gives the steak a good amount of time to be seasoned without breaking down too much.
You can also serve the meat the Korean BBQ style, with lettuce and Ssamjang.
Serving:
1
serving
,
Calories:
187
kcal
,
Carbohydrates:
3.1
g
,
Protein:
23.9
g
,
Fat:
8.2
g
,
Saturated Fat:
3.1
g
,
Cholesterol:
47
mg
,
Sodium:
306
mg
,
Potassium:
296
mg
,
Sugar:
2.1
g
,
Calcium:
14
mg
,
Iron:
2
mg