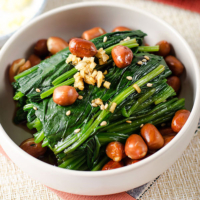 Chinese Spinach and Peanut Salad
Blanched spinach and fried peanuts are served in a gingery vinegar dressing. The tender spinach and crispy peanuts give you a satisfying mouthfeel. The tart vinaigrette is slightly sweet and tastes so refreshing. It's simple, highly nutritious, and easy to cook.

Bring a large pot of water to a boil. Add spinach and cook over medium heat until cooked through, about 2 minutes. Drain spinach and set aside to cool.

Add oil and peanuts to a wok (or small skillet). Heat over medium heat and stir with spatula continuously, until the skin of the peanuts turns dark brown and the edges turn golden brown. Turn off heat immediately and transfer peanuts to a plate to cool.

When spinach is cool enough to handle, squeeze extra water out of it with both hands. Chop spinach into pieces about 8 centimeters (3 inches) in length and transfer to several small serving bowls.

Right before serving, top spinach with peanuts and drizzle with the vinegar sauce. Garnish with sesame seeds and serve immediately.
Serving:
174
g
,
Calories:
249
kcal
,
Carbohydrates:
13.2
g
,
Protein:
13.2
g
,
Fat:
18.5
g
,
Saturated Fat:
2.6
g
,
Sodium:
472
mg
,
Potassium:
975
mg
,
Fiber:
6
g
,
Sugar:
4.1
g
,
Vitamin A:
234
IU
,
Vitamin C:
59
mg
,
Calcium:
16
mg
,
Iron:
29
mg