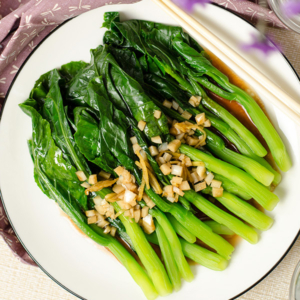 Print Recipe
Chinese Broccoli with Oyster Sauce
The fresh crisp Chinese broccoli is drizzled with a sizzling oyster sauce with a sweet savory flavor. Plenty of fresh ginger and garlic are added so that the pungent herby aroma is noticeable from far away. You will be amazed that a dish could be this simple yet so full of flavor.

Combine oyster sauce, sugar and 2 tablespoons water in a small bowl. Mix well and set aside.

Bring a large pot of water to a boil. Add broccoli and boil over medium heat, until the broccoli is cooked through and the stem part remains crisp. Drain broccoli, transfer to a large plate, and set aside.

Heat a small skillet on medium high heat until hot. Add peanut oil, garlic and ginger. Stir a few times with a spatula until fragrant. Turn to lowest heat. Add the oyster sauce mixture into skillet and stir with a spatula immediately to avoid burning the sauce. When the sauce becomes fragrant, after 10 to 20 seconds, stop heat.

Pour the oyster sauce over the Chinese broccoli and serve warm.
Serving:
167
g
|
Calories:
101
kcal
|
Carbohydrates:
8.8
g
|
Protein:
3.9
g
|
Fat:
6.8
g
|
Saturated Fat:
1.2
g
|
Sodium:
137
mg
|
Potassium:
31
mg
|
Sugar:
1.1
g
|
Vitamin A:
335
IU
|
Vitamin C:
161
mg
|
Calcium:
5
mg
|
Iron:
5
mg