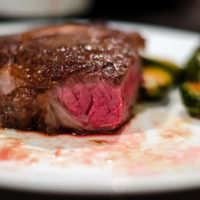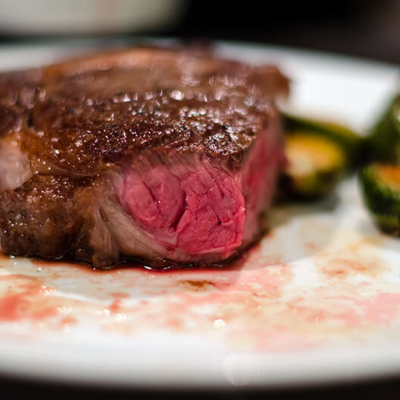 Perfect Steak and Roasted Brussels Sprouts - steak recipe
This recipe is for cooking medium rare steak without a meat thermometer. If you want different doneness, change the baking time in oven.
Please be noticed that different steak cut, meat quality and skillet will affect the cooking result. Change cooking time according to the doneness of steak when you cook it.
option 1 1 pound (500 grams) thick cut dry-aged New York strip steak

option 2 1 pound (500 grams) thick cut dry-aged rib eye

sea salt

3

tablespoons

vegetable oil

1

tablespoon

butter

freshly grounded black pepper
Place steak in a plate, rub sea salt all over the whole steak. Use more salt than you would season for a normal meal. The salt will create a crispy surface in the cooking and it's the only seasoning in this dish. Set aside in room temperature for at least 40 minutes, up to 1 hour. The temperature of the steak should reach room temperature when it's ready to cook.

Preheat oven to 400 degrees F (200 C).

Heat a heavy bottom skillet (I used iron cast skillet) over medium high heat until hot. Add vegetable oil and keep cooking until the oil is smoking. The whole heating process takes around 5 minutes. Add steak carefully and fry the bottom side for 1 and half minute. Flip to another side and cook for 1 and half minute. Using a tong to let steak stands in the skillet. Fry the edge for 30 seconds. Flip to cook the other edge, 30 seconds. Repeat the whole process again and cook each side for 30 seconds. The steak should looks brown and quite done on the surface, but still raw inside.

Transfer the steak into another baking pan and add butter on top. Place the baking pan on the middle rack of oven. Bake for 5 minutes. Transfer the baking pan to the kitchen counter and let the steak rest for 2 to 3 minutes. Cut to see whether it's the desirable doneness. Place steak back to the oven, if the inside is still too raw.

Serve immediately.