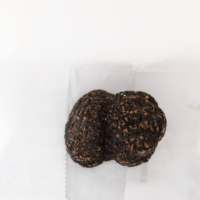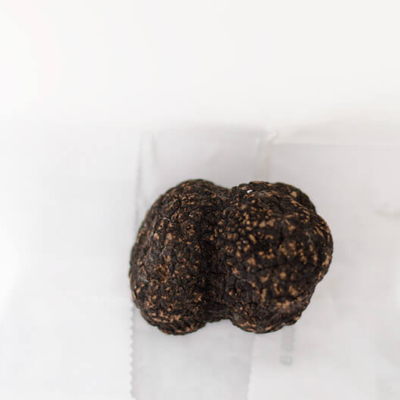 Fresh Winter Black Truffles Risotto
(1) When you're cooking with truffles, do not try to save money on other ingredients. Get high quality risotto rice and a good bottle of dry white wine that you'll enjoy drinking.
(2) I just happened to have some nice chicken broth cooked from a whole chicken, with ginger, onion, celery and carrot. If you don't have chicken broth, a good quality one from supermarket will also be a good choice. First thing of cooking with truffles, you want to use them while they're fresh.
2

tablespoon

olive oil

1/2

small white onion

chopped

200

grams

7 oz. Arborio rice

100

milliliter

3.4 oz. dry white wine

2 1/2

cup

chicken broth

2 1/2

cup

mushroom broth

30 - 40

grams

1 - 1.5 oz. winter black truffle, thinly sliced

50

grams

1.8 oz. parmesan cheese, grated

salt and pepper to taste

4 - 5

slices

winter black truffle for garnish
In a small pot, mix chicken broth and mushroom broth and heat till slightly boil, turns to lowest heat to keep the broth warm.

Heat olive oil in a non-sticky skillet on medium high heat, add white onion, saute until onion is soft and turns translucent, in about 3 minutes. Add Arborio rice, keep stir till rice is mixed well with oil and onion, in 1 to 2 minutes. Add dry white wine and saute until wine is evaporated.

Add 1 cup chicken mushroom mixture broth, keep stir the rice constantly, till the broth is well absorbed. Add rest of broth, 1 cup at a time, and repeat, till the rice is cooked, but still a bit chewy inside, in about 15 minutes. Add final cup of broth and truffle slices, and give it a final stir. Stop heat, add parmesan cheese, salt and pepper to taste.

Garnish with truffle slices and serve immediately.