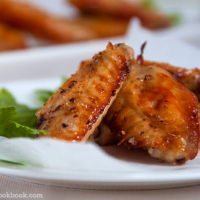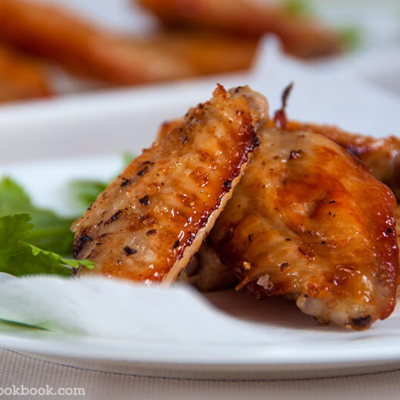 Easy Crispy Baked Chicken Wings
This recipe does not require preheating the oven.
Combine chicken wings and sake in a plastic bag or a Ziplock bag and marinate at room temperature for 15-20 minutes. Flip the bag 1 or 2 times during marinating to make sure the wings are evenly marinated.

Dry chicken wings with paper towel and place on a rack or grilling tray, skin side up. Grind salt and pepper over the chicken wings. Flip the wings and grind salt and pepper on the other side. Don't be stingy with the salt and pepper since they are the only seasonings in the recipe.

Bake on middle rack at 220 degrees C (450F) for around 15 minutes. Then, flip the wings and bake for another 10 to 12 minutes, until both sides have turned golden brown.

Serve immediately with lemon wedges. Squeeze lemon juice onto wings while eating.