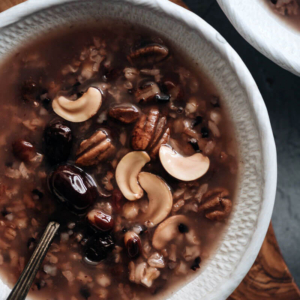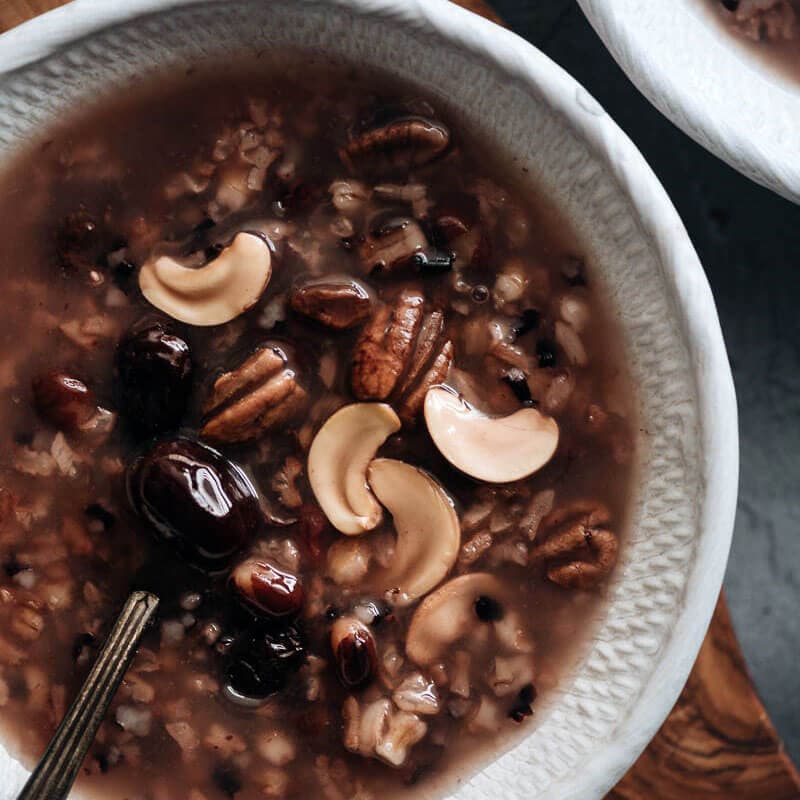 Print Recipe
Eight Treasure Congee (八宝粥)
Eight treasure congee is made with whole grains, nuts, and dried fruits. Traditionally served during a Chinese festival, it's nutritious, comforting, and easy to make. It's a perfect side for a weekday dinner and it tastes as good as a dessert. Both stovetop and Instant Pot versions are included.
1/2

cup (120 ml)

glutinous rice

2

tablespoons

forbidden rice

2

tablespoons

barley

(or brown rice)

2

tablespoons

dry red beans

(or mung beans)

1/8

cup (30 ml)

raw cashews

(or peanuts, or lotus seeds) (*Footnote 1)

1/8

cup (30 ml)

coarsely chopped raw pecans

(or walnuts, or chestnuts)

6

to 10

dried Chinese jujubes

(or dried Longan, rinsed) (*Footnote 2)

2

tablespoons

raisins

8

to 10 cups

of water

1/4

cup

rock sugar

, or to taste (or any other type of sweetener you prefer) (Optional)
Cook with an Instant Pot
Add all the dry ingredients except the sugar, and 8 cups water into the Instant Pot. Set to cook at high pressure for 25 minutes. Once done, release the pressure naturally. (*Footnote 3) Once the pressure is released, stir the congee thoroughly so the texture becomes consistent.

(Optional) Add the sugar according to your taste. Stir so that it dissolves completely. If the rock sugar doesn't dissolve, turn on the saute function and let it cook until the sugar melts, 2 minutes or less.

Serve hot as a side.
Cook on stove top
Combine the glutinous rice, black rice, peanuts, walnuts, barley, red beans in a big bowl. Pour in 2"(5cm) tap water to cover. Soak overnight. Discard the soaking water and drain thoroughly before cooking.

Combine the soaked rice blend, red dates, and raisins in a big pot. Add 10 cups water.

Cook over medium-high heat until bringing to a simmer. Turn to low heat. Cover the pot and leave a finger-wide a gap between the lid and the edge of the pot, to allow more steam to escape and prevent the congee from spilling or boiling over. Simmer until the congee reaches the desired texture, 40 minutes for a thin texture, or up to 60 minutes for a stickier and thicker texture.

(Optional) At the end of the cooking, add the sugar and stir to dissolve it completely.

Serve hot as a side.
It's hard to measure nuts due to their irregular shape (most Chinese recipes would measure them in grams). I usually use a 1/4 cup and fill it about halfway or up to 2/3 full.
I used 10 very small dates and it worked perfectly. If you're using larger dates, reduce the quantity.
Do not use quick release. The congee is very starchy and might clog the valve.
Serving:
8
servings
|
Calories:
146
kcal
|
Carbohydrates:
20.3
g
|
Protein:
3.4
g
|
Fat:
6.3
g
|
Saturated Fat:
0.7
g
|
Sodium:
9
mg
|
Potassium:
142
mg
|
Fiber:
2.3
g
|
Sugar:
3.2
g
|
Calcium:
2
%
|
Iron:
7
%