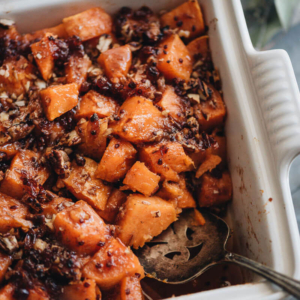 Print Recipe
Red Currant Miso Glazed Sweet Potato Casserole
Integrating some Asian elements to make your hearty sweet potato casserole stand out on the Thanksgiving dinner table. {Vegetarian}
3

lbs (1.4 kg)

sweet potatoes

1/3

cup

chopped pecans
Preheat oven to 400 degrees F (200 C).

Place the sweet potatoes on a parchment-lined baking sheet and bake until tender throughout, about 1 hour or slightly longer if you're using large sweet potatoes. Alternatively you can boil the sweet potatoes on the stovetop for 20 minutes.

Transfer the sweet potatoes to a plate to cool, until you can handle them with your hands. Peel the sweet potatoes and chop them into 1" (1.5 cm) cubes. Add the sweet potatoes into a 9x9" casserole dish.

While allowing the sweet potatoes to cool, whisk together all the ingredients for the glaze, except the water, in a medium-sized bowl. Break up the miso paste and fruit spread with a spoon to form a smooth paste. Heat the bowl in the microwave for 30 seconds. Whisk again until the ingredients are evenly combined. Add the water and heat in the microwave for another 30 seconds. Whisk again to mix well.

Evenly sprinkle the pecans on top of the sweet potatoes. Pour the red currant miso sauce over the sweet potatoes and pecans. Bake for 20 minutes, or until the sweet potatoes are heated through and the toppings caramelized.

Remove the casserole from the oven and serve hot.