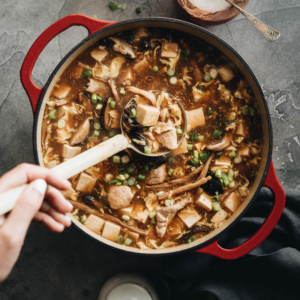 Print Recipe
Hot and Sour Soup (酸辣汤)
Chinese restaurant-style hot and sour soup made easy! The hearty, spicy, sour broth is loaded with mushrooms, silky eggs, and tofu. I've included lots of notes so you can tweak the recipe with the ingredients you have on hand, plus how to make this dish vegetarian. {Vegetarian adaptable}
(Optional) Rehydrate (*Footnote 1)
Optional Marinate (*Footnote 2)
Soup
2

teaspoons

minced ginger

2

green onions

chopped

2

tablespoons

Chinkiang vinegar

1

teaspoon

white pepper powder

(or 1/2 teaspoon white pepper powder for a less spicy dish)

6

cups

water

or chicken stock (*Footnote 3)

1/2

block

(8 oz / 227 g) firm tofu, cubed

1

tablespoon

light soy sauce

or soy sauce

3

tablespoons

cornstarch

1

teaspoon

salt or to taste

2

eggs

beaten

1

teaspoon

sesame oil
Gently rinse dried shiitake mushrooms, dried wood ear mushrooms, and lily flowers with tap water. Soak each of them with 1.5 to 2 cups warm water in three big bowls. Rehydrate for 30 minutes to 1 hour, until tender. Slice mushrooms into strips. Snip off the tough ends of lily flowers and discard. Remove tough ends of wood ear mushrooms, then chop into bite-sized pieces.

Combine pork, Shaoxing wine, salt and cornstarch in a bowl. Mix well by hand. Marinate for 10 - 15 minutes.

Add Chinkiang vinegar and white pepper into a small bowl. Mix well until the white pepper is completely dissolved.

Add water or chicken stock, ginger, and green onion into a pot and heat over medium-high heat. Add rehydrated wood ear mushrooms, shiitake mushrooms, lily flowers, and tofu to the pot. Cook until bringing to a simmer. Add soy sauce and turn to medium-low heat.

Mix the cornstarch with 1/4 cup of water in a bowl until cornstarch is fully dissolved. Slowly swirl the cornstarch slurry into the soup. Stir to thicken the soup.

Add the pork from step one into the soup, stirring several times to prevent the pork strips from sticking together. Add the salt. Slowly swirl in the beaten egg and stir well. The egg should be scattered and not clotted.

Remove the pot from stove. Add the vinegar and pepper mixture and stir to mix well.

Garnish with cilantro and drizzle with sesame oil. Give it a final stir.

Serve hot.
If you do not have these dry ingredients, you can use half a pound of fresh mushrooms instead. Then use chicken stock instead of water to make the soup.
Skip the meat if you want to create a vegetarian dish.
Use chicken stock or vegetable stock instead of water if you are not using the dry ingredients (shiitake mushrooms, lily flowers, and wood ear mushrooms) in this recipe.
Serving:
4
g
|
Calories:
216
kcal
|
Carbohydrates:
9.1
g
|
Protein:
19.9
g
|
Fat:
11.1
g
|
Saturated Fat:
3.3
g
|
Cholesterol:
112
mg
|
Sodium:
883
mg
|
Potassium:
473
mg
|
Fiber:
1.3
g
|
Sugar:
1.6
g
|
Calcium:
11
%
|
Iron:
20
%