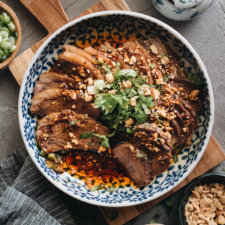 Print Recipe
Fu Qi Fei Pian (Sichuan Sliced Beef in Chili Sauce, 夫妻肺片)
Tender beef slices are served in a rich, spicy hot sauce and topped with peanut flakes and cilantro. To make a gluten-free dish, replace the soy sauce with tamari, replace the Chinkiang vinegar with rice vinegar, and use dry sherry instead of Shaoxing wine. Note, the nutrition below is an estimation based on the calculation of beef brisket.
Servings:
6
to 8 servings
3

to 3.5 lbs (1.3 to 1.5 kg)

beef brisket

, chuck, tongue, and/or tripe (I used a mixture of brisket and tongue) (*Footnote 1)
Braising
1/4

cup

light soy sauce

(or soy sauce)

1/4

cup

Shaoxing wine

(or dry sherry)

1

tablespoon

sugar

3

green onions

, halved lengthwise

2

large slices ginger

1/2

cinnamon stick

1

bay leaf

1

teaspoon

Sichuan peppercorns

1

teaspoon

salt

1/4

teaspoon

nutmeg powder
Braise
(Option 1 - stovetop) Place the beef in a big pot and add water to cover by 1 inch. Cook over medium-high heat until boiling. Turn to medium heat and boil for 10 minutes. Skim the surface using a fine mesh strainer and discard the foam until the broth turns clear. Add all the braising ingredients. Turn to medium-low heat. Simmer, covered, until the beef turns tender but not tender enough to fall apart, 2 hours or so.

(Option 2) Place the beef in a pressure cooker or Instant Pot. Add all the braising ingredients and 1 cup water. Close and seal the lid. If using a pressure cooker, cook over medium heat until the pressure is achieved, then turn to medium-low heat. Cook at high pressure for 35 minutes. Use natural release once done.

Once the beef is done, transfer to a plate to cool enough to handle. Slice the beef against the grain into 1/8-inch (4-cm) pieces. (*Footnote 4) Now you can serve the beef or store it in an airtight container in the fridge for 3 to 4 days before serving.
Serve
Cut the beef into thin slices. Transfer to a deep plate. Drizzle with plenty of sauce, top with cilantro, sesame seeds, and peanuts.

Serve at room temperature as an appetizer or a main dish. (*Footnote 5)
The real-deal Fu Qi Fei Pian served in China is usually a mixture of cheap cuts of beef and innards, such as tripe or heart. If you are not comfortable using innards, simply use a large cut of beef, such as brisket, chuck, pot roast, or eye round roast. My favorite combination is brisket and beef tongue.

Get the braising liquid from the pot once you're done cooking the beef.

If you do not have this ingredient, you can also use 2 tablespoons soy sauce plus 2 teaspoons sugar as a substitution, though your sauce will lose its thick consistency.

If using beef tongue, do remember to remove and discard the tough skin once you finish braising.

The beef will taste best when it's fresh and still a bit warm. If you store it in the fridge, you can gently heat it up in the microwave before serving. It will revive the beef, making the texture tender and bringing out its flavor, which helps it soak up more sauce.
Serving:
8
g
|
Calories:
382
kcal
|
Carbohydrates:
1.1
g
|
Protein:
52
g
|
Fat:
17.6
g
|
Saturated Fat:
5
g
|
Cholesterol:
152
mg
|
Sodium:
412
mg
|
Potassium:
713
mg
|
Fiber:
0.2
g
|
Sugar:
0.2
g
|
Calcium:
10
mg
|
Iron:
32.2
mg