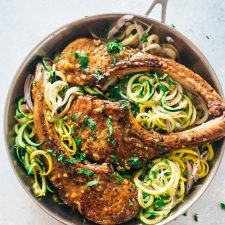 Print Recipe
Easy Orange Pork Chops
Tender and juicy pork, perfect brown crust, served in a scrumptious orange sauce. Making weekday dinner couldn't be easier! {Gluten-Free}
4

pork chops

bone-in or boneless (*Footnote 1)

1/2

teaspoon

sea salt

1/2

teaspoon

freshly ground black pepper

2

tablespoon

vegetable oil

1

cup

homemade orange sauce

(or bottled sauce)
(Optional) Side
1

Shallot

, sliced

4

zucchini (or 1 pound russet potato)

, cut into noodles using a spiralizer

1

tablespoon

olive oil

Sea salt and black pepper to taste
If you're using bone-in pork chops thicker than ½ inch (1 cm), preheat oven to 350 degrees F (176 C).

Pat dry pork chops with paper towel and place on a large tray. Sprinkle salt and black pepper on both sides.

Heat a heavy duty stainless steel or carbon steel skillet over medium high heat until hot. Add oil and swirl the pan to coat. Pat dry pork chops again with paper towel. (*Footnote 2) Add pork chops to pan, in two batches if needed. Cook each side for 2 to 3 minutes, until golden brown. If you're cooking thin-cut chops, they are done now, so you can transfer them to a big plate. Cover the plate with aluminum foil with a slit on top to let the steam out, so the pork will remain crispy. If you're cooking thick-cut chops, transfer the pan into the oven and bake for 10 to 20 minutes, until the internal temperature reaches 135 F to 145 F (57 C to 63 C) for medium (the USDA minimum temperature is 145 F / 63C), or 145 to 155 F (63C to 38 C) for medium well.
(Optional) Side dish
Heat oil in a large pan until hot. Add shallot. Cook and stir for 1 minute, until tender.

Add the spiralized vegetables and a pinch of salt. Cook and stir until the vegetables turn tender, or reached desired doneness. Season with more salt and black pepper, if needed.
You can use any cut you prefer. If you use thin pork chops that are ½ inch (1 cm) thick or less, you only need to pan fry them. For boneless thick-cut chops, you can pound them to ½ inch and cook them on the stovetop. If you use a bone-in thick-cut pork chop, it requires finishing in the oven. For more information, scroll up to read the "pork chop cooking time" in the blog post.
If you rest the pork chops for more than 10 minutes, the surface of the pork will become moist. Pat dry to ensure proper browning and less oil splatter.