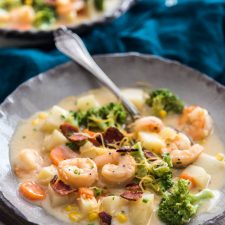 Print Recipe
Asian-Style Potato Chowder
Creamy, comforting, and smooth, this veggie loaded Asian-style potato chowder is a soothing one-bowl meal that will warm you up in winter.
Topping options
Thinly sliced chive or green onion

shredded cheese, bacon crumbs
Add oil to a large dutch oven or heavy duty stockpot and heat over medium heat until warm. Turn to medium low heat. Add carrot. Cook and stir until just starting to turn tender, after about 5 minutes.

Add green onion and garlic. Cook and stir for another minute to release fragrance.

Sprinkle flour into the pot. Cook and stir to let it coat evenly with the ingredients. Cook for about 1 minute to fully cook the flour.

Add miso paste. Stir to coat evenly on the ingredients.

Add chicken stock, half a cup at a time. Stir and cook until simmering before adding more. When it forms a silky and runny paste, add the rest stock and milk, stir to combine.

Add potato and corn. Cook over medium heat until brought to a simmer. Turn to medium low heat. Let simmer for 10 to 15 minutes, until the potato turns tender but does not break part. Stir occasionally to avoid burning the bottom.

Add broccoli and shrimp. Continue to cook for 3 to 5 minutes until cooked through.

Stir in cheddar cheese, salt and pepper. Stir to mix well, and adjust seasoning if needed.

Serve warm.
The Asian-style potato chowder is less heavy than western style cream soup. If you like your soup extra rich, use 3 tablespoons olive oil and 3 tablespoons all-purpose flour instead.
Red, white, and awase (mixed) miso all work well in this recipe.
Serving:
405
g
|
Calories:
282
kcal
|
Carbohydrates:
30.4
g
|
Protein:
17.6
g
|
Fat:
11.3
g
|
Saturated Fat:
4.9
g
|
Cholesterol:
82
mg
|
Sodium:
605
mg
|
Potassium:
751
mg
|
Fiber:
3.5
g
|
Sugar:
7.3
g
|
Vitamin A:
64
%
|
Vitamin C:
115
%
|
Calcium:
29
%
|
Iron:
10
%