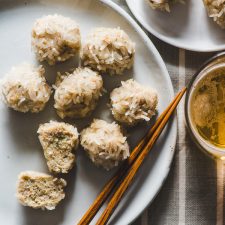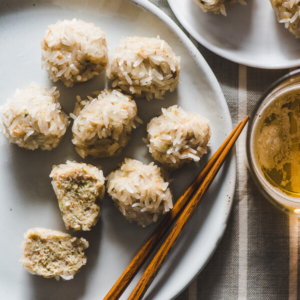 Print Recipe
Pearl Balls (Steamed meatballs in sticky rice, 珍珠丸子)
The tender and moist pork meatballs are covered with gooey rice. Fun to cook and great tasting!
2/3

cup

glutinous rice

1/4

cup

dried shrimp

1/2

pound (220 grams)

ground pork

(20% to 30% fat content) (*see footnote 1)

2

tablespoons

potato starch

1

tablespoon

light soy sauce

(or tamari for gluten-free)

1

tablespoon

Japanese sake

(or Shaoxing wine, or dry sherry)

2

teaspoons

sesame oil

(or peanut oil, or vegetable oil)

1/2

thumb ginger

4

green onions

, coarsely chopped

2

egg whites

1/2

teaspoon

sugar

3/4

teaspoon

salt

1/4

teaspoon

white pepper powder

1/4

teaspoon

nutmeg powder

1/3 cup water chestnuts

(Optional)
Make meatballs
On the day you plan to make the meatballs, drain glutinous rice and dried shrimp.

Combine all the ingredients, except the water chestnuts and glutinous rice, in a food processor (*see footnote 3). Pulse a few times. Process until it forms a paste. The paste should be tender but neither runny nor tough. If you find the paste too runny and difficult to shape, you can blend in more cornstarch. If it's too dry or tough, blend in a bit of water.

Add water chestnuts. Process until the water chestnuts are chopped into small bits. Transfer the paste to a bowl.

Add 5 cm (2 inches) water to a steamer and bring it to a boil.

Prepare the paste, the glutinous rice, and an empty plate, all in front of you.

Scoop out about 1 tablespoon of meat paste, shape it into a ball, and roll it in the glutinous rice, until the surface is fully coated with rice. Gently press with hand so that the rice sticks to it. Place meatball on the plate, leaving 1 cm (1/3 inch) between them. Make the rest of the meatballs with the same method.

Steam the meatballs for 20 minutes, or until cooked through (*see footnote 4).

Serve warm as a main. (*see footnote 5)
Store and reheat
Store the meatballs in an airtight container in the fridge for up to 4 days, or in the freezer for up to 3 months.

The best way to reheat the meatballs is by steaming. It will keep the meatballs moist and tender.

If reheating with microwave, add a few drops of water into the bowl and cover it with a plate, to prevent the meatballs from drying out.
A higher fat content makes the meatballs very juicy and tender. For an even better taste, use a combination of pork shoulder and pork belly to get higher fat content. You can coarsely chop the meat then grind it in the food processor.
Soaking for less time will result in tough rice and shrimp. You can keep the glutinous rice in the water for up to a day.
If you do not have a food processor, mince the shrimp, ginger, and green onion finely. Cut the water chestnuts into small bits about the size of corn kernels. Mix them with the ground meat in a circular motion until it forms a consistent paste.
You might need to steam the meatballs in two batches unless you're using two tiers of bamboo steamer, stacked together. Once you've shaped the first batch of meatballs, steam them while shaping the second batch.
This dish is intended to be served without sauce. You also serve it with sriracha or a dumpling dipping sauce (1 tablespoon Chinkiang vinegar + 2 teaspoons soy sauce + 1/2 teaspoon sugar + 1/2 teaspoon sesame oil).
Serving:
22
g
|
Calories:
45
kcal
|
Carbohydrates:
5.5
g
|
Protein:
2.2
g
|
Fat:
1.5
g
|
Saturated Fat:
0.5
g
|
Cholesterol:
6
mg
|
Sodium:
66
mg
|
Potassium:
28
mg
|
Vitamin C:
2
%
|
Iron:
2
%