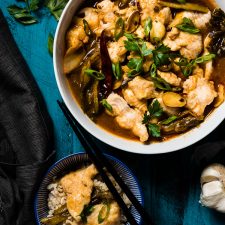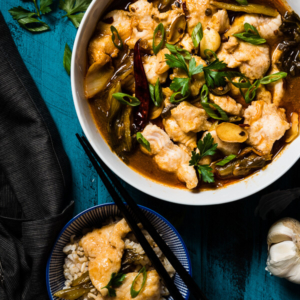 Print Recipe
Suan Cai Yu (Easy Version)
Suan Cai Yu is a lesser known Sichuan dish that features a hot and sour broth with super tender fish slices. This post includes two versions of the recipe – an easy one that you can finish cooking in 40 minutes; and an authentic one that you'll want to use when hosting a dinner party.
Marinade
1

pound (400 grams)

catfish fillets

(or catfish nuggets)

1

egg white

1/4

teaspoon

white pepper

1/8

teaspoon

salt

1

tablespoon

potato starch
Cook
2

chili peppers

, dried

3

green onions

, chopped

6

cloves

of garlic

, halved

1

slice

ginger

2

tablespoons

doubanjiang

(or 1 tablespoon for a less spicy dish)

1

pack (250 grams / 9 oz.)

Sichuan pickled mustard greens

, sliced

1/4 cup pickled jalapeno for extra sourness

(Optional)

1

tablespoon

Shaoxing wine

3 to 4

cups

chicken stock

2

teaspoons

sugar

1/2

teaspoon

salt or to taste

(or 1/4 teaspoon fish sauce)

1/4

teaspoon

white pepper powder
Oil
2

tablespoons

peanut oil

1

teaspoon

Sichuan peppercorn

1

tablespoon

doubanjiang
To marinate the fish
To slice catfish, tilt the knife so it's 45 degrees against the cutting board. Slice fish in a sawing motion along the grain into 1/2 cm (1/4 inch) thick slices.

Combine fish, white pepper, salt, egg white, and potato starch in a bowl. Gently mix the ingredients by hand, until the fish is evenly coated with a thin layer of starch. Let marinate for 10 to 20 minutes.
To cook the fish
Heat vegetable oil in a deep skillet (or a wok) over medium heat until warm. Add green onion, garlic, ginger, and chili pepper. When it starts to sizzle, turn to medium low heat. Cook for 1 to 2 minutes.

Add doubanjiang. Stir and cook until the herbs are evenly coated.

Add Sichuan pickles and jalapenos (if using). Cook and stir for 5 minutes. Add Shaoxing wine to deglaze the pan. Quickly stir a few times.

Add chicken stock. Cook over medium heat until boiling. Turn to medium low heat and let the broth simmer for 5 minutes. Transfer the pickles to a big serving bowl.

Make sure there is at least 1 cm (1/2 inch) of broth in the skillet, so the fish slices will be submerged later. Add more chicken stock if necessary, and return to a boil.

Add sugar, salt, and white pepper powder. Mix well. Taste the broth and adjust seasoning if needed. The broth should be slightly salty.

Turn to medium heat. Add fish slices in two batches. Use a spatula to gently transfer the fish to the skillet, and use a pair of tongs to quickly separate the slices without tearing the fish apart. Cook until fish is just cooked through, less than 30 seconds. Transfer the fish and the soup to the serving bowl on top of the pickles.
To cook the oil
Heat oil in another small skillet until warm. Add Sichuan peppercorns and doubanjiang. Cook and stir until the oil turns red and the peppercorns turn dark.

Use a spatula (or colander) to remove and discard the solid ingredients.

Pour the oil onto the fish while it's hot.

Garnish the fish with green onion and serve warm.