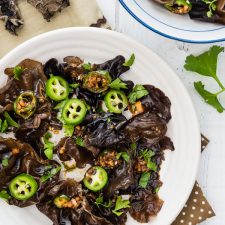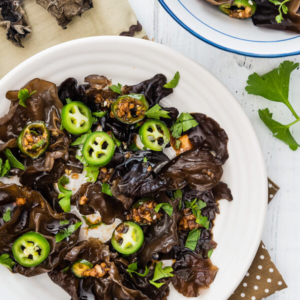 Print Recipe
Wood Ear Mushroom Salad (凉拌木耳)
This wood ear mushroom salad is a simple and refreshing cold appetizer that is wildly popular in China but unknown in the rest of the world. Learn this recipe and start cooking like a real local!
Combine wood ear mushrooms with 3 cups water in a large bowl. Rehydrate for 2 to 3 hours. If you are in a hurry, you can use hot water instead. It will shorten the rehydration time to 20 minutes. Gently rinse the rehydrated mushrooms with tap water. Remove the tough ends and tear into small pieces.

Bring a pot of water to a boil. Add wood ear mushrooms and cook for 3 minutes. Drain, rinse the mushrooms with cold water, drain again, and set aside.

Combine garlic, chili pepper (if using), light soy sauce, black rice vinegar, sugar, and salt in a small bowl. Stir to mix well.

Heat peanut oil in a small skillet until warm. Add Sichuan peppercorn. Cook until you can smell a strong fragrance, 2 to 3 minutes. Stop heat. Remove all the peppercorns with a slotted spoon.

Pour the hot oil into the small bowl of soy sauce based mixture. Mix well.

Combine the sauce and wood ear mushrooms in a bowl, toss a few times.

Garnish with cilantro and serve as a cold appetizer.