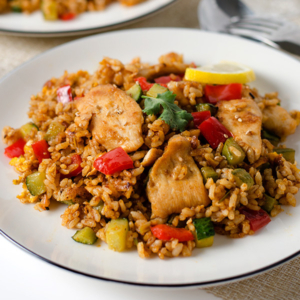 Print Recipe
Thai Curry Chicken Fried Rice
Thai chicken fried rice is such a fulfilling dish. It is yummy, healthy and colorful. The tender and moist slices of chicken, the slightly charred rice with a tangy flavor of herbs and red curry, and the crispy pepper and cucumber, all coming together on one plate. The dish only takes 30 minutes to cook and you will be surprised that such a vibrant plate could be created from a few leftover ingredients in your fridge.

1/2

piece

chicken breast

, sliced

2

teaspoons

light soy sauce

2

teaspoons

cornstarch

2

teaspoons

oyster sauce

1

teaspoon

fish sauce

1/2

teaspoon

sugar

2

tablespoons

peanut oil

(or vegetable oil)

1

red pepper

, diced

1

cucumber

, diced

2

tablespoons

green onion

, chopped

1

tablespoon

garlic

, chopped

1

tablespoon

massaman curry paste

2

cups

rice

, cooked

1 teaspoon peanut oil + 1 egg, beaten

(Optional)

1/2

teaspoon

lime juice

(or lemon juice)

chopped cilantro for garnish

(Optional)
Place chicken breast in a small bowl, and add 1 teaspoon light soy sauce and cornstarch. Mix well with fingers until chicken is coated with a thin layer of starch. Marinate at room temperature for 10 to 15 minutes.

In a small bowl, combine the remaining 1 teaspoon of light soy sauce, the oyster sauce, the fish sauce and the sugar. Mix well and set aside.

Heat 2 teaspoons of oil in a nonstick skillet over medium high heat. When oil is warm, spread chicken slices onto skillet. Grill for 2 minutes, until the bottom side turns golden brown. Flip and grill the other side, until the surface turns golden brown. Turn to lowest heat and transfer chicken to a plate. Set aside.

Pour 1 teaspoon of oil into the same skillet and turn to medium high heat. Add red pepper and cucumber and stir until the vegetables are cooked through, about 2 minutes. Turn to low heat. Transfer cooked vegetables to the plate with the chicken.

Add 2 teaspoons of oil, green onion and garlic into the same skillet. Stir a few times until fragrant. Add curry paste and stir to mix curry with the herbs until fragrant. Add 1 teaspoon of oil and rice. Use spatula to chop rice into small chunks. Chop and stir the rice until mixed well with curry paste.

(Optional) Use spatula to move the rice to one side of the skillet. Add oil and egg on the other side. Wait until egg is slightly cooked on the bottom, then mix the egg with rice. Stir a few times until egg is cooked.

Add chicken and vegetables back into skillet. Mix the sauce with a spoon and swirl into the skillet. Stir to mix everything well, for 1 to 2 minutes. Stop heat, add lime juice, and mix with spatula again. Carefully taste the rice and adjust seasoning if needed.

Garnish with cilantro and serve warm.
Serving:
521
g
|
Calories:
602
kcal
|
Carbohydrates:
70.5
g
|
Protein:
31.3
g
|
Fat:
21.3
g
|
Saturated Fat:
2.4
g
|
Cholesterol:
64
mg
|
Sodium:
660
mg
|
Potassium:
640
mg
|
Fiber:
2.3
g
|
Sugar:
6.4
g
|
Vitamin A:
42
IU
|
Vitamin C:
138
mg
|
Calcium:
6
mg
|
Iron:
26
mg