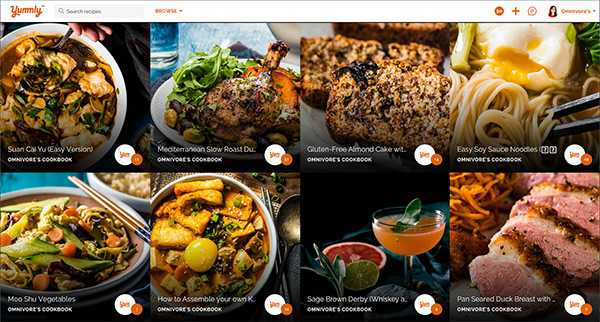 Great news – I am now a publisher on Yummly.
You might have noticed the "yum" button under each recipe title. Yummly is a great recipe collecting tool that gathers all your favorite recipes from every website into your pocket. It is also a powerful recipe search engine and can recommend recipes based on your preferences. You can print out recipes from the recipe box, or use its conversion function to change the number of servings. Yummly has the #1 iPhone, iPad, and Android apps in addition to millions of website visitors. If you download the Yummly app, you can also use its smart shopping list to make shopping much easier.
Yummly allows you to specifically include or exclude certain ingredients in your recipe searches.  If you're looking for recipes that are dairy-free, gluten-free, paleo, or vegetarian, or if you just want to know what you can make with a specific ingredient, this site has it all.  Likewise, you can rank different tastes (salty, savory, sour, bitter, sweet, spicy) by how much you like or dislike them, all to suit your preferences.
To start collecting recipes, all you need to do is register on Yummly (it takes 2 minutes). Then you can use the "yum" button to add recipes into your recipe box. It is so much easier than other tools or bookmarks I've used. If you look at the top and the bottom of my recipe posts, you'll see the orange yum button among the other share buttons. You can add my recipes into your box with a single click.
What about websites that don't have a yum button? Simply drag the bookmarklet button onto your browser's toolbar, and you're all set! To save a recipe, click the button; it will find the recipe on the page and save it to your recipe box.
Check out my publisher page here to view all the recipes in one place!