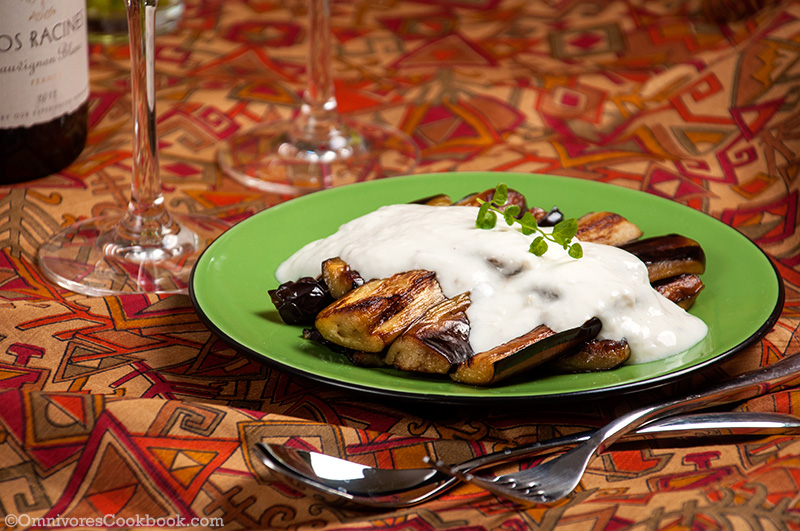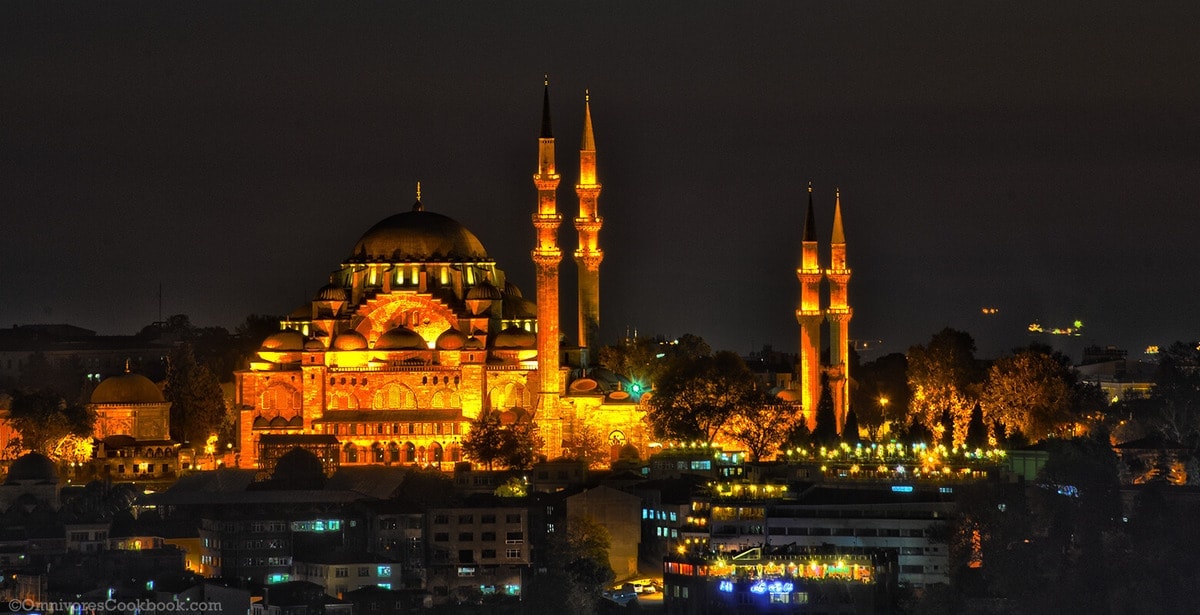 This eggplant is roasted until nicely charred, soft in texture, with a nutty flavor. It is then drizzled with a refreshing garlic yogurt sauce and served with fresh bread. A simple and flavorful appetizer that you can serve warm or cold.
After a long holiday in Istanbul and enjoying so much wonderful Turkish food, I couldn't wait to recreate some of my favorite dishes at home. Fried eggplant with yogurt is one of the signature dishes of Turkish meze. It is simple, healthy, and very delicious.
Thick Greek yogurt is a very common ingredient in Turkish cuisine and is often mixed with lemon juice, garlic, pepper and salt. It has a very creamy texture and refreshing flavor that goes well with fried or grilled vegetables, for example – eggplant, pepper, and carrot. I came across several different versions of grilled eggplant with yogurt in Istanbul. Some restaurants prefer drizzling sweet chili oil on top, while others prefer to mix tomato paste into the yogurt sauce. They all tasted wonderful, with different characteristics.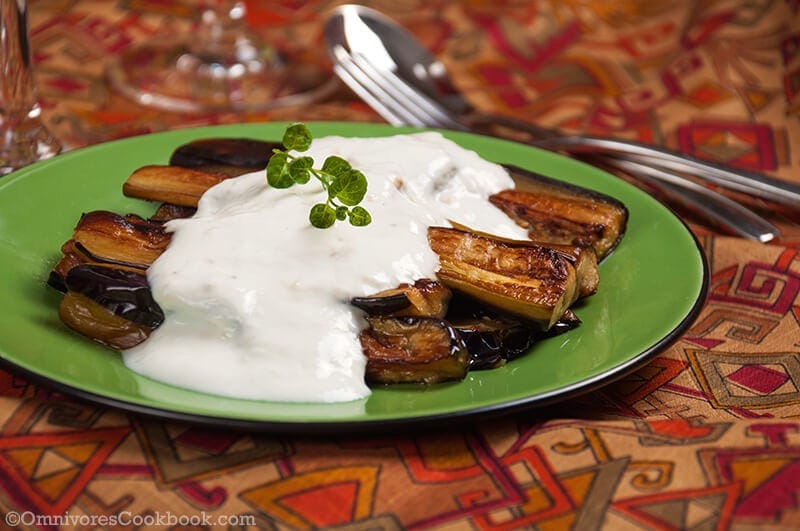 The dish I will introduce today was adapted from Classic Turkish Cooking by Ghillie Basan. It is the basic version of Turkish eggplant with yogurt, which uses plain yogurt as the sauce. It's an appetizer that is very rich in flavor and easy to prepare ahead of time. You can serve it warm or cold, with a baguette or any other bread you like. The yogurt sauce itself can be used as a tasty bread dipping sauce too.
Two Tips to Help You Cook Perfect Eggplant
1. Peel the eggplant in a zebra stripes pattern for a soft texture
Peeling every other strip of skin from the eggplant, then soaking it in salt water is a good way to create a better texture. After soaking in salt water, the eggplant will turn softer and lose its bitter juice. Partially removing the skin will help the salt water penetrate the eggplant and help with the softening process.
2. Get perfect fried eggplant with less oil
Eggplant does not taste good if you cook it with too little oil, but you can grill-fry the eggplant one side at a time using only enough oil to cover the skillet. When the eggplant is cooked well inside, the oil that was absorbed during frying will start to seep out. When the color of the eggplant turns golden brown and its texture soft, you can squeeze the oil back into the skillet with a pair of tongs and transfer the eggplant to a paper towel to soak up any extra oil. This way, you can cook very tasty fried eggplant using only 1/3 the amount of oil required for frying.
Interested in Turkish food and street views of Istanbul? Check out the posts on my adventure in Istanbul for more delicious food pictures and introductions!
Adventure in Istanbul – Colorful Street Food
Adventure in Istanbul – Dinner at Karaköy Lokantası
Adventure in Istanbul – Enjoy Turkish Meze
Adventure in Istanbul – Dinner at Meze by Lemon Tree
Adventure in Istanbul – Enjoy Turkish Coffee
Adventure in Istanbul – Lunch at Gram
Breakfast Experience in Istanbul
Adventure in Istanbul – Turkish Food Experience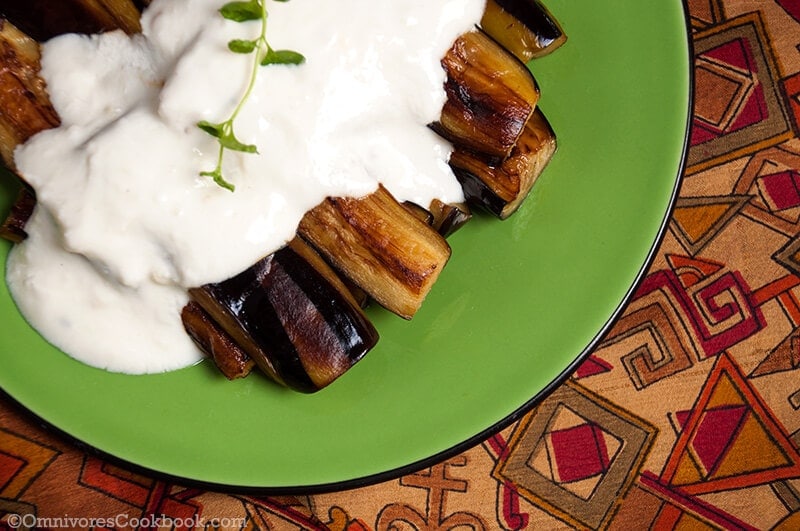 Want to Know More?
Receive our 5-Day Chinese Cooking Crash Course & Recipe Updates! Subscribe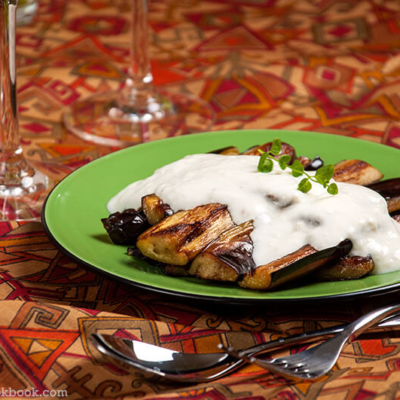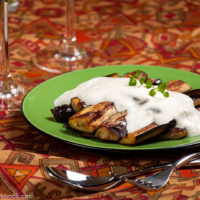 Turkish Eggplant and Yogurt
Ingredients
2

large eggplants

1

tablespoon

plus 1 teaspoon salt

1

cup

Greek yogurt

or strained plain yogurt

1

and 1/2 teaspoons smashed fresh garlic

from 2 large cloves

1

tablespoon

freshly squeezed lemon juice

freshly ground black pepper to taste

vegetable oil to fry eggplant
Instructions
Peel the eggplant partially, in a zebra stripe pattern, cut off and discard stems, halve the eggplants into shorter chunks, then cut each into 2 parts lengthways. Dissolve salt in a large bowl of water, add eggplant into salted water, and place a heavy lid on top (to keep eggplant submerged) for 1 hour. (refer to the cooking tips in post)

(option) If you use plain yogurt, strain it with several layers of cheesecloth or coffee filter, for 45 minutes to 1 hour.

Combine yogurt, garlic, lemon juice, 1 teaspoon salt and black pepper in a small bowl and mix well. Set aside to let spices blend into the yogurt.

Take eggplant out of salted water and squeeze out any extra water. Slice each piece into thinner strips, each about 2 centimeters (0.8 inches) thick. If there's water on surface of eggplant, dry it with a paper towel.

Place 2 to 3 layers of paper towel on a plate and set aside.

Heat a nonstick skillet on medium high heat and add vegetable oil to cover the bottom of the skillet (refer to the cooking tips in post). When oil is hot, fry eggplant one side at a time until golden brown. If the skillet is not big enough, fry the eggplant in smaller batches. Place cooked eggplant on paper towel to soak up any extra oil. When eggplant has cooled down a bit but is still warm, discard paper towel.

Right before serving, pour yogurt mixture on top of eggplant.

Serve warm or cold as an appetizer or with bread.