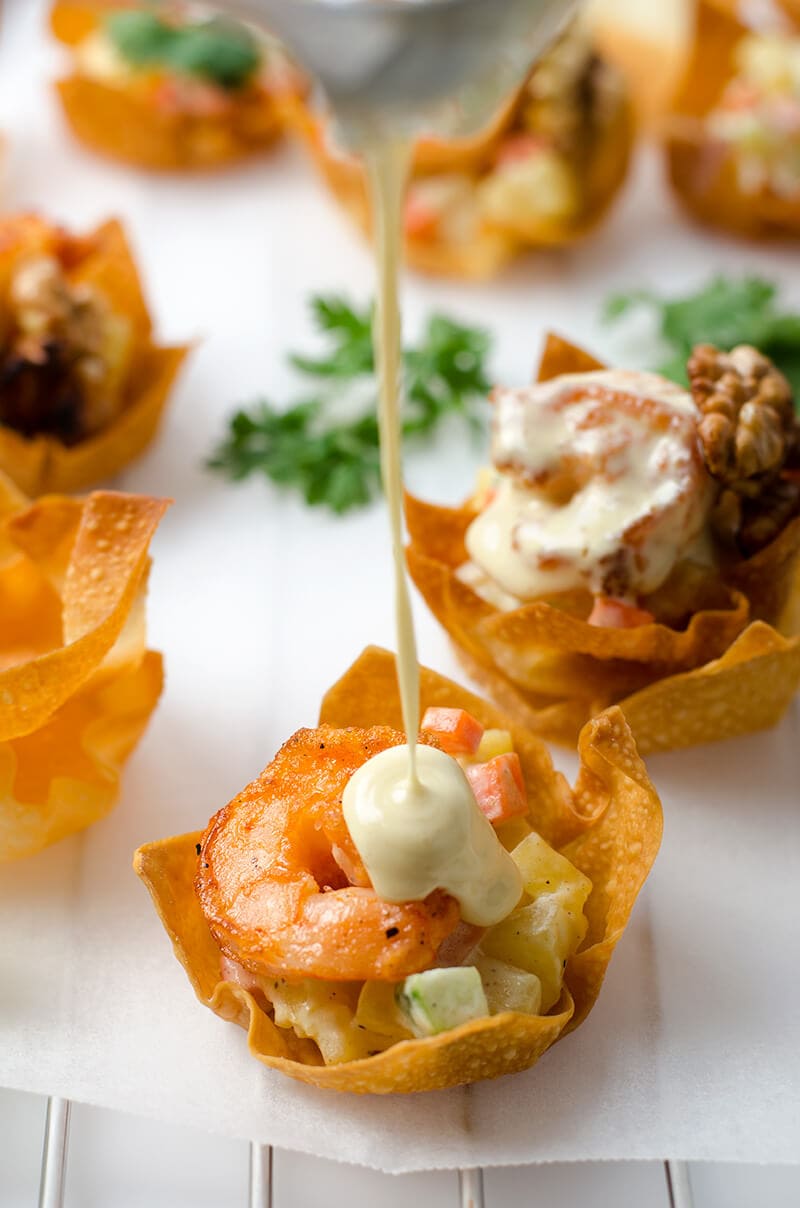 For some of the dishes I've cooked, there's been a pattern.
(1) I was trying to be creative and developed a NEW dish based on an existing recipe.
(2) I was so EXCITED about the new idea and could not wait to cook it.
(3) I went through quite a lot of TROUBLE during cooking and I thought, man, why did I even start this?!
(4) After hours of work and leaving a MESSY kitchen behind, I was so tired and finally took a bite of the finished product.
(5) There came a happy tear in my eye, as I was so glad I cooked this dish. I thought of myself as AWESOME again!!
The walnut shrimp cup belongs in that category of dishes.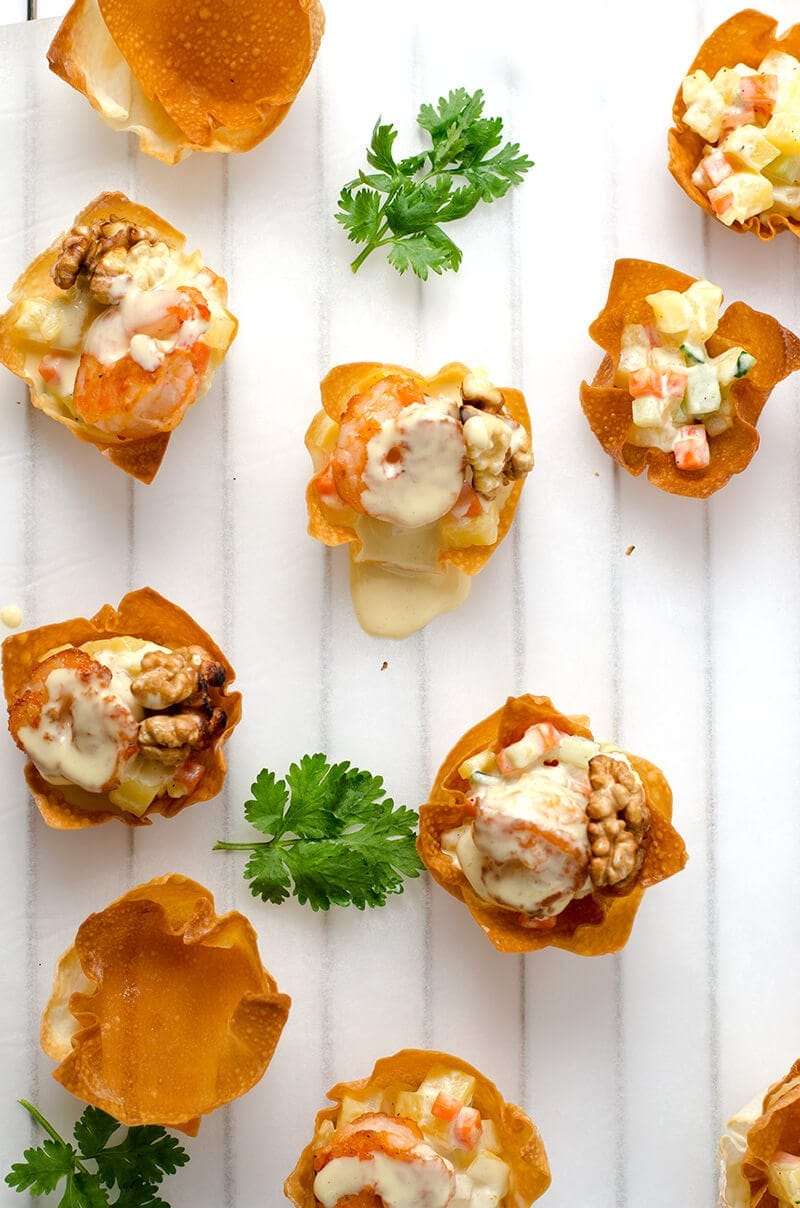 Lately, I got several requests from readers for a recipe for honey walnut shrimp. It's a super tasty and popular Chinese dish, right? Only half right. A dish called walnut shrimp does exist in Chinese cuisine, but it has a totally different flavor. In authentic Chinese cooking, the shrimp and walnut are cooked in chicken broth, which results in a light and salty flavor. It sounds totally boring, right? At least, I don't consider the authentic Chinese walnut shrimp to be appealing at all.
So, I decided to cook the Americanized Chinese honey walnut shrimp after all. Oh yes, I had to use this classic recipe from Rasa Malaysia. I followed the recipe when I cooked the dish the first time. The result was very tasty, to no one's surprise. I don't think any sauce that combines honey, mayo and condensed milk will taste bad, no matter what ratio you use.
But I didn't stop there.
The fried shrimp and mixed sauce are simple and delicious enough, sure. But I wanted something more, in a creative way. The next day when I saw these yummy chili lime shrimp cups, I thought, hmmm, this is a great idea! You just assemble the original honey walnut shrimp, add it with some salad into an oven fried wonton wrap, and BOOM, a super delicious and good-looking party snack is born!
The cooking process? Take a wild guess.
The truth is, my boyfriend came to Beijing this week to visit me and he provided a HUGE HELP in the kitchen. I'd have ended up frustrated and angry with myself, without his help and encouragement.
Since you need to cook the shrimp, the potato salad, and the wonton wrappers separately, it really takes a long time to get everything done. Also, because I don't have an oil sprayer in the kitchen, I had to brush each wonton wrap with oil. It was quite messy before I figured out a faster and systematic way to do it.
However, I have to say, those finished walnut shrimp cups tasted wonderful and were totally worth the fuss. The super crispy wonton cup and the creamy salad added great texture and a savory taste to the dish. The heavenly walnut shrimp itself is yummy enough, but the cup made the snack even more interesting.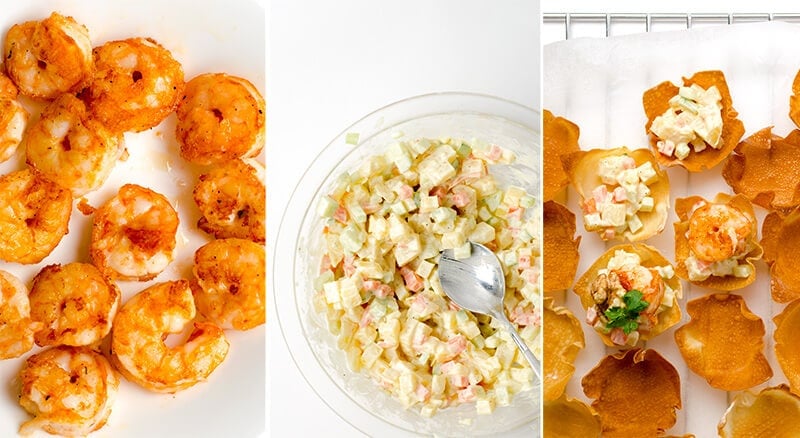 Here's a few tips which will help you make this dish in a healthier and faster way:
(1) Grilling shrimp instead of frying. I tried cooking both ways and found the grilled one more delicious, and with fewer calories. Because the sweet sauce is heavy enough, the frying process won't enhance flavor by much. Plus, it is generally messy to fry things in the kitchen.
(2) Use a simple salad to fill the cup. The potato salad takes me a lot of time to prepare and cook. The finished dish was filling as an appetizer, although super yummy. To change it into a lighter and faster dish, you could use cubed cucumber or boiled peas instead.
(3) Add more lemon juice and mustard into the sauce to create a balanced and savory flavor. I adjusted the sauce so it would balance better with the crispy wonton wrapper. (Well, I asked my boyfriend to do the sauce adjustment…)
(4) Spray the wonton wrapper with oil instead brushing oil. The more oil on the wonton wrapper, the more quickly it gets cooked through and browned/burnt. Although those dark brown wrappers look appealing, I actually found the light golden colored ones are much tastier. Yes, I cooked several batches!
(5) Brush the oil on a big plate and place wonton wrappers on top side by side instead of brushing oil onto the wrapper, if you don't have an oil sprayer. You will work faster this way and the wrapper won't be over soaked with oil.
(5) Use a smaller cupcake tin to create the wonton wrapper cups, which I failed to do due to lack of equipment. The wrappers will be much easier to shape in a smaller tin and will look much better after baking.
I have to stop here because I will start drooling again from staring at those pictures!
Do you like the idea of these walnut wonton cups? Share a comment below and let me know! 🙂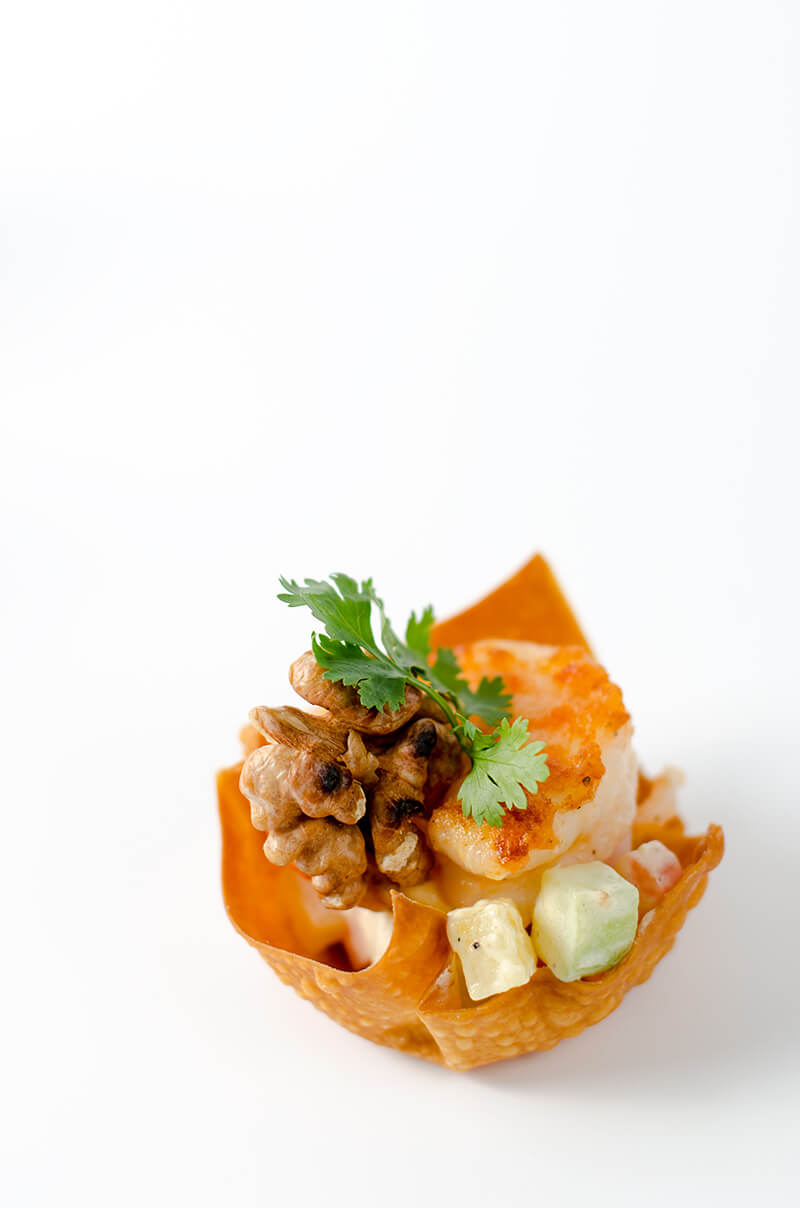 Walnut Shrimp Cup
Ingredients
200 grams (7 ounces) shrimp
1 tablespoon rum
1 tablespoon cornstarch
salt and pepper
2 tablespoon peanut oil (or vegetable oil)
1 small potato, quartered
1/2 small carrot
1/2 small cucumber, cubed
5 tablespoons mayonnaise
3 teaspoons Dijon mustard
2 tablespoons lemon juice
32 wonton wrappers
1/2 cup raw walnuts, halved
2 teaspoon condensed milk
Instructions
To prepare shrimp
In a small bowl, add shrimp, rum and cornstarch. Mix well until shrimp are covered with a starchy coating. Lightly season with salt and pepper. Mix well and marinate for 15 minutes (up to 1 hour in fridge).
In a non-stick skillet, add a tablespoon of peanut oil and heat on medium high heat. When oil is warm, carefully place shrimp in the skillet. Grill until the bottom side turns golden brown, about 1 minute. Flip shrimp and grill the other side until shrimp are cooked through, about 1 minute. Transfer shrimp to a plate and set aside.
To prepare potato salad
Add potato into a pot and add water to cover potato. Bring water to a boil and simmer until potato is cooked through, 10 to 15 minutes. Submerge potato in cold water, drain, and set aside.
In the same pot, add carrot and simmer until carrot turns soft, about 5 minutes. Drain and set aside.
After potato and carrot have cooled down, cut them into consistently sized cubes. Add potato, carrot and cucumber into a big bowl. Add 3 tablespoons mayonnaise, 1 teaspoon mustard, 1 tablespoon lemon juice, and salt and pepper to taste. Mix well and set aside.
To prepare wonton cup
Preheat oven to 180 degrees C (350F).
Spray both sides of wonton wrappers with a thin layer of peanut oil (or brush oil on a plate, then place each side of wrapper on top to coat with oil). Arrange wonton wrappers in cupcake tin, to shape each one like a cup. Place on middle rack of oven and bake until wonton wrappers turn golden. Transfer wonton cups to a cooling rack.
To prepare walnut and sauce
Grill walnuts in a skillet on stove (or in the oven) until they tyrn golden brown. Set aside to cool.
In a small bowl, mix 2 tablespoons mayonnaise, 2 teaspoons mustard, 2 teaspoons condensed milk, and 1 tablespoon lemon juice.
To assemble
Place a layer of potato salad into wonton cup, top with shrimp and walnut, drizzle sauce on top. Serve with sparkling or dry white wine.
The nutrition facts are calculated based on one walnut shrimp cup.