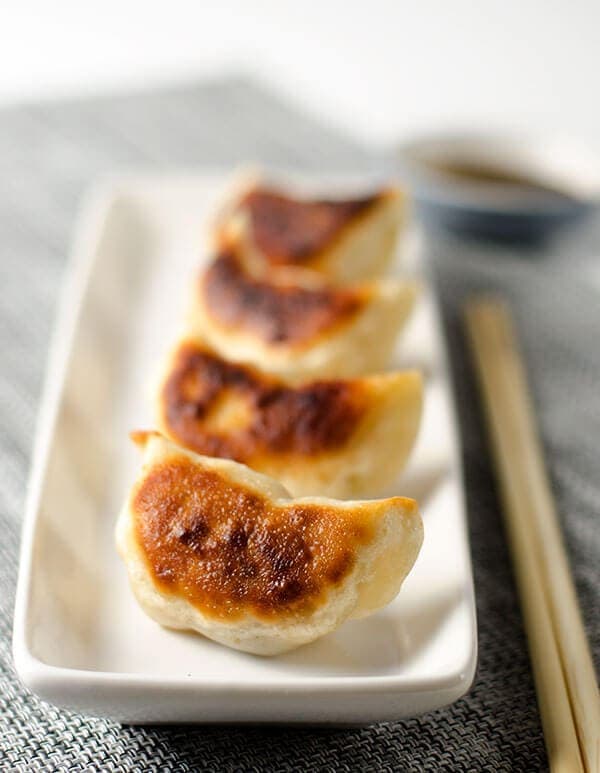 San Xian dumplings are made with ground pork, fresh shrimp, dried shiitake mushroom and fresh green onion. Its seasoning is classic. The simple combination of soy sauce, Chinese Shaoxing wine and sesame oil brings out the great flavor of the ingredients and creates a satisfyingly savory sensation.
If you've ever dined at an authentic Chinese restaurant or traveled in China, you might have heard the word "San Xian" (三鲜). San Xian literally means  "three delicious flavors". If a dish has the word San Xian in its name, it will contain three savory main ingredients in it.
There are countless combinations of the three ingredients, but San Xian usually contains fresh or dried seafood. Like the logic of adding oyster sauce or fish sauce to a dish, a small amount of seafood or seafood extract will enhance the flavor of the whole dish and bring it to another level. Traditional Chinese cooking uses fresh and dried shrimp, dried scallop, and fresh fish to achieve this goal. San Xian also has a vegetarian version, which uses eggs and vegetables.
The recipe I will introduce today is an authentic way to cook Chinese potstickers, so you won't find sriracha or ketchup in the ingredient list. However, I did incorporate my own twist by replacing the Sichuan peppercorn with black pepper. I found it didn't make a huge difference in the result, and black pepper is a much more common ingredient in the average household pantry.
I also included a few universal tips for making moist dumpling fillings. Even if you use totally different ingredients to make the filling, you should always apply these rules. By following these simple tips, you can create very tender, moist, or even soupy potstickers and dumplings.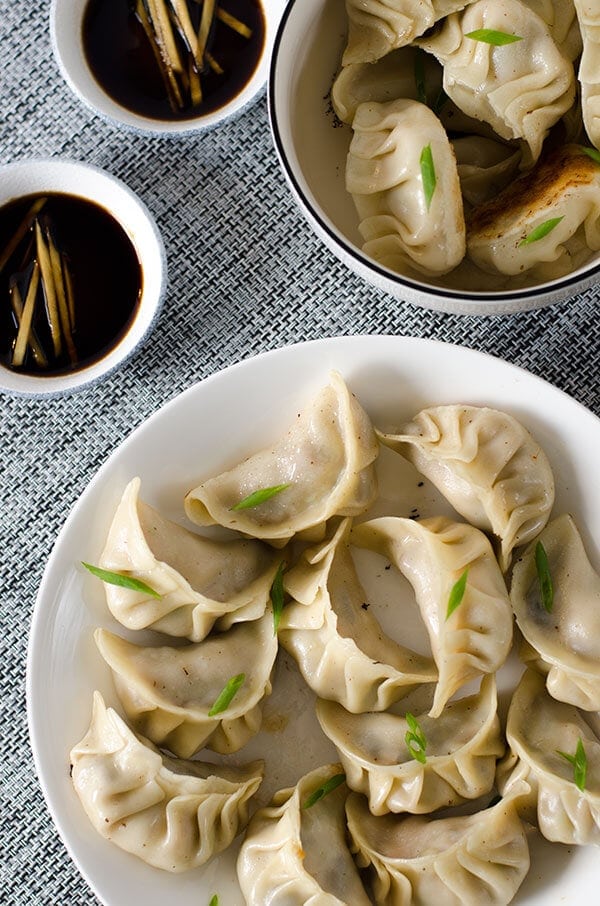 The Secret to Creating Moist Fillings
Choose ground pork that contains 20 to 30 percent fat. The fat keeps the filling juicy and moist. A cut of meat that is too lean won't work well in traditional Chinese style potstickers and dumplings.
Blend water into the meat before adding other solid ingredients. This adds extra moisture to the texture of the potstickers. Do not add too much water. An excessively runny filling will be difficult to wrap.
Add a small amount of oil after blending in the water. The oil will lock the moisture within the ground pork while marinating. You can then start to prepare the other ingredients and chop the veggies.
Always blend vegetables into the filling right before wrapping the potstickers. The salty seasoning will draw the moisture out of the veggies and cause the filling to become watery. This recipe only uses green onion, but you should apply this rule to all potstickers and dumplings.
Drizzle a few drops of sesame oil into the filling at the end. This will add very nice aroma to the finished potstickers.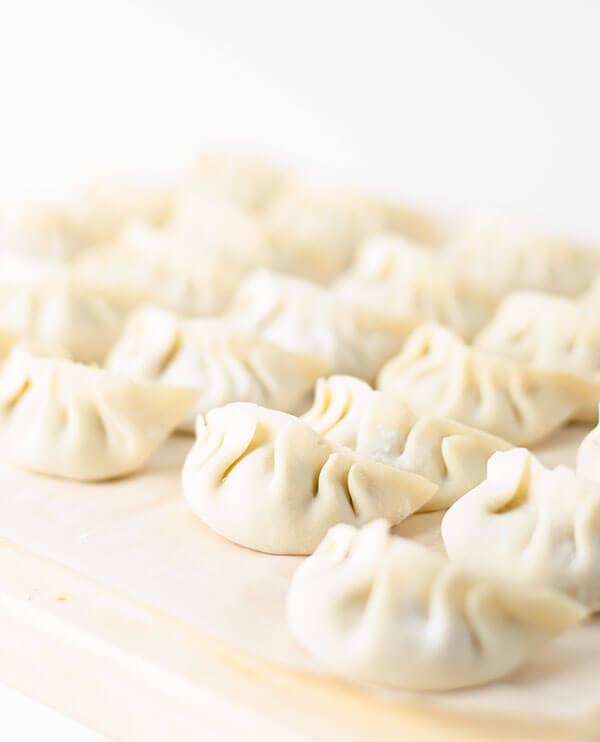 A Few More Tips
Cook or freeze the the potstickers soon after wrapping, because the wrapper and the filling will both dry out if you keep them at room temperature for too long. If you're making a big batch and plan to cook them all, you can place the dumplings on a tray or large container and cover them with plastic wrap. Or, you could wet a clean paper towel and cover the potstickers with it.
Freeze raw potstickers right after wrapping to store them for a longer time. You should always cook the amount of potstickers you intend to consume during the meal. Cooked potstickers will dry out and won't taste as good after being stored in the fridge.
Fold the potstickers whichever way you feel comfortable, no matter whether you gently pinch the wrapper edges together, fold it like an envelope, or fold it like a ravioli. Unlike when making dumplings or ravioli, you don't have to make sure the potstickers are wrapped tight so that they won't fall apart during boiling. Do not let the fancy folding technique scare you away from making this easy dish!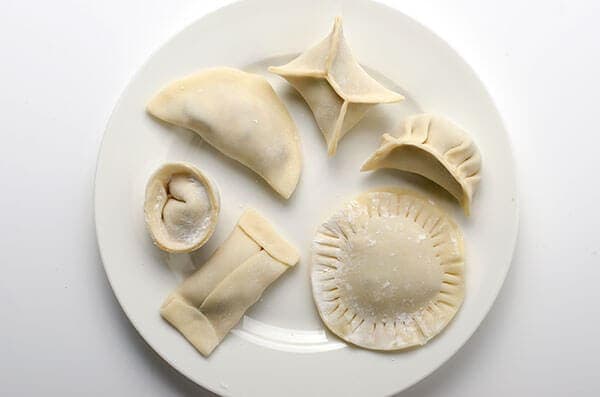 Want to learn more dumpling recipes? Check out my Carrot Dumplings (vegetarian), my mom's best lamb dumplings, and the ultimate guide of making dumplings from scratch!
I tried to keep the recipe simple and straightforward, but somehow it ended up being quite long. If you've never cooked potstickers before, I suggest you watch the short video below before deciding this is too complicated. It only takes 3 minutes to get an idea of the work flow and you will see how easy the whole process is!
In the end, even if you don't apply all the tips about mixing the filling, you can still get a very tasty potsticker by dumping and mixing all the ingredients at once. Sound easy enough?
If you like the video, don't forget to check out my YouTube channel! I have a collection of cooking videos that walk you through the delicious recipes at Omnivore's Cookbook. It is one of the fastest ways for you to get used to the techniques that are used in Chinese cooking!

Do you like my recipes? Sign up our weekly newsletter to get the latest updates delivered to your inbox and a FREE e-cookbook that contains my top 30 most popular recipes!
Print
San Xian Potsticker with Pork, Shrimp and Shiitake Mushroom
---
Author:

Prep Time:

40 mins

Cook Time:

15 mins

Total Time:

55 mins

Yield:

35

-

40

potstickers

1

x
Category:

Appetizer, Side Dish

Cuisine:

Chinese
Ingredients
for dumpling
200

grams (7 ounces) ground pork (lean fat ratio 7:3)

10

large (1 cup) shrimp, peeled, deveined and chopped into corn kernel sized pieces

1 cup

dried shiitake mushrooms (30 grams /

1 ounce

), rehydrated and finely chopped

2 tablespoon

s Shaoxing wine

2 tablespoon

s light soy sauce

3

and 1/2 tablespoons peanut oil

1 teaspoon

minced ginger

1 teaspoon

salt

1/4 teaspoon

black pepper

1/2 cup

chopped green onion

2 teaspoon

s sesame oil

40

dumpling wrappers
for dipping Sauce
2 tablespoon

s ginger slices

4 tablespoon

s black vinegar
---
Instructions
To make the filling
In a large bowl, combine ground pork, shaoxing wine and light soy sauce. Mix well with a pair of chopsticks (or a fork). Add 4 tablespoons water to the mixture, 1 tablespoons at a time, and stir until the water is fully combined. The mixture should feel sticky and a bit runny, but still thick enough to coat a spoon. Add shrimp, shiitake, ginger, salt and black pepper, mix well.
Right before you're ready to wrap the dumplings, add green onion and sesame oil, mix well.
To wrap potstickers
Prepare a small bowl of water. Place a piece of parchment paper on a working surface or dust a wooden board with flour.
To wrap a potsticker, scoop about 2 teaspoons of the pork mixture and place in the center of the dumpling wrapper. Gently press the mixture into a round shape, so it will be easier to wrap. Wet your finger or a pair of chopsticks with water and gently brush water onto the edge of the wrapper (this will help the wrapper stick to itself when pressed together).
Fold the wrapper into a half moon shape, using fingers to pinch the middle and press the two layers together. Use your left hand to hold the dumpling and your right hand to fold 2 to 3 pleats in the outer layer towards the midpoint, and press it well to seal the filling inside.
Switch so that you're holding the dumpling in your right hand, and use your left hand to form more pleats in the same manner. Press the pleats again to seal the filling tightly. If you have trouble sealing the dumplings, reduce the amount of filling inside until you can seal it easily.
Place potsticker on the parchment paper. Continue forming the rest of the potstickers in the same manner. Leave about a finger's width between any two dumplings, so they won't stick together.
To mix dipping sauce
In a small bowl, drizzle vinegar over ginger slices. If the dipping sauce is not salty enough to your liking, you can add soy sauce to adjust the flavor, 1 teaspoon at a time.
To cook potstickers
Heat a tablespoon of oil in a nonstick skillet over medium high heat. When oil is hot, place potstickers in the skillet, pleat side up. Swirl 2 tablespoons water into the skillet, cover immediately, and turn the heat to medium.
Cook covered until the water is evaporated and potstickers are cooked through, about 3 minutes. Remove the cover and flip one potsticker to see whether the bottom side is charred. If not, turn to medium high heat and cook until the bottom side turns golden brown, about 1 minute. Transfer the potstickers to a plate.
Serve immediately with dipping sauce.
To store potstickers
Store the cooked potstickers in an airtight container in the fridge for 2 days.
For uncooked potstickers, place them in a large airtight container, one finger's width apart. Do not overlap dumplings. Store in freezer up to 1 month.
To cook frozen potstickers
You don't need to thaw the potstickers before cooking. Heat a tablespoon of oil until hot and place dumplings in one at a time. Swirl in 4 tablespoons water and cover. Cook over medium heat until cooked through, about 5 minutes. Remove the cover and flip one potsticker to see whether the bottom side is charred. If not, turn to medium high heat and cook until the bottom side turns golden brown, about 1 minute.
The nutrition facts are calculated based on 1 of the 35 dumplings generated from this recipe.