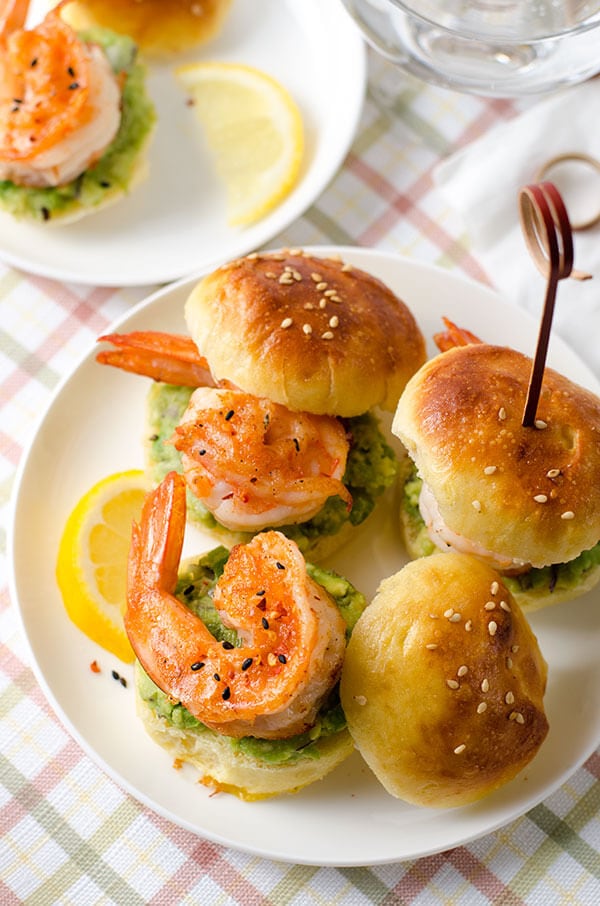 The shrimp is marinated in Japanese sake and grilled until crispy. Its sweet aroma and the fragrance of rice wine goes perfectly with the creamy guacamole, warm or cold. The mini burger buns make this delicious combo even fancier!
The combination of shrimp and guacamole never goes wrong. If you've been following my blog, you might have read my epic fail post. I worked very hard in the kitchen for six hours one evening, but the result was disastrous. What you may not know is what I usually eat after a major failure in the kitchen. Normally, I will just feel super gloomy and order pizza or KFC, and become more depressed. That day, I made these cute mini sandwiches for a change, which really brightened my mood.
Luckily I had some freshly made mini burger buns, so I decided to use them out of convenience. For a guac salad, I always like the classic Asian combination – guac, shrimp and mayo. But then, I decided to do something different. Since the burger buns were very tiny, a salad with cubed ingredients wouldn't stay very well between the buns. So, I smashed the avocados to make a guac, and topped it with some whole shrimp.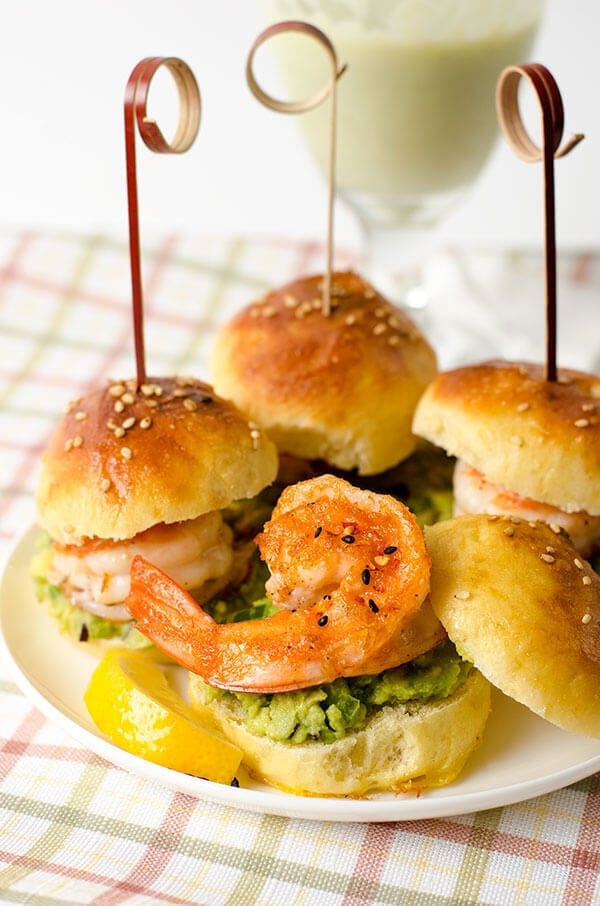 American Fast Food in Asia
Shrimp and avocado sandwich is an actual dish on the menu of Japanese Subway restaurants. Similar to the idea of seafood pizza at Pizza Hut, American fast food chains have adapted to local habits and usually serve seafood in Asian countries.
Avocados have started to gain popularity in China lately. Back in 2008, I had no idea what an avocado was and had never seen one. When I was getting my take-out lunch in Japan, I "accidentally" ordered the guac shrimp sandwich.
The best thing in Japan is that they label calories on every food package and fast food menu. A shrimp guac sandwich with less than 400 calories was evidently very attractive to someone on a diet and counting the calories of every meal.
I even chose lemon juice as my "sauce", instead of mayo. Turned out it was one of the best sandwiches I ever got from a Subway! It was a very light meal, but had a delicate taste. The guac went perfectly with shrimp. Creamy and fulfilling.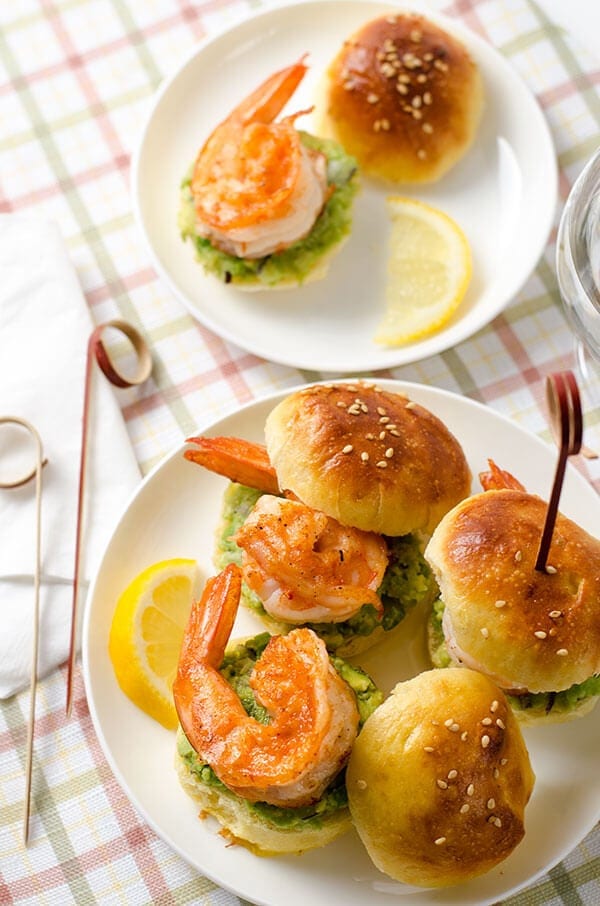 Secret of Cooking Perfect Shrimp
Sadly, the fancy avocado shrimp sandwich isn't served in Chinese Subway restaurants, so I had to put one together myself!
I made a very basic guac. Then I made a tiny twist by using the Asian method of grilling the shrimp instead of boiling them. I'd say it changed everything! The shrimp tasted slightly sweet and very aromatic after marinating in the Japanese sake. It's a trick I also tried when I making this wonderful grilled chicken.
If you've never marinated poultry or seafood with sake, you really should try it out. Then the only other things you need are salt and pepper. The marinade won't hide the character of the original ingredient, only bring out its great taste. I used a cornstarch slurry to coat the shrimp, so they will be tender and juicy after grilling, without turning try. It's a common trick in Chinese cooking and it works like a charm.
Within 20 minutes, you'll get these cute little sandwiches that taste like heaven, especially if you've had a long hard day!
These sandwiches are great for lunch, dinner or served as a party appetizer. They hold their shape well, taste great whether warm or cold, and require so little time to prepare. You won't need me to tell you what to bring to your next gathering to impress everyone! 😉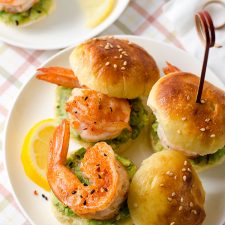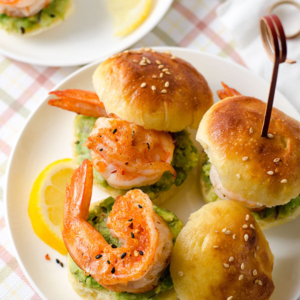 Ingredients
20

large shrimp

peeled and deveined (or frozen shrimp, thawed)

2

tablespoons

Japanese sake

sea salt and black pepper

2

avocado

halved and seeded

1/2

small purple onion

minced

1

serrano pepper or jalapeno

minced

2

cloves

garlic

grated

1

teaspoon

lime juice

or lemon juice

1

tablespoon

cornstarch

2

tablespoons

vegetable oil

20

mini burger buns

made from this burger bun recipe

optional chili pepper flakes and cooked sesame seeds
Instructions
Dry shrimp with paper towels. Spread on a large plate without overlapping them. Drizzle sake and grind salt and black pepper over top of shrimp evenly. Let it sit at room temperature to marinate for 10 to 15 minutes.

While marinating shrimp, prepare the vegetables. Scoop avocado from rind with a spoon and add it to a medium size bowl. Add purple onion, pepper, garlic, lime juice and 1/2 teaspoon salt. Smash and mix well with a potato masher.

Add cornstarch to the shrimp and mix well by hand. The shrimp should be evenly coated with a thin, starchy mixture.

Heat vegetable oil in a large nonstick skillet over medium heat. When oil is warm, spread shrimp one by one without overlapping them. Cook until the bottom side turns golden brown, 1 to 2 minutes. Flip with a pair of chopsticks (or tongs) to cook the other side, until the bottom side turns golden and the shrimp are fully curled, 1 to 2 minutes. Transfer to a plate. If your skillet is not big enough, cook the shrimp in two batches.

To assemble the sandwich, spread the guacamole on the bottom bun, place shrimp on top, garnish with chili flakes and sesame seeds, top with the top bun and pierce with a skewer.

Serve warm or cold.
The nutrition facts are calculated based one 1 of the 20 sandwiches generated by this recipe.