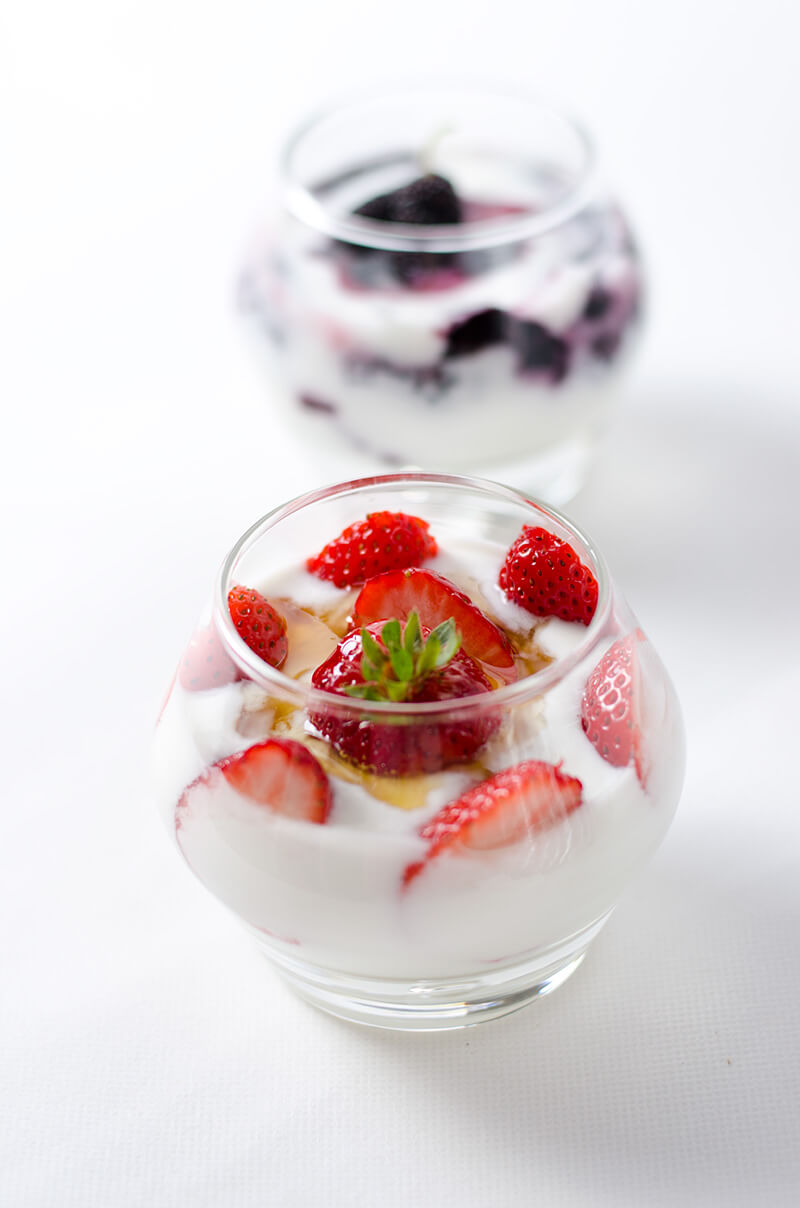 Homemade yogurt is my family's new favorite. We bought a yogurt machine two months ago and since then have had no need for store-bought yogurt whatsoever.
Yogurt has tons of benefits. It contains a high amount of probiotic bacteria to help you digest and is loaded with vitamin and calcium. It also has a good carb-to-protein ratio which can help accelerate recovery from a workout. With homemade yogurt, there's the added benefit that it doesn't contain any food additives, artificial sweeteners or excessive sugar. You can add wholesome ingredients like fruits, nuts, cereal and honey to make it tastier while still keeping it healthy.
During the week, I prefer a small bowl of yogurt with honey after dinner as dessert. It helps me eat less for dinner and help with digestion. On the weekend, I add more fruit to the yogurt to make it more colorful and fancier. It's great for a refreshing brunch, healthy afternoon dessert or simple dinner.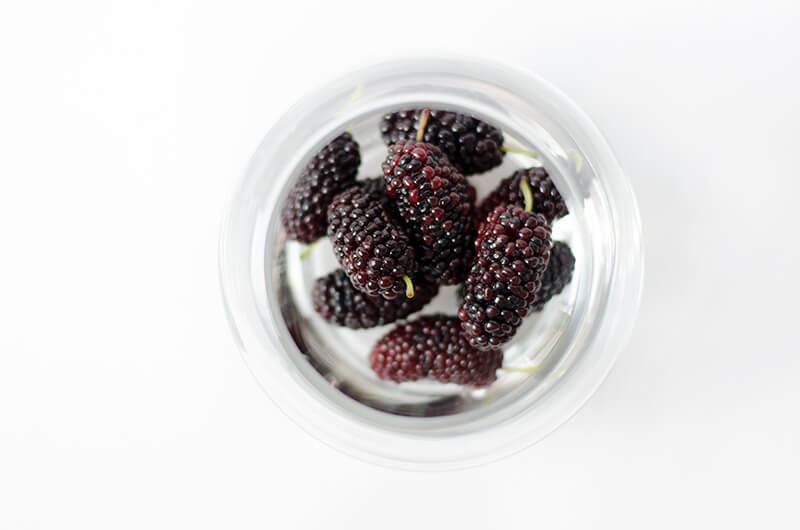 Making yogurt at home is extremely easy. All you need is a live yogurt culture and some milk. To obtain a live culture, you could either use commercial or homemade yogurt that contains a live culture, or purchase some packaged frozen culture. The process is very simple and all you need is to (1) heat the milk to 175 – 180 degrees F (80 C), let it cool down to 100 – 116 degrees F (40 C); (2) add the live culture or commercial yogurt; (3) cover the milk and place it in a warm place overnight. Sounds easy enough, right?
You don't even need a yogurt machine, if you have a thermometer to measure temperature when heating the milk. You also need to find a warm place with consistent temperature (around 100 degrees F or 38 C) to let the culture turning milk to yogurt.
For those who don't have a yogurt machine, I suggest you read How to make Greek yogurt and tips of making yogurt at home, from Salad in a Jar. I found those articles are very instructive and could almost answer any question regarding homemade yogurt.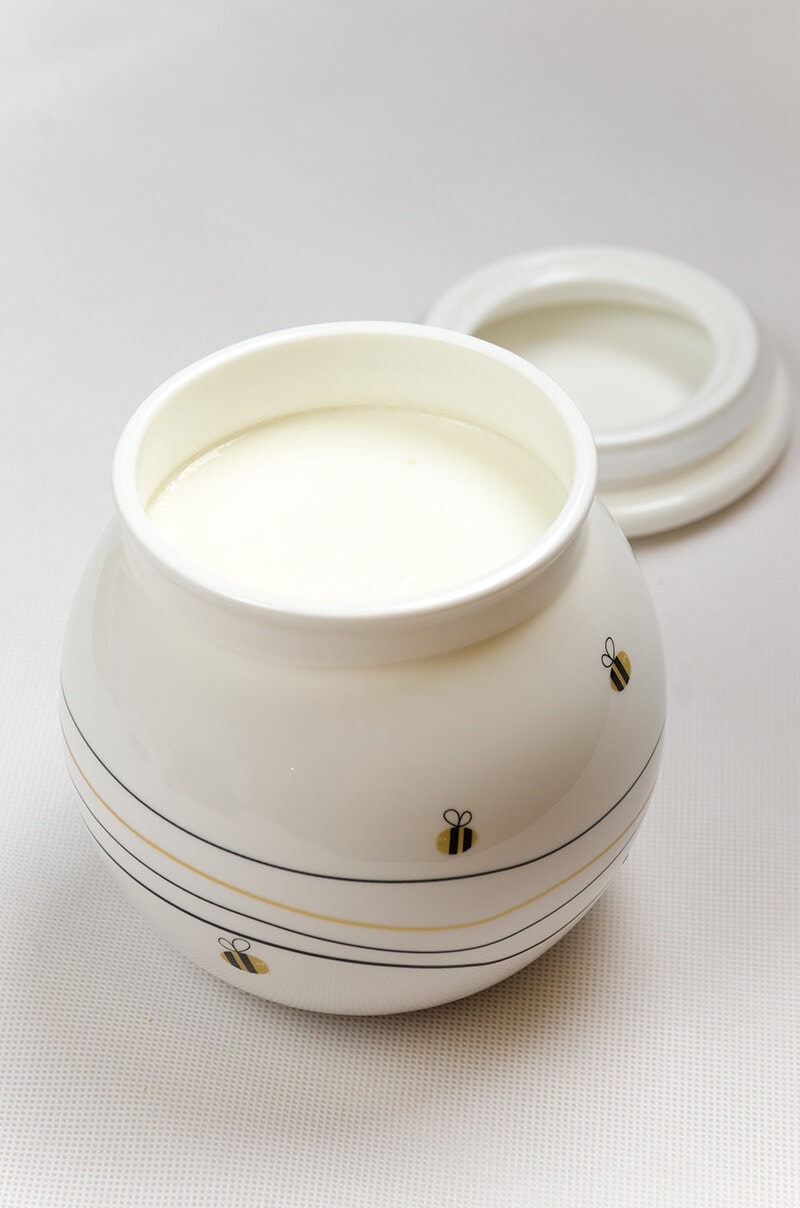 However, I found that a yogurt machine is extremely helpful if you make yogurt often, because it will save you the time and energy of constantly observing and making sure the milk is heated and cooled to right temperatures. The machine also maintains temperature better to allow the live culture to work properly. So basically, the machine reduces the process of making yogurt into combining milk and live culture in a jar, and the yogurt will be ready after a good night's sleep. How easy is that?!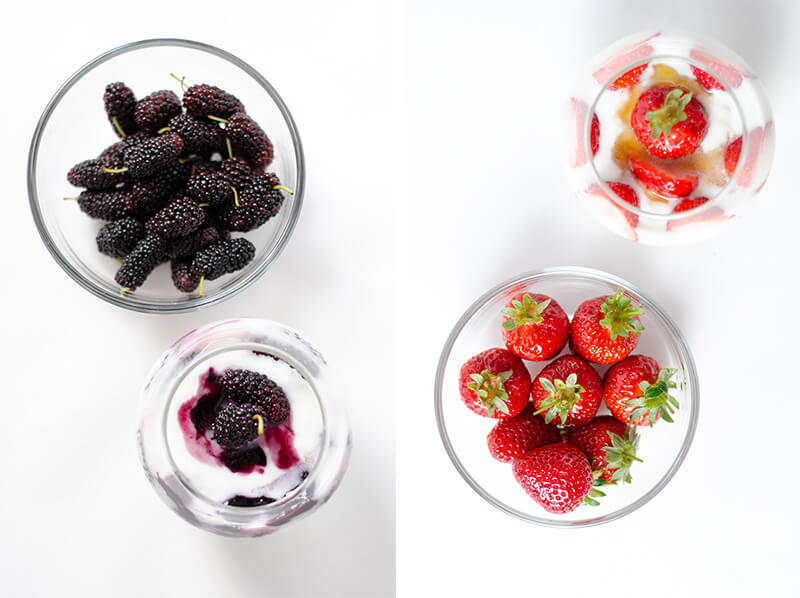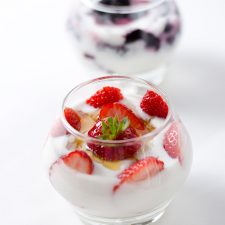 Homemade Yogurt
This recipe requires a yogurt machine. For live cultures, I have tried Bifidobacterium and mixed cultures. I didn't notice any big difference between the cultures I used.
Print
Pin
Rate
Cook Time:
7
hours
43
minutes
Ingredients
1

liter

milk

1

pack

1 gram yogurt live culture (or commercial yogurt which contains live culture)

5

tablespoons

honey or jam

Any fruit

papaya, strawberries, blueberries you prefer, cereal or nuts
Instructions
Thoroughly clean the container before making yogurt. (Use boiling water to clean the jar the first time after purchase)

Add milk into the jar, add the live culture (or commercial yogurt), mix well with a clean spoon, cover with lid.

Place the jar in the yogurt machine, turn on the machine and set the timer for 10 hours. After 10 hours, take the jar out of the yogurt machine and let it cool down at room temperature. Chill the yogurt in the fridge before serving. You can store the yogurt in an air-tight container in the fridge up to 5 to 7 days.

For serving the yogurt, you can add: (1) honey with flaxseed (2) jam with fruits you prefer (3) honey with cereal and nuts or (4) whatever you like!

For making Greek yogurt, use a cheesecloth to strain the yogurt until it turns very thick and creamy.
The nutrition facts are calculated based on 1 of the 5 servings of yogurt produced by this recipe, with 1 tablespoon honey added.