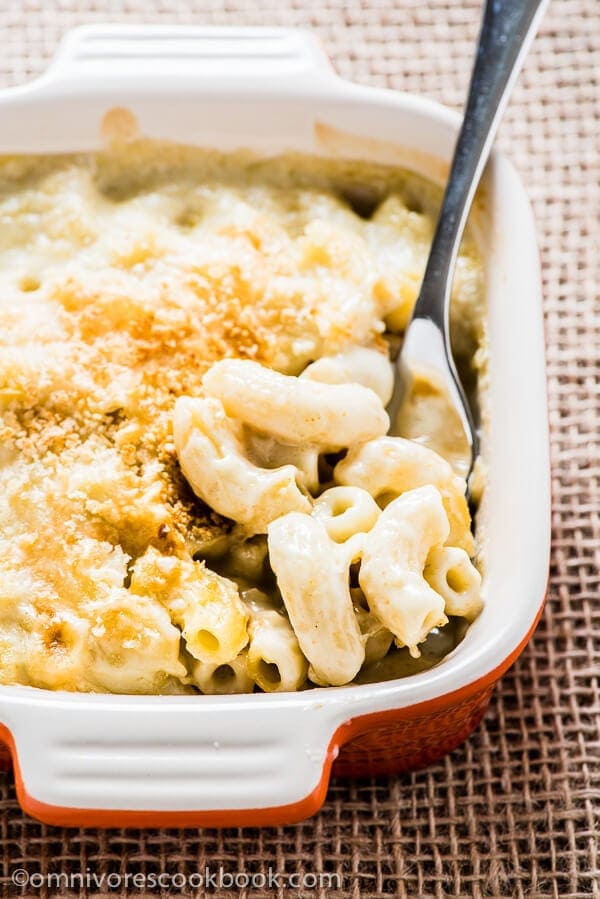 This healthy mac and cheese is such a comforting dish. Creamy and hearty, with a hint of spice. This is a skinnier version of mac & cheese that you can prepare in under 30 minutes. Better news, you can easily turn it into a vegan dish, too!
Before I dive into the topic of food, I want to share a wonder piece of news with all of you! My blogging friend Meggan from Culinary Hill just had a baby girl on January 15th! Here, I'm teaming up with a few more blogger friends to celebrate with a virtual baby shower. Congratulations, Meggan! And I hope this recipe is comforting for you! 🙂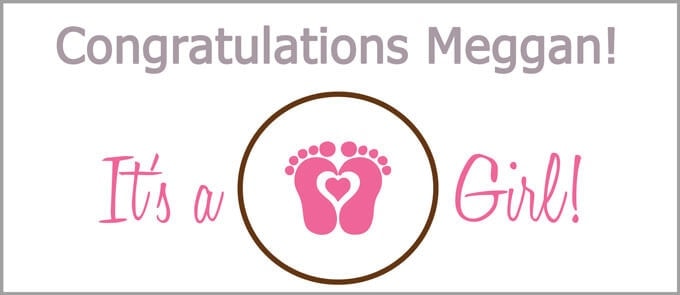 You can also find these amazing recipes for the baby shower at:
Helen of Scrummy Lane: Strawberry Angel Cake Skewers with Chocolate Dipping Sauce
Janette of Culinary Ginger: White Vanilla Cupcakes with Orange
Nagi of Recipe Tin Eats: Classic Lamingtons
Mira of Cooking LSL: Condensed Milk Cookies
Kathleen of Hapa Nom Nom: Fortune Cookies
Allie of Baking a Moment: Persimmon Cheesecake
I know, literally millions of mac and cheese recipes already exist, but today I wanted to try something different – it is skinnier, healthier, and faster. I hope this recipe can be of help to anyone craving a comforting dish but not wanting to bust your belt!
In this dish, I infused a bit of an Asian element. I personally think a creamy pasta goes great with a slight sweetness, so I went with the combination of coconut milk and green curry. I split the recipe into two ways – a faster stove-top version and a baked version with just enough cheese.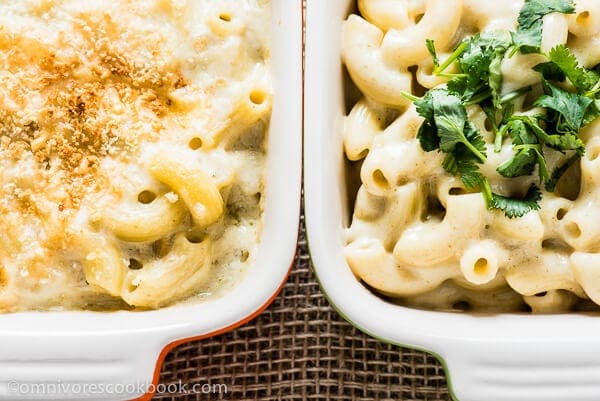 You might think coconut milk would add a strange flavor as a replacement for milk, but the truth is, it makes the dish even better. The point is that you also need to add a savory flavor to counterbalance it – green curry in this case. Green curry paste itself is very pungent and super spicy, but it won't stand out so much here since the coconut milk will neutralize its flavor. The spiciness also makes the dish a bit lighter and really appetizing.
You start the recipe by making a roux, like for a traditional mac and cheese. But instead of butter and flour, you use vegetable oil, green curry paste, and flour. The curry will make this process a big tricky because it absorbs a lot of oil itself. You will find that the roux comes out quite dry, almost like a paste. But don't worry, it will get better after a minute.
After the flour is cooked, add the coconut milk. You will find the sauce very thick already, so you'll be able to get it ready in no time. The only thing you should pay attention to, is to cook it over low heat, so the sauce won't thicken so quickly.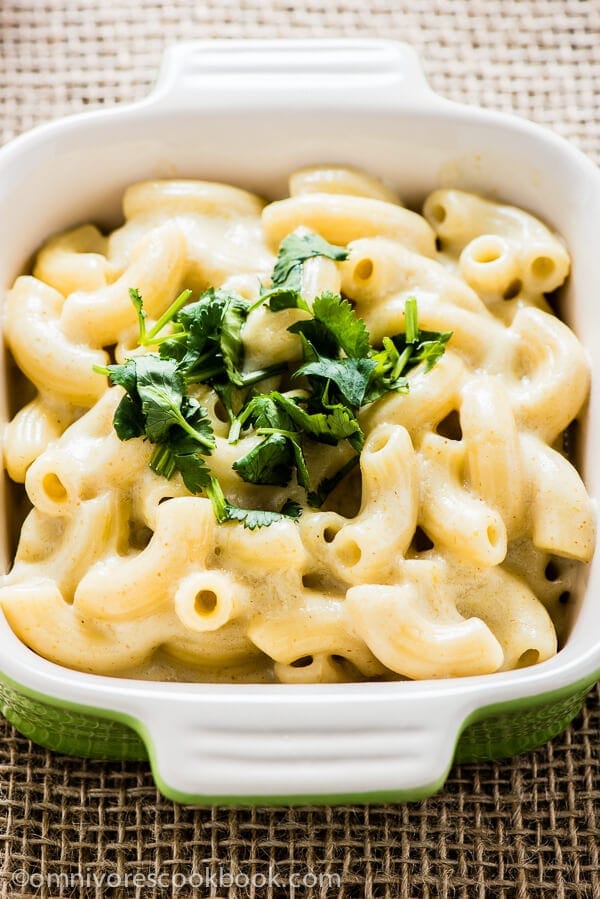 Because of the creaminess of the coconut milk, the sauce tastes great now even before adding any cheese. Here, I added half a cup, which is a tiny amount compared to a traditional recipe.
Then, you need to make a quick decision – stove-top or baked? They both taste great, and the baked one only takes 10 more minutes to cook. So, no matter which one you choose, it's win-win! I personally prefer the baked one, because the crispy panko adds a great mouthfeel to the tender macaroni.
Ta-da! Now you have a skinnier version of mac & cheese in under 30 minutes! How awesome is that?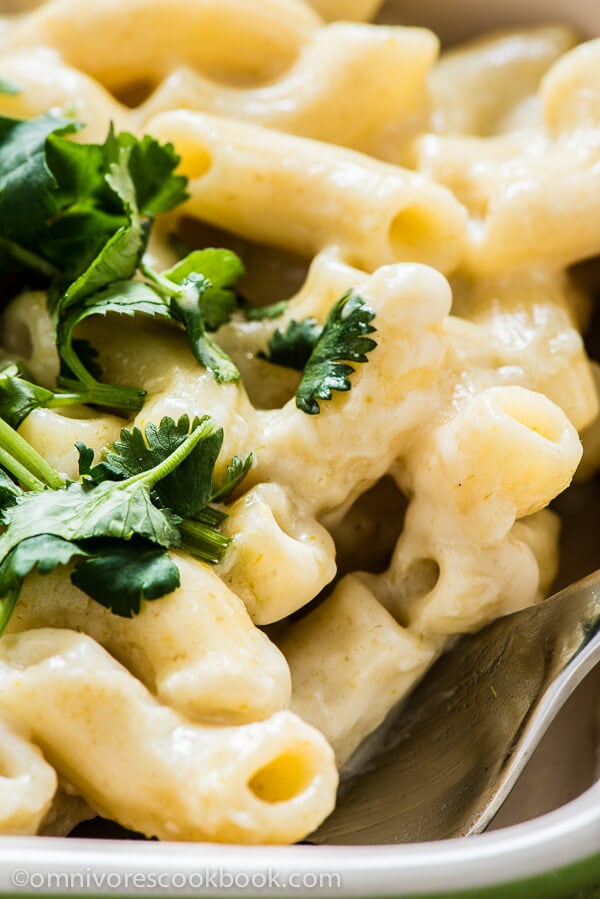 Here are a few links that helped me a lot when I was doing research for this recipe.
Creamy Stovetop Jalapeno Broccoli Mac and Cheese by I am a Food Blog
Make Roux Cheese Sauce by Feed your Soul
One Pot Saucy Creamy Mac and Cheese by Recipe Tin Eats
All about Roux by Allrecipes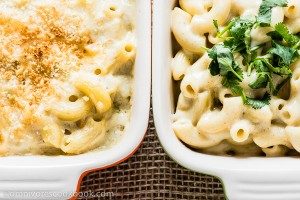 Ingredients
2

cups

(200 g / 7 oz) macaroni pasta

3

tablespoons

vegetable oil

(or grapeseed oil)

1

tablespoon

Thai green curry paste

3 1/2

tablespoons

whole wheat flour

1 1/2

can (total 18 oz. / 600 g)

low fat coconut milk

1/2

teaspoon

fish sauce

1/4

teaspoon

salt

, or to taste

1/2

cup

shredded mozzarella cheese

, plus more for baking (or vegan cheese) (Optional)

4

teaspoon

panko (bread crumbs)

(Optional)

Chopped Thai basil or cilantro

for garnish (Optional)
Instructions
Boil pasta to al dente according to instructions. Drain and set aside.

(Optional) If you plan to cook the baked version, preheat oven to 220 degrees C (430 F).

Heat oil in a nonstick skillet over medium heat. Add green curry paste and stir until combined with the oil and oil is bubbling.

Add flour and cook, stirring until the flour is incorporated evenly and forms a paste, 2 to 3 minutes.

Slowly blend in coconut milk, whisking as you pour, so that the liquid fully incorporates with the curry paste and forms a thin paste. Add the rest of the coconut milk and the fish sauce. Stir and cook for 2 minutes, until the paste is evenly mixed and can coat a spoon. Add salt and mix well.

(Optional) Stop heat and add mozzarella cheese. Mix a few times until cheese is melted. (Skip this step or replace mozzarella with vegan cheese to cook a vegan dish.)

Add the cooked pasta to the skillet and mix well.
To cook baked version
Transfer the pasta and sauce to four small baking dishes (or one big baking dish).

Spread a thin layer of mozzarella cheese and scatter panko on top (or only use panko if you're cooking a vegan dish).

Bake on the middle rack at 220 degrees C (430 F) until the cheese is melted and the panko turns golden brown, about 10 minutes.

Allow to cool for 5 minutes and serve immediately.
To cook the stove-top version
Heat the mac and cheese over medium low heat. Bring to a boil and cook until the sauce has thickened a bit, about 2 minutes.

Transfer the mac and cheese to serving plate and garnish with Thai basil (or cilantro).

Serve warm.
The nutrition facts are calculated based on 1 of the 4 servings of the baked mac & cheese generated from this recipe (including cheese and panko).