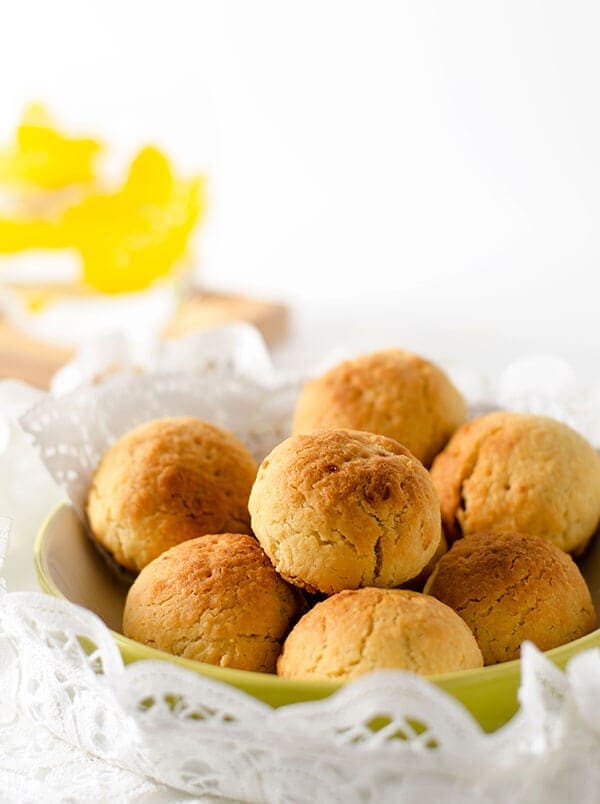 The apple pie cookie is a mini pie presented in the shape of a cookie. It has a buttery and crumbly texture, with a creamy apple jam filling that is hearty and cozy.
To speak of dessert, we have a totally different culture around it here in China. People don't eat desserts very often and rarely cook them at home. They generally prefer smaller and less sweet desserts. Can you believe that when I brought some homemade chocolate cookies to the office, some people even asked to split a cookie with others? The size of the cookie was smaller than my palm! Don't get me wrong, they loved the cookies a lot, but just thought it was too sweet to eat a whole cookie!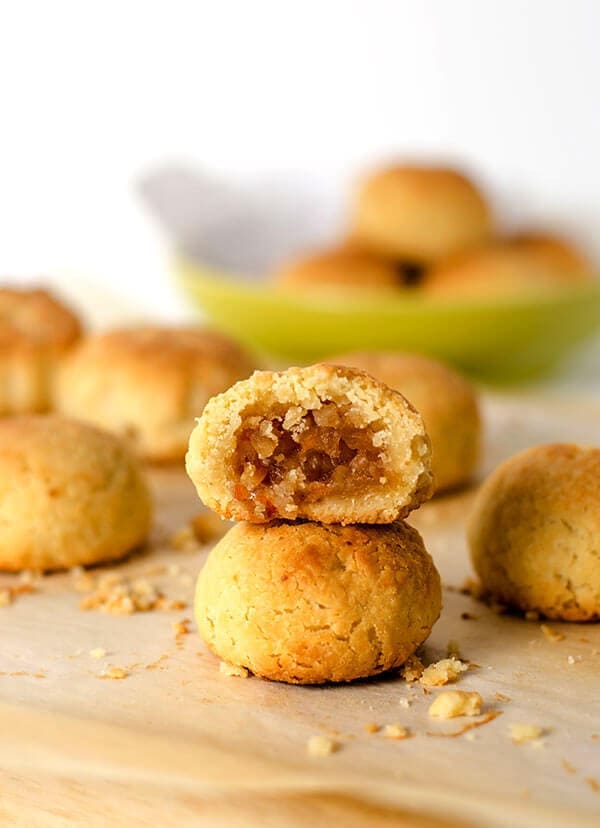 Wrap a Cookie Like a Rice Cake
This time, I'm teaming up with Christin from Blue Crab Martini and a bunch of bloggers to hold this virtual cookie exchange party. It's getting really cold in Beijing and apples are in season. So the idea of making something with apples came to my mind naturally. At the same time, I was thinking to make an extra batch of cookies to bring for a friend's visit. I paid extra attention to making something that wasn't crazy sweet, would last a few days, and is easy to snack on. Thus the apple pie cookies were born!
Well, this idea is not mine. I learned the trick of making pineapple cookies from KitchenTigress. The way to make this cookie is quite unique. It uses a tart dough and homemade apple jam. But instead of pressing the dough onto a baking pan, I rolled it by hand. So, the process is like making a Sticky Rice Cake, but you use apple jam as filling and wrap it in cookie dough.
The finished cookies might not be as beautiful as a pie, but their flavor is really great. The cookie is so buttery, crumbly and fluffy. The apple jam is made from fresh apples, orange peel, cinnamon, and cloves. It has a refreshing, more complex and intense flavor than normal apple jam and works superbly in the cookies.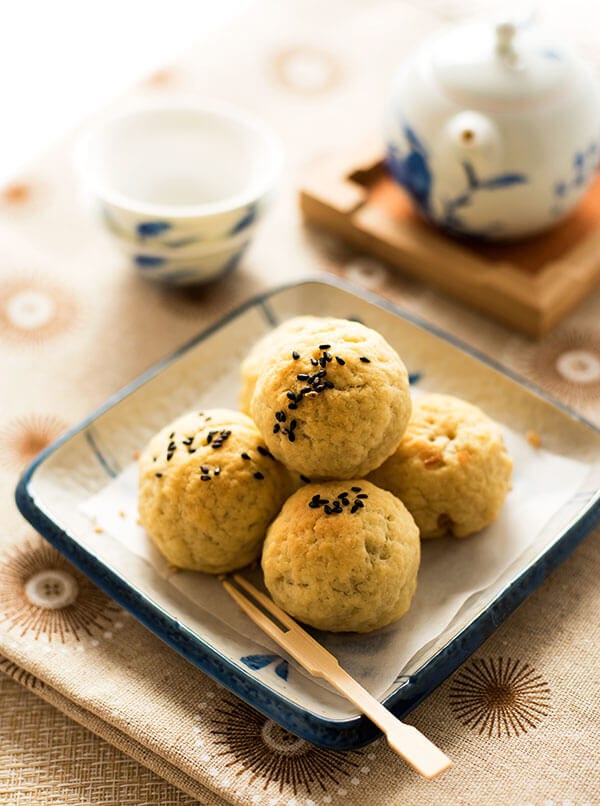 A Unique Cookie Dough
The tart dough recipe is adapted from the French pastry dough on David Lebovitz's blog. It's quite a unique dough because it starts with boiling butter! You only need to combine the butter, oil, water, sugar and salt and bring it to a boil. Then add it to flour and mix it to form a dough.
The technique might be a bit tricky if it's your first time making it. The original recipe calls for an oven-proof glass bowl to heat the butter in the oven. Since I don't have a glass bowl at home and I don't think a iron cast pan would work as well, I decided to cook the butter on the stovetop. Here comes the tricky part. You cannot brown the butter. You need to cook the butter until it just starts to change color. The butter cooks very quickly on the stovetop. If you cook it a few seconds longer, the dough will become very dry and too crumbly to spread by hand and shape into a cookie. I learned my lesson from two failed batches in a row!
But don't worry! I have taken multiple pictures of the process, so you can see how the butter should look like during cooking. Even if you cook a bit too long, you can still make the recipe work by adding water to the dough later on. The key is to make a soft and spreadable dough that holds its shape.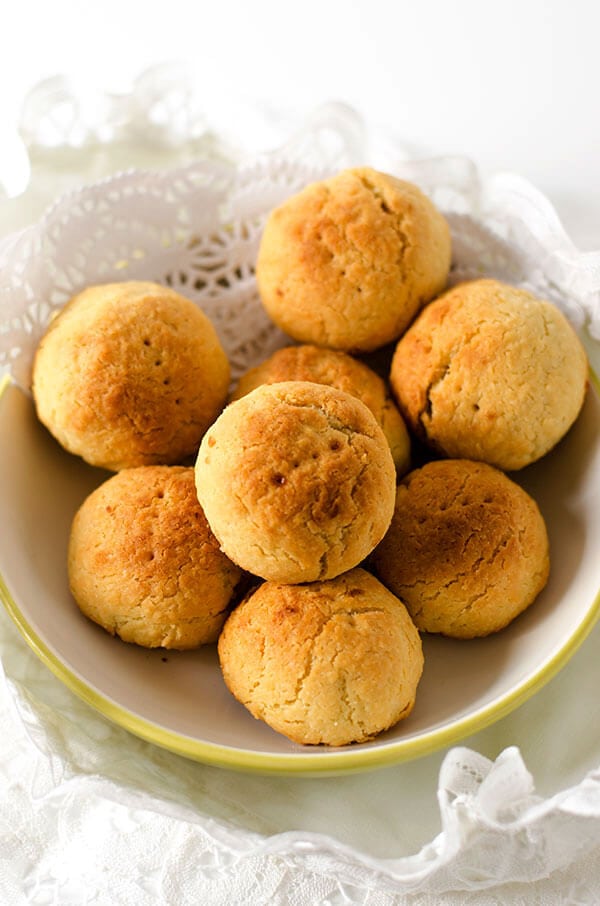 Final Words
When it comes to baking, I'm a total beginner and have a long way to go. When I share baking recipes on the blog, I tend to write down as many details as I can, to share my own experience of trial and error. I strongly recommend you read the original recipe. It's a beautiful tart crust and is incredibly easy to make. I hope it brings you some inspiration!
Also, don't forget to check out those delicious cookies below!
A Nerd Cooks – Peanut Butter Chocolate Chunk Cookies w/ Candied Pecans
Sugar & Something – Nonni's Zuccarini's
Simply Fresh Dinners – Coconut Orange Drop Cookies
Driftwood Gardens – Vermont MAple Walnut Cookies
Blue Crab Martini – Gingerbread Ale Cookie Sandwiches with Eggnog Cream
Tide & Thyme- Shortbread Bites
Omnivore's Cookbook- Apple Pie Cookies
Feed Me Seymour – Salted Caramel Brownie Cookies
No Gojis No Glory – Dark Chocolate Cookie Bark
DIY Faerie- Lemon Raspberry Thumbprint Cookies
All in All- Fudge Cookie Balls with Chocolate Ganache
Homegrown & Healthy – Whole Wheat Nutella Cookies
When's My Vacation – Holiday Fudge
Adventures by Katie – Chocolate Chip Quinoa Cookies
Want to Know More?
Receive our 5-Day Chinese Cooking Crash Course & Recipe Updates! Subscribe
Apple Pie Cookies
Ingredients
for the filling
2

large apples

700 grams / 1.5 pounds total, peeled (*see footnote)

20

grams

0.7 ounces orange peel, minced (from 1 small orange)

50

grams

1.8 ounces sugar

pinch

of salt

1/2

teaspoon

cinnamon powder

2

cloves

1

cup

apple juice
for the cookie dough
180

grams

6 ounces unsalted butter, chopped

2

tablespoons

vegetable oil

I used grapeseed oil

1/4

cup

60 milliliters water

2

tablespoons

sugar

1/4

teaspoon

salt

300

grams

10 ounces cake flour
Instructions
To make apple filling
Mince apples into 3 to 4 millimeters (0.1 inch) cubes. The 2 apples should generate about 4 cups of minced apple (about 500 grams / 1 pound).

Place apple and orange peel in a small saucepan and heat over medium heat. Stir and cook until the juice starts to come out, about 5 minutes. Add sugar and cook for another 5 minutes. Add cinnamon powder, cloves and salt and cook over medium heat until the sauce thickens. Begin adding apple juice, 4 tablespoons at a time. Continue cooking over medium heat, until the color of the apple turns amber and the sauce can hold its shape. The amount of apple juice you need will depend on the type of apple. I used 150 milliliters apple juice and 15 minutes for cooking two very crisp and sweet fuji apples.

Transfer the apple sauce to a small bowl to let it cool. Cover the bowl with plastic wrap and place it in the fridge.
To make cookies
When the apple sauce has cooled off completely, add flour into a large glass bowl and set aside.

Add butter, vegetable oil, water, sugar and salt to a medium-size sauce pan. Cook over medium heat, stirring occasionally.

The butter will start to bubble and rise. The bubbles should be tiny and have a pale yellow color. When the bubbles subside, the color darkens, and the tiny bubbles nearly disappear, turn off heat immediately and add the hot butter mixture to the flour. Stir immediately with a silicone spatula until dough forms.

Wait until the dough cools off a bit and can be handled by hand, about 3 minutes. Knead the dough by hand a few times. Break off a piece of dough by hand. The dough should be very soft and easy to to spread without feeling crumbly. If the dough is too dry, blend in 1 to 2 teaspoons water and try again. Work on the dough while it's warm.
To assemble cookies
Preheat oven to 210 degrees C (410 F). Line a baking tray with parchment.

Divide the dough into 4 approximately even sized pieces, then further divide each piece to 5 small doughs. Work on the small doughs one by one.

Use both hands to shape the dough into a round ball. Flatten the ball to a round disc, about palm-sized. Place about 1 teaspoon of applesauce in the middle of the dough.

Use right hand to wrap the dough toward the center, while using left hand to push the filling inside, until it shapes a ball. Shape the dough with both hands until round and place on parchment, at least a finger's width apart. Work on the cookies one by one in this way.

Use a fork to prick the top of each cookie.

Bake at 210 degrees C (410 F) until the top of the cookies turns golden brown, about 15 minutes. Transfer the cookies to a wooden board to cool off completely. Store in airtight containers and let them set a few hours until completely cooled down before serving.
Notes
The type of apple used will affect the cooking time and sweetness. I used two very sweet and crisp Fuji apples here. Slightly adjust cooking time and apple juice according to the type of apple you use.
The nutrition facts are calculated based on 1 of the 20 cookies generated by this recipe.