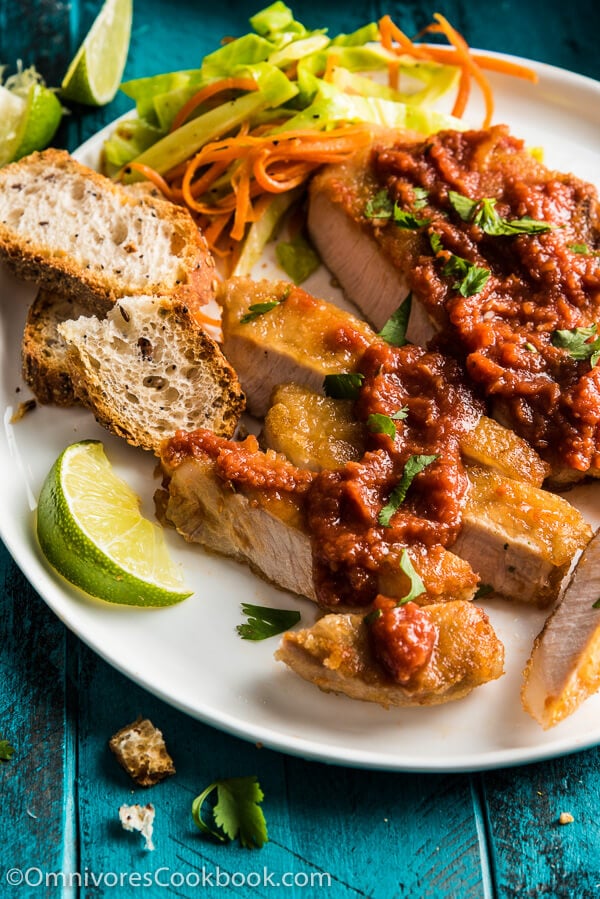 This pan fried pork chop with tomato tom yum sauce is easy enough to cook on a weekday evening, and fancy enough to serve at a dinner party.
Tomato tom yum sauce is a new discovery of mine. A creative twist on the classic Italian style tomato sauce, it's as comforting as marinara sauce. Once you finish a batch, you'll want to pour it on every single dish, devour it within minutes, and then use some bread to soak up any tiny bit of sauce left on your plate.
Making tomato tom yum sauce is very simple. I used Muir Glen plain tomato sauce as the foundation and added tons of fresh lemongrass, galangal, and Kaffir lime leaves.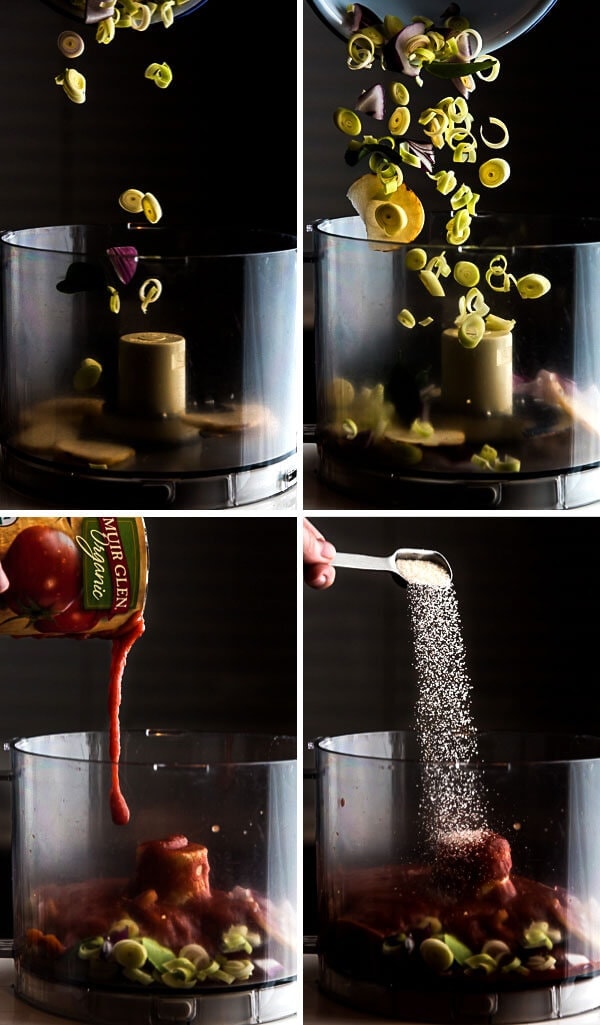 Then I pulsed them in the food processor. One… Two… Three… Suddenly I was surrounded with the fragrance of a tropical garden after the rain. Zesty and sweet, with a clean, grassy aroma.
My first batch of tomato tom yum sauce almost didn't make it to the stove. My husband and I started to dip tortillas chips in the sauce and snacked on them.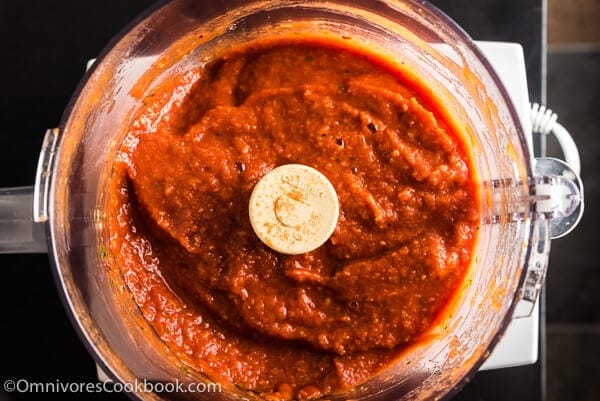 Cooking Notes
There are a few approaches to pan frying pork chops on the stove. Here, I introduced an Asian approach – marinate the pork in soy sauce and coat it with potato starch. The soy sauce will season the pork, infuse a savory umami, and give it a beautiful golden color after cooking.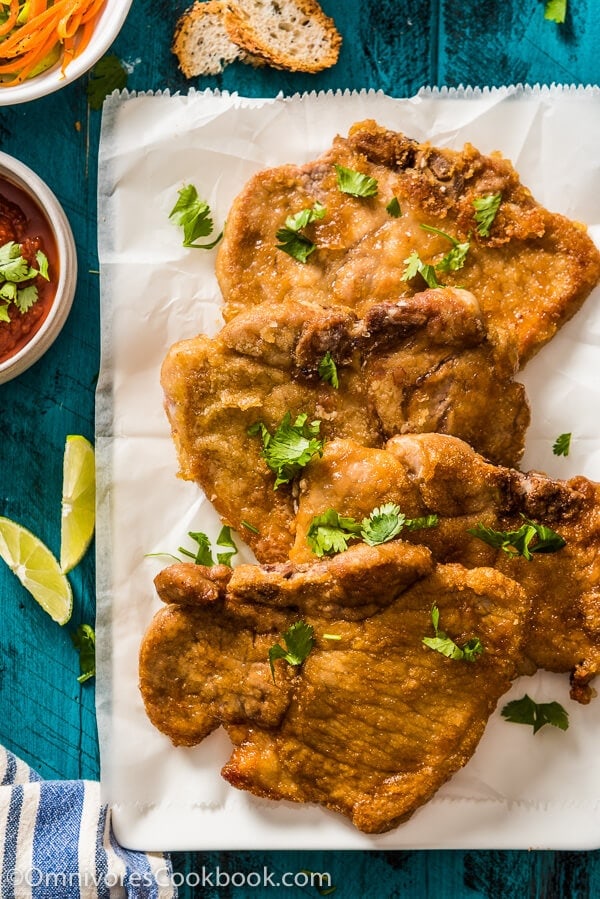 Coating protein with cornstarch is a classic Asian cooking technique mainly used for stir frying, to prevent the meat from overcooking and turning dry. I found it very effective in the pan frying process too, since its goal is also to cook through less-bulky meat at high heat in a short time. Make sure you heat up the oil before adding the pork chops. The starch will create a thin crispy crust on the outer layer while keeping the pork moist and tender.
If you're going to serve the pork chops immediately after cooking, you can place them on oil absorbing paper to get rid of some extra grease. If not, I recommend letting them rest in a strainer or on a cooking rack. It will drain some oil from the pork and keep the bottom side from turning soggy.
Making a side dish for this pan-fried pork is the easiest. You can bake some vegetables while prepping and cooking the pork, and serve them together with the tomato tom yum sauce. Our favorite side is baked eggplant. The sauce goes perfectly with it. Or you can do a quick stir fry immediately after the pork chop is cooked, while the pan is still hot.
See? You can serve a scrumptious meal in under 40 minutes!
PS. This recipe yields 4 servings of sauce. But even if you're cooking for two, I still suggest you cook the whole batch of sauce. Did I mention it goes well with everything?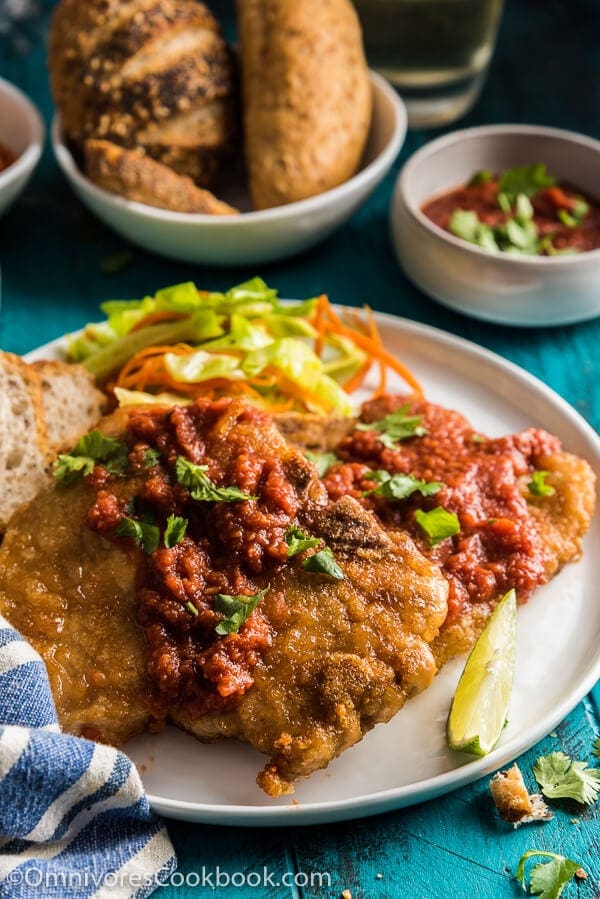 This post was created in partnership with Muir Glen Organic. All opinions/endorsements are my own. Thanks for supporting!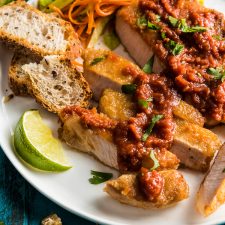 Pan fried Pork Chop with Tomato Tom Yum Sauce
This pan fried pork chop with tomato tom yum sauce is easy enough to cook on a weekday evening, and fancy enough to serve at a dinner party.
Print
Pin
Rate
Ingredients
Pork chop
4

bone-in thin pork chops

about 1/2-inch or 1-cm in thickness

2

tablespoons

soy sauce

1/3

cup

potato starch

2

tablespoons

olive oil
Tomato tom yum sauce
1

can (15-ounce / 426-gram)

Muir Glen tomato sauce

(no salt added)

1/4

cup

chopped purple onion

1/4

cup

chopped lower end of lemongrass

(or 2 teaspoons lemongrass powder) (*see footnote 1)

1/4

cup

sliced galangal

(or 1 teaspoon galangal powder)

4

Kaffir lime leaves

(or 1/2 teaspoon Kaffir lime leaf powder)

1/4

teaspoon

chili powder

1

teaspoon

sugar

2

teaspoons

fish sauce

2

tablespoons

freshly squeezed lime juice

, generated from 1/2 lime

Chopped cilantro leaves for garnish

(Optional)
(Optional) Sides
2

carrots

, sliced

1/2

small head cabbage

, sliced
Instructions
Combine pork chops and soy sauce in a large pan. Use a spatula to coat both sides of the pork chops with soy sauce. Let marinate for 10 minutes.

(Optional) If you're cooking a side to serve with the pork chops, chop the vegetables for it now. I used a julienne peeler to slice the carrot very thin, for a quick stir-fry. (*see footnote 2)

Add tomato sauce, purple onion, lemongrass, galangal, Kaffir lime leaves, chili powder, and sugar into a blender or food processor. Pulse a few times. Mix until the herbs are well blended into the tomato sauce. Transfer to a sauce pan.

Heat the tomato tom yum sauce over medium heat until it starts to bubble. Turn to low heat, cover, and simmer for 5 minutes. Stir occasionally to prevent from burning.

When the tomato sauce reaches desired consistency, remove it from the stove. Add fish sauce and lime juice. Mix well.

While simmering the sauce, prep and cook the pork chops. Spread potato starch on a large plate. Coat pork chops with potato starch and shake off any extra.

Place a strainer on a big bowl. Set it near the stove.

Heat oil in a large skillet until hot. Add 2 pork chops. Cook 2 to 3 minutes, until the bottom side turns golden. Flip and cook for another 1 to 2 minutes, until the juice runs clear when you poke the pork chop with a fork. Transfer the pork chop to the strainer to cool. If there is not enough oil in the pan, add another tablespoon of oil. Continue to cook the rest of the pork chops. (*see footnote)
Side
For a quick side, saute cabbage and carrot immediately after cooking the pork chops. There will still be some oil mixed with pork fat in the pan, and the pan will be very hot. The veggies will be seared immediately and lightly infused with the pork flavor. Season with salt and pepper. The side dish will be ready in a minute.
Serve
Right before serving, transfer the pork chops onto serving plates. Garnish with cilantro leaves. Serve warm with the tomato sauce and vegetables (or baked vegetables) on the side.
Notes
You don't need to blend the ingredients if you're using powdered spices. Simply mix everything in a saucepan and heat it up.
Instead of using the stir fried cabbage and carrot side in this recipe, you can use other vegetables for the stir fry (such as mustard greens, kale, cabbage, carrots, zucchini, etc). Or you can bake vegetables in the oven while preparing and cooking the pork chops. Eggplant, peppers, carrots, green beans, and potatoes will be good options for a baked side.
Nutrition
Serving:
457
g
|
Calories:
496
kcal
|
Carbohydrates:
31.2
g
|
Protein:
36.6
g
|
Fat:
27.1
g
|
Saturated Fat:
8.5
g
|
Cholesterol:
60
mg
|
Sodium:
647
mg
|
Potassium:
655
mg
|
Fiber:
5.5
g
|
Sugar:
11.9
g
|
Vitamin A:
5600
IU
|
Vitamin C:
64.4
mg
|
Calcium:
60
mg
|
Iron:
2.3
mg