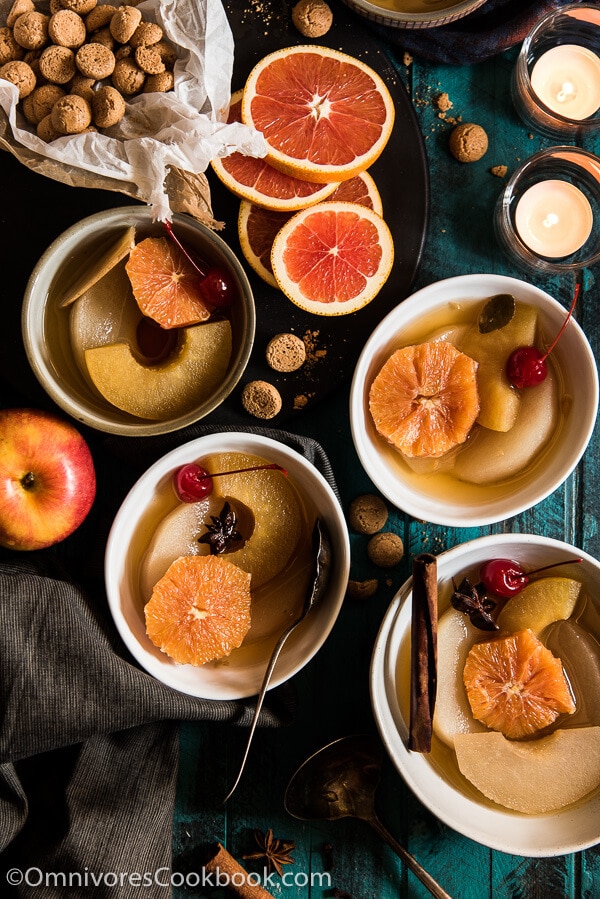 Oolong fruit compote combines Eastern and Western elements to create a simple and refreshing dessert that will be enjoyed by people from both sides of the world!
If you've ever traveled to Asia, you've noticed we have a very different dessert culture. In China, most restaurants don't even serve dessert after a meal, just freshly sliced seasonal fruits. In Taiwan and southeast Asia, there are desserts made from tropical fruits, tea, tapioca pearls, and rice, such as the black rice with coconut milk and fruits, Bubble milk tea, and Thai coconut rice with mango. In northern China, we enjoy hawthorn berry juice and candied hawthorn skewers during the winter.
In Asia, we prefer the lighter types of desserts, those made from fresh fruits, tea, grains, and nuts. They are way less sweet than the average Western dessert. Unfortunately, this is among the numerous reasons Westerners don't like Asian desserts.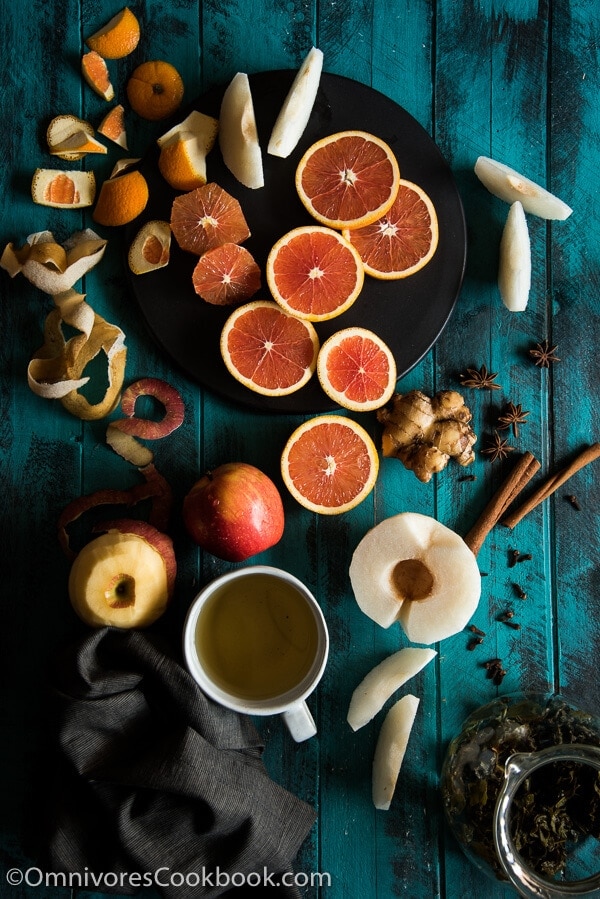 Today I am bringing you an oolong fruit compote. It combines Eastern and Western elements to create this perfect dessert that will be enjoyed by people from both sides of the world.
The fruit compote uses delicious winter fruit, such as pears, apples, and oranges, to make a refreshing and soothing dessert that is low in calories and full of nutrition. If you serve it after a heavy meal, it can also help you digest and cut through the grease.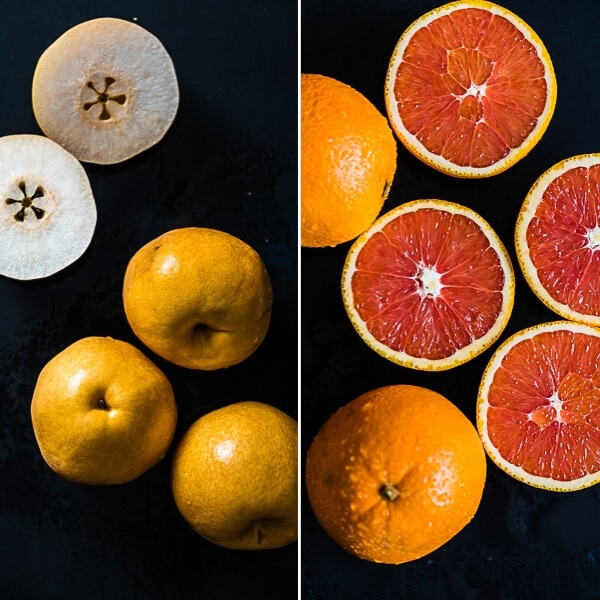 Moreover, you can make a big batch of it and snack on it during the day, to relieve your craving for sweets. It's only 118 calories per serving. So no guilty feelings, even if you finish a bowl late at night 🙂
It takes very little time and effort to cook the compote. But you do need to let it rest before serving. The longer you let it sit, the better it becomes. The fruits just get more tender and are infused with the nice fragrance of the spices. And the tea will become very fruity.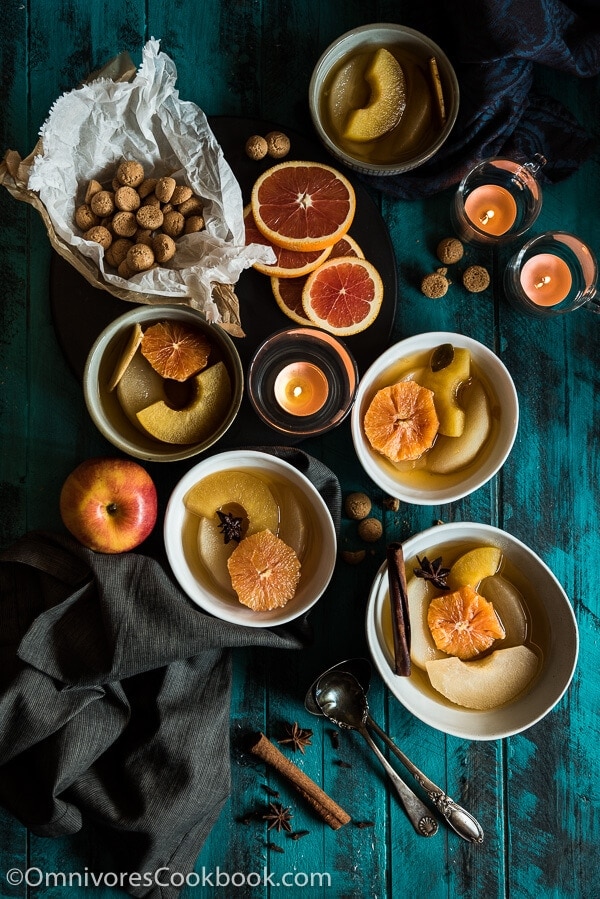 I know it's difficult to wait so many hours after cooking, while the sweet aroma from the orange, pear, and cinnamon fill up the room. I can't wait, either!
So when is the fruit compote ready to serve?
I have tried serving the dessert warm, about two hours after boiling. It's already very tasty at this point. But I admit, you'll love the compote even more if you let it sit for five hours or overnight. It can be served warm or cold.
If you're serving the fruit compote for a party, make it a day ahead of time and you'll get the best results. If you're cooking it just to snack on, you can make a big batch of it and enjoy it over the next few days. My compote stayed good in the fridge for three days without any problem.
Do you like Asian desserts? Leave a comment below and share your thoughts!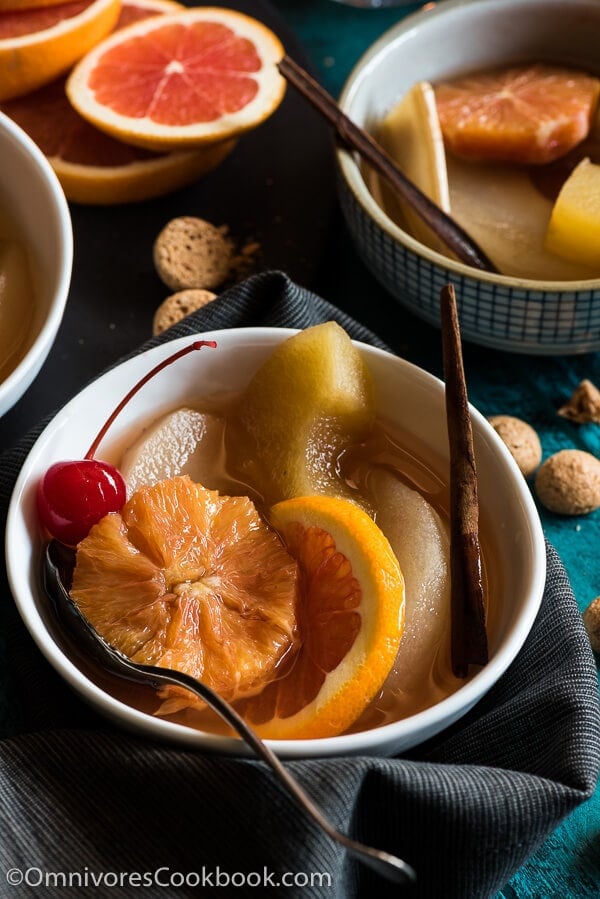 Do you like my recipes? Sign up for Omnivore's Cookbook's weekly newsletter to get the latest updates delivered to your inbox and a free e-cookbook!

Oolong Fruit Compote
Ingredients
2 tablespoons loose-leaf oolong tea (or 2 tea bags)
Spices
1/2 cup granular sugar (*see footnote 1)
1 teaspoon vanilla extract
1 cinnamon stick
3 cloves
1 large slice ginger
1 whole star anise pod
Fruits
1 Fuji apple, peeled, cored, and chopped to bite size
1 large pear, peeled, cored, and chopped to bite size
1 to 2 blood oranges (or normal oranges), supremed and sliced (*see footnote 2)
(Optional) 6 maraschino cherries for garnish
Instructions
Heat 3 cups water and the tea leaves (or tea bags) in a 2.8-liter (3-quart) pot over medium high heat until boiling. Cook for another 1 to 3 minutes, until the water turns to a pale amber color.
Remove tea leaves (or bags) with a fine mesh strainer and discard them.

Add all the spices into the tea. Heat over medium high heat, stirring occasionally to dissolve the sugar, until boiling.

Add apple and pear. Cover and cook over medium heat for 10 minutes.
Add blood orange. Continue to cook, covered, for another 3 minutes.

Turn off heat and remove the pot from the stove. Let sit, covered, for at least 2 hours at room temperature, or overnight in the fridge. Store the leftovers in an airtight container in the fridge for up to 3 days.
Transfer fruits and liquid into serving bowls, garnish with cinnamon stick and maraschino cherry. Serve warm or cold.
Notes
1. While this dessert is sweet enough for Asian taste buds, you can further reduce the sugar to 1/3 cup for a daily snack. Or you can slightly increase the sugar if you have a sweeter tooth.
2. To learn how to prepare the orange for this dish, check out
this video
.
The nutrition facts are calculated based on 1 of the 6 servings generated by this recipe.