Try using this method to make your morning latte. This drink is delicious, keeps you energized for 4 hours, and helps you lose weight!
Starting my day with a big cup of freshly brewed black coffee had become a daily routine for me. After waking up, I'd go straight to the kitchen and turn on the coffee maker. The sound of the steam running and the aroma of the coffee would start to wake me up. Five minutes later, I'd have a warm cup of coffee in my hands as I sat down in front of the computer. Sipping the hot coffee I'd feel the gears inside my head start to turn.
I'd been repeating the same rhythm for ten years, up until last month.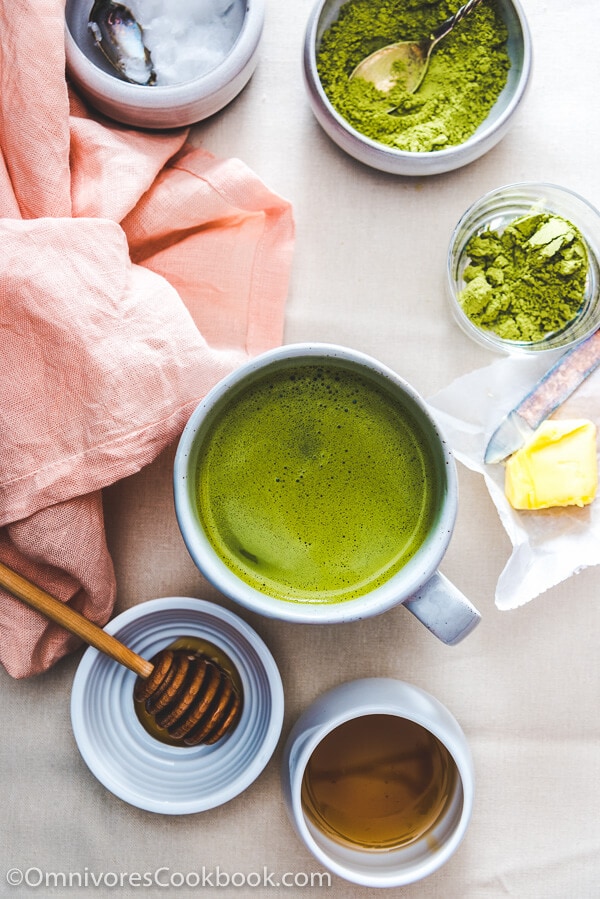 We experimented with the famous Tim Ferriss "morning cocktail", by blending tea with healthy fats to create a latte-like drink that boosts energy and brain activity. On top of that, the drink was delicious and contained less caffeine. That concept originated from the famous Bulletproof Coffee. By incorporating the spirit of adding healthy fat to your breakfast, you can create your own super drink that will help you stay focused, sharpen your mind, and ease cravings for food.
I really love the fact that now I only need one morning drink to feel energetic over the next 3 to 4 hours, without eating any food or drinking more coffee.
Another plus is that when you mix the fat with your tea or coffee, the fat will emulsify and create a latte-like drink without a drip of milk or heavy cream. Your coffee will have a nice layer of thick foam on the top. Its texture silky and smooth. You only need to add a spoonful of honey, to make your morning drink as delicious as a Starbucks latte that provides you with hours of energy and curbs your hunger.
Isn't it the best idea ever?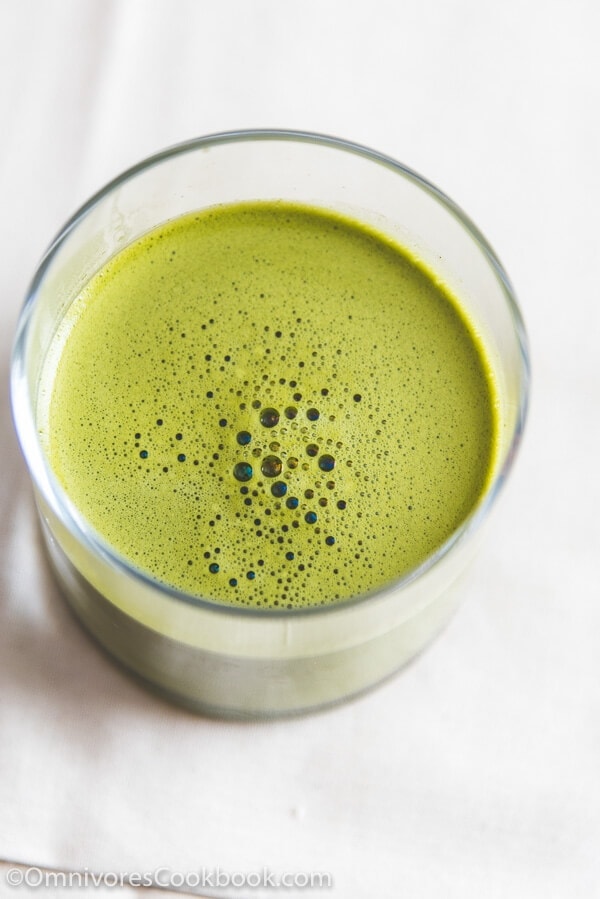 Now since I've learned the secret to making this super drink, I've been playing with the idea and started to make more types of morning drink. One of my favorites is the matcha latte. Unlike the traditional recipe, the super matcha latte does not require milk or cream. My recipe does use butter. If you want to create a dairy-free drink, simply replace the butter with coconut oil and you'll be all set.
All you need is: some matcha powder, a few types of healthy fat, honey, and a hand blender. Of course if you're making the drink for more than one person, you might want to do it in a big mixer. But since Thomas and I prefer different drinks, we make them in big coffee mugs with our Cuisinart hand blender to reduce cleanup.
For more information on the super drink and the science behind it, check out this post.
If you like the idea, also check out this post and this post by the First Mess for more delicious super drink ideas.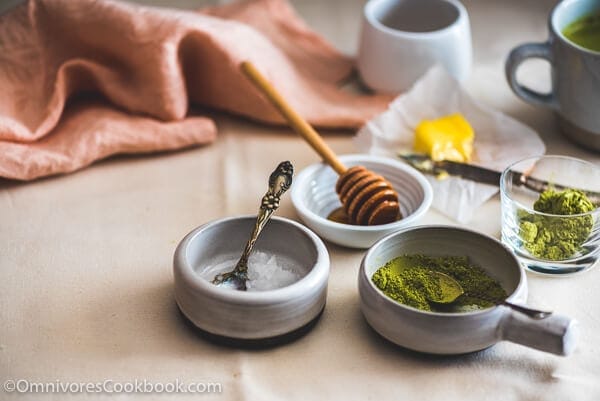 Do you like my recipes? Sign up our weekly newsletter to get the latest updates delivered to your inbox and a FREE e-cookbook that contains my top 30 most popular recipes!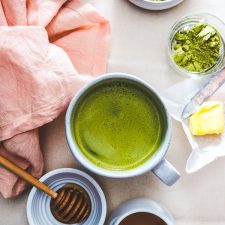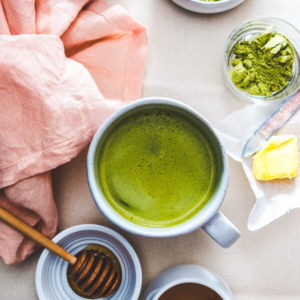 Superfood Matcha Latte
Try using this method to make your morning latte. This drink is delicious, keeps you energized for 4 hours, and helps you lose weight!
Print
Pin
Rate
Ingredients
2

teaspoons

matcha powder

(or 1 teaspoon for a milder tea flavor)

1/2

tablespoon

MCT oil

1/2

tablespoon

coconut oil

1/2

tablespoon

grass-fed unsalted butter

1

tablespoon

honey

(or to your taste)
Instructions
Bring 1 cup water to a boil. If you have an adjustable tea kettle, set the water temperature to 90 degrees C (180 F).

Combine matcha powder, MCT oil, coconut oil, butter, and honey in a tall glass.

Add 2.5 cm (1 inch) hot water. Mix with a hand blender until the oil is emulsified and fully incorporated with the matcha powder.

Slowly add the rest of the water. Stir to mix again.

The nutrition facts are calculated based on 1 of the x servings generated by this recipe.