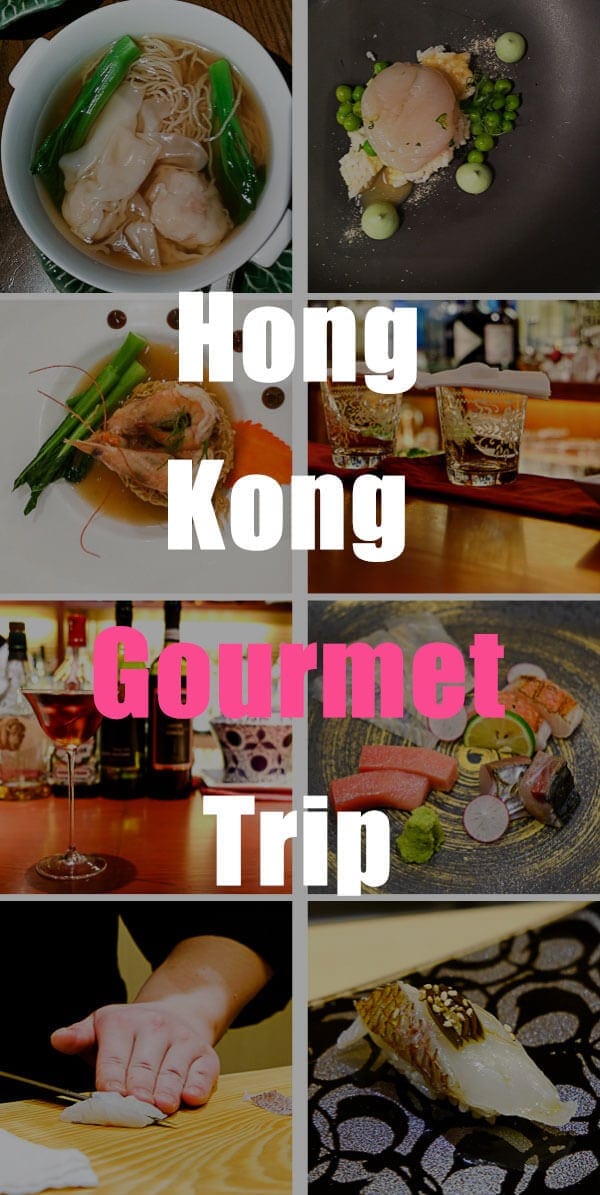 Our fun experiences dining at affordable Hong Kong Michelin-star and gourmet restaurants over a three-day trip.
Thomas and I just finished a three-day trip to Hong Kong at the end of 2015 to celebrate Christmas and New Year.
Our trip was entirely planned around food this time, and we ended up spending most of our time walking around the city, eventually to each restaurant, eating, and digesting. We ate way more than we should have, because there are thousands of delicious options packed onto a small island 1/20 the size of New York City. Right after landing at HKG, we began feasting nonstop and had three dinners at three different places within five hours. In the end, Thomas and I both agreed that we would die happily if/when our stomachs burst.
Before jumping into the food talk, I need to mention one thing. You will notice that this post is focused on gourmet food and that the average price of the meals is quite high in absolute terms. This is not necessarily the path you should follow as a traveller.
Hong Kong is the type of place where you can spend ten US dollars (often even less than three) and enjoy a very high quality meal in any part of town. Read this article on the must-eat foods – you'll be shocked at how cheap the food is, compared to prices in the US, Canada, and lots of European countries.
You don't even need to follow a guide. Many small diners are not on Google Maps, anyway. If you're walking around a busy neighborhood (Central, Causeway Bay, Tsim Sha Tsui etc.), you will come across a decent restaurant at least every five minutes, sometimes every five steps.
The day we arrived, we happened to walk by Tim Ho Wan (the Central shop), a famously inexpensive one-Michelin-star restaurant, that serves great dim sum. We gave up the place due to the long queue, then randomly chose a wonton place in the same building. Later on, we found out the place is on the Michelin "Bib Gourmand" recommended list. How amazing is that?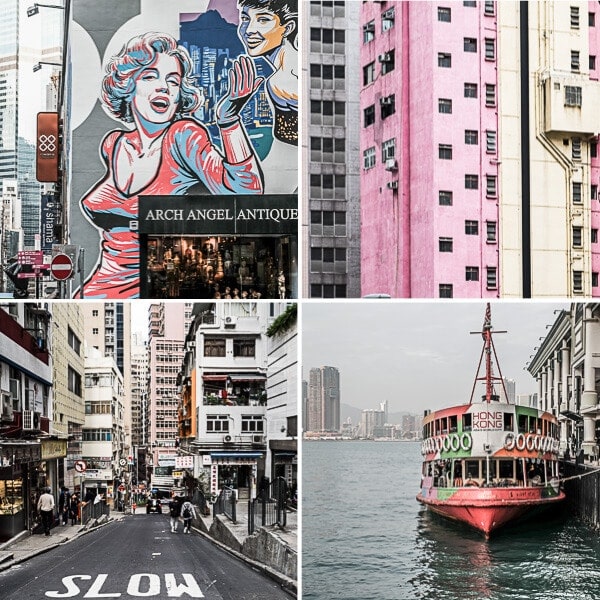 If you see a restaurant that serves Cantonese food (or any other type of Asian food) and is packed with customers, chances are that you will find very delicious food there. Do not be intimidated if the restaurant is tiny, the tableware simple, or the floor a bit greasy. They take good care of their food, no matter whether it's a bowl of handmade noodles topped with slow cooked beef brisket, a hearty pot of congee packed with seafood, or a dozen delicate shrimp dumplings, the price will be decent and the quality of food very high.
Why did we spend extra money on food this time? After Thomas and I got married this past August, we never had time to celebrate it with a special meal or honeymoon. So we decided to splurge on food during this trip.
If you enjoy gourmet food, I suggest you visit one or two of the places below, in addition to trying out street food and local diners. From the Hong Kong Michelin Guide 2016, we selected a few places that served interesting food, had good reviews, and marked cheaper prices (relative to counterparts in Western countries). We also came across a few wonderful places by luck. Now I want to share our delicious adventure with you!
Hong Kong Gourmet Trip
The restaurants below are listed in the order we visited them.
Duddell's (Dim Sum, two Michelin stars)
Date of visit: 27 December 2015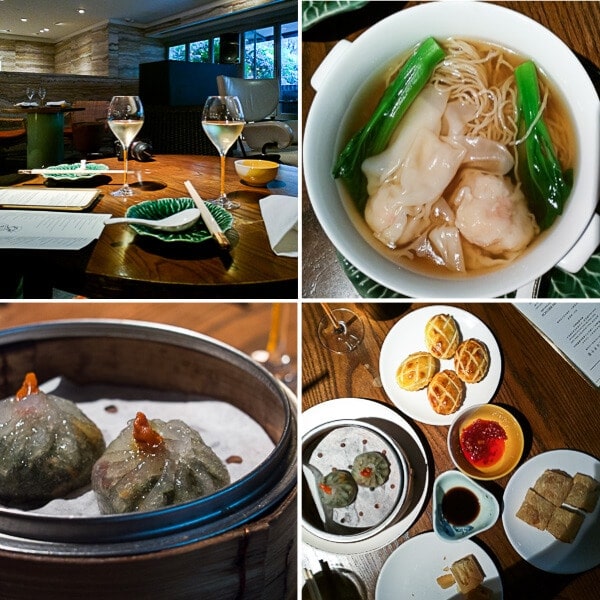 Duddell's serves classic Cantonese food with a gourmet twist. The venue is chic, artsy, and relaxing. We found the weekend brunch to be a steal. You can spend HKD480 (USD60) to enjoy fresh and unlimited dim sum at your table. Adding free-flow booze and soft drinks costs just an extra HKD200 (USD26).
The menu included 31 dishes, ranging from dim sum to dessert. Each dish was slightly more than a one-bite portion for two. We ordered a total of 20 dishes to share, and were too full afterward to eat anything until noon the next day.
Our favorite dishes were:
Spring roll with shrimp and black truffle – no egg roll can be completely satisfying after experiencing this
Crispy bean curd sheet roll with fungus (wood ear mushroom)
Hot and sour seafood broth (Cantonese style) – very different than the northern style and very tasty
Crispy pork ribs in sweet and sour sauce
Steamed fried rice with roasted duck in lotus leaf
Roasted pork neck
Chilled mango sago cream
We enjoyed the whole meal with Veuve Clicquot Brut Yellow Label champagne (which compliments both the sweet and savory dishes gloriously) and finished up with black coffee. We hated the fact that we didn't have large enough stomachs try everything on the menu.
Duddell's weekend brunch offers a good format for a slow classic Cantonese meal with booze. And we loved that it allowed us to try out many dishes in small portions. The ambience was great for hanging out and relaxing with friends, or even for a romantic date. On the other hand, if you do not care about venue and have a lot of time in Hong Kong, you can have similar food at much lower prices in small diners.
Address
Level 3, Shanghai Tang Mansion
1 Duddell Street, Central
Hong Kong
T: + 852 2525 9191
E: [email protected]
Bo Innovation (Asian fusion, three Michelin stars)
Date of visit: 28 December 2015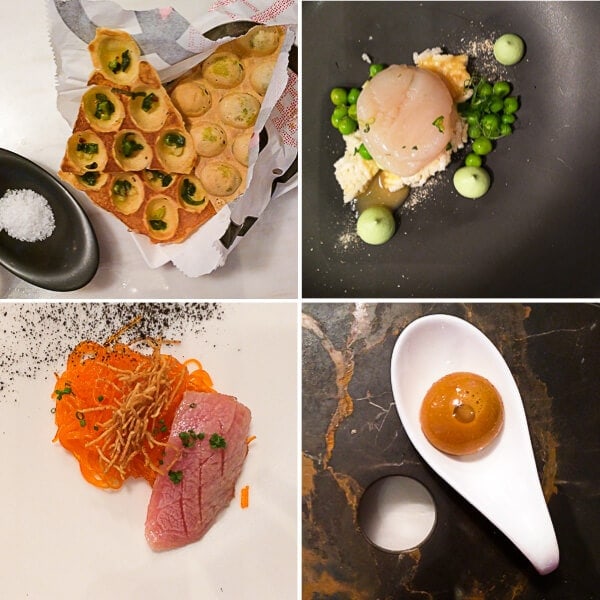 Run by chef Alvin Leung Jr., Bo Innovation serves modern Chinese fusion food with a scientific approach beyond the imagination of most diners. Aside from the great tasting dishes, I found the place full of inspiration. It was amazing to see how one can incorporate Asian flavors and ingredients with modern cooking techniques, and present the dishes in an innovative format. A great example of this is the char siu bao sphere, which invokes the experience of the classic BBQ pork bun via molecular gastronomy.
We tried the lunch chef menu. It contained eight courses with two choices of main. For HKD730 (USD94) plus a 10% service charge, you'll have a fun dining experience and enjoy high-end ingredients in a new way.
One of our favorites was the seared foie gras served with mui choy (Chinese preserved mustard greens) caramel ice-cream, green apple foam, and gingerbread. It was perfection of contrasting textures and flavors. Can you imagine crafting preserved pickled vegetables into ice cream? It turned out to be deliciously and appropriately complex when served with foie gras.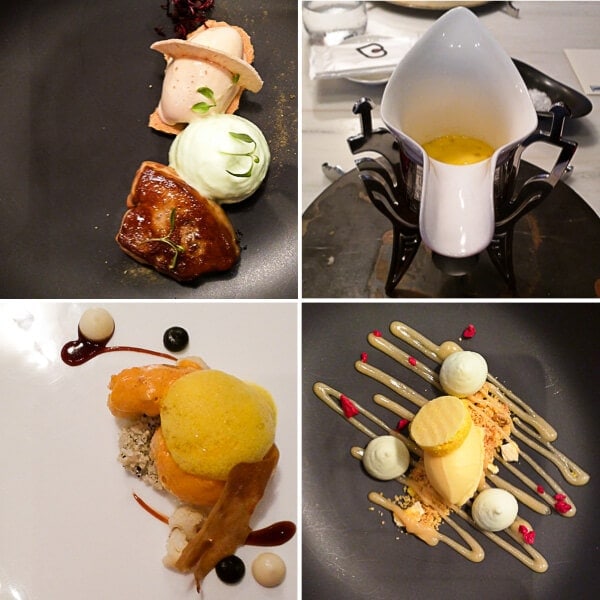 Another memorably interesting dish was the Mao Tai, a drink served in an imperial cup. It contained hawthorn, lemongrass, passionfruit, and Mao Tai (a distilled Chinese bai jiu with an alcohol content often over 50%). In China, we only drink Mao Tai straight. Imagine drinking straight vodka, only more pungent and fruity. It's a popular Chinese drink that I don't really care for, and that 99% of my Western friends don't like. Some have told me it tastes like sh**. This was my first time seeing a mixed drink that used Mao Tai, and turned out to be a very fruity and refreshing drink. So smart!
Other tasty dishes included:
Rice noodles soaked in a dried-shrimp-infused oil and grilled toro (fatty tuna, perfectly seared with a wonderful smokiness), served with a black powder called "wok air" (a smoky powder infused with ginger and green onion flavor)
Hokkaido scallop sashimi, woba (crispy rice sheets), sugar snap peas, drizzled with Shanghainese jolo (fermented rice vinegar sauce) and served with avocado cream and lemon powder
Deep fried langoustine (Norway lobster) with a salty-egg-yolk-flavored batter, topped with English mustard foam, black truffle cauliflower risotto, pickled cauliflower, duck jus sauce, and black truffle sauce
Star anise and pineapple ice cream served on a bed of crumbled shortbread with pineapple jam and winter melon sauce
Overall, Bo Innovation is a restaurant that offers creative food that uses fresh ingredients, Chinese flavors, and modern cooking methods, and focuses on the combination of visual experience, texture and flavor. It's a great place to try if you enjoy exploring new things.
Address
Shop 13,2/f,J Residence
60 Johnston Road,Wan Chai
Hong Kong
(Private lift entrance on 18 Ship Street)
T:+852 2850 8371
[email protected]
Sun Tung Lok (Tsim Sha Tsui) (traditional high-end Cantonese cuisine, two Michelin stars)
Date of visit: 28 December 2015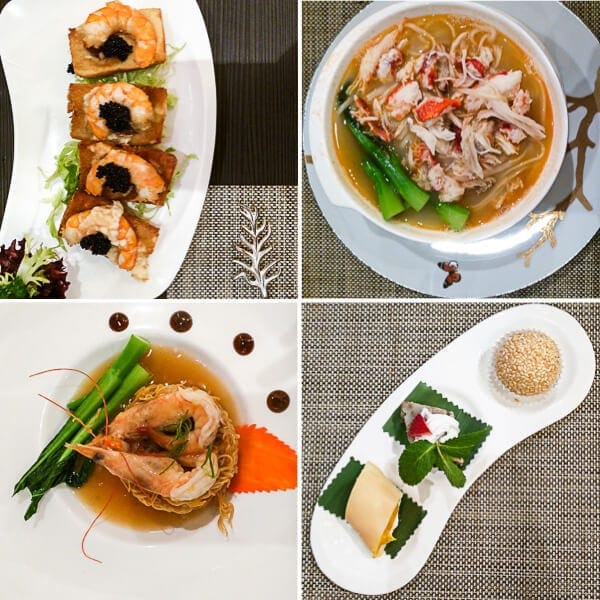 As a high-end restaurant for Cantonese cuisine, the majority of the menu involved exotic ingredients such as shark's fin, abalone, sea cucumber, fish maw, and bird's nest. These ingredients might sound very strange to you, but they are very important parts of Cantonese cuisine. As for the flavor, I personally do not think they're any tastier than (high quality) less exotic seafood. For me, the visit was a great cultural experience, as I came to understand how Cantonese cuisine selects ingredients and deals with flavors.
We had dinner and ordered from the à la carte menu. Choosing dishes from such a large menu wasn't an easy thing to do. In the end, we had a light meal of several courses that were mostly seafood.
We loved the appetizers. The jellyfish with spring onion and sesame oil was some of the best we'd ever had. They did a great job with the sauce, which was much more balanced than the northern style. The jellyfish had a clean, meaty, and crunchy texture. The other appetizer, fried toast with shrimp and caviar, was one of our favorites.
For the mains, we ordered roast suckling pig stuffed with minced shrimp, Hokkaido king crab leg with Inaniwa udon served in a seafood broth, and pan-fried crispy noodles with prawns and supreme soup. The first one was more like shrimp balls topped with roast pig skin. The shrimp was fresh and the skin crispy, but the overall texture was a bit dry. Perhaps we should have ordered the traditional roast suckling pig, to taste the original dish. Both noodle dishes were well made, with very fresh and flavorful seafood (the menu emphasized that they use live seafood whenever possible).
Our overall impression was that the food was well executed, the ingredients very fresh, and most of them delicately flavored. Again, our reason for choosing this place was to experience Cantonese food culture, and we enjoyed the whole meal. On the other hand, you can get a decent meal of fresh seafood at a much lower price at a less fancy diner.
Address
Shop 4D,Miramar Shopping Centre
132 Nathan Road, Tsim Sha Tsui
Hong Kong
Visit their website for reservation
Butler (Japanese Style Cocktail Bar)
Date of visit: 29 December 2015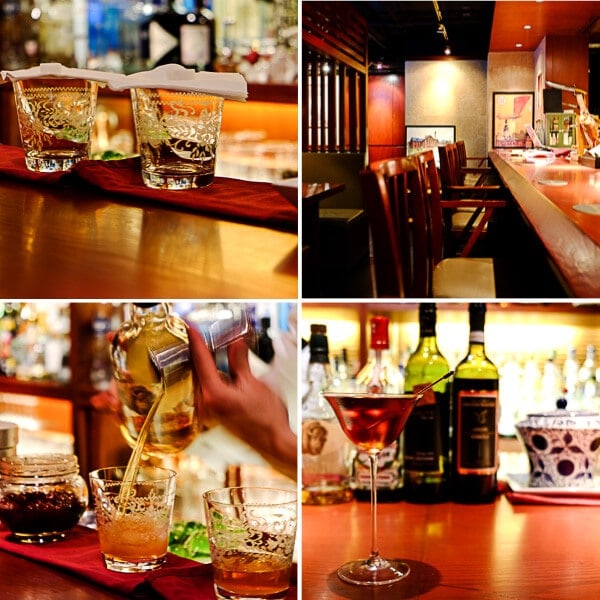 Butler is a modern and trendy bar run by a Japanese owner. Like most of the Japanese bars I've visited, the bartenders take their craft very seriously, with a high attention to detail, and are very creative when it comes to mixing drinks.
The menu contained a good selection of whiskies and cocktails. For some of the classic drinks, they added new twists to them and made them even more delicious. The price per cocktail ranged from HKD60 to 130 (USD8 to 17). There was a HKD30 (USD4) cover charge and a minimum spend per person of HKD200 (USD26), which may seem steep, but made it so that the bar was not overwhelmingly crowded. Plus, the drinks are all so nice that you'll want to order more than one, anyway. A reservation is a must, both on weekdays and weekends.
We were seated at the bar. The bartender presented the ingredients he used in front of us, explained the special ingredients to be used in each traditional drink, and how he'd tune the flavor to our personal tastes.  As we chose our drinks, the bartender introduced his choice of whiskey (if he had one to recommend), let us choose from a few, or offered the recommendations based on our personal preferences.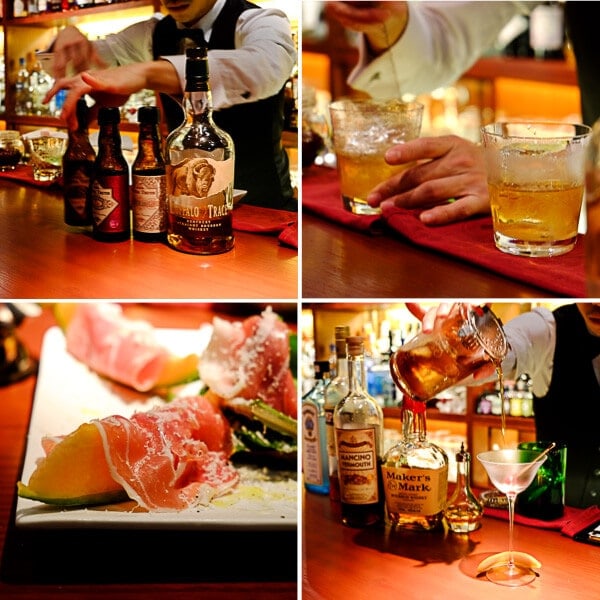 The old fashioned was one of the best I'd ever had. He used Buffalo Trace bourbon with three types of bitters – Jerry Thomas' Own Decanter Bitters, Chocolate Bitters, and Creole Bitters. The drink was garnished with, in addition to the Luxardo cherry, slices of lime, lemon, and orange, so we were free to tweak the flavor by squeezing a bit of juice however we wanted. I should have drunk it more slowly, but couldn't stop sipping because of the silky texture and well-rounded flavor.
For the second round, I chose the Perfect Manhattan from the list of signature drinks list and went with Maker's Mark as the base. For the third round, I asked the bartender to make a drink based on my first two drinks. It turned out to be delightful and was just the way I like my drinks. We also ordered some appetizers – melon wrapped with prosciutto and some sliced jamón ibérico (a whole leg of which resided on the bar). We made ourselves very happy, relaxed, and drunk without noticing the time passing.
If you enjoy a painstakingly made cocktail and want to enjoy some high quality drinks, this bar is a must-go. Again, please remember to make a reservation ahead of time, even during the week. And by the way, if you fail to make a reservation at Butler, try out the other Japanese (despite the Italian name) bar, Bar Buonasera, on the 7th floor of the same building. There are great drinks and a relaxing ambiance.
Address
5/F Mody House
30 Mody Road, Tsim Sha Tsui
Hong Kong
T: +852 2724 3828
Ikkei (traditional Japanese food and sushi, family style restaurant)
Date of visit: 30 December 2015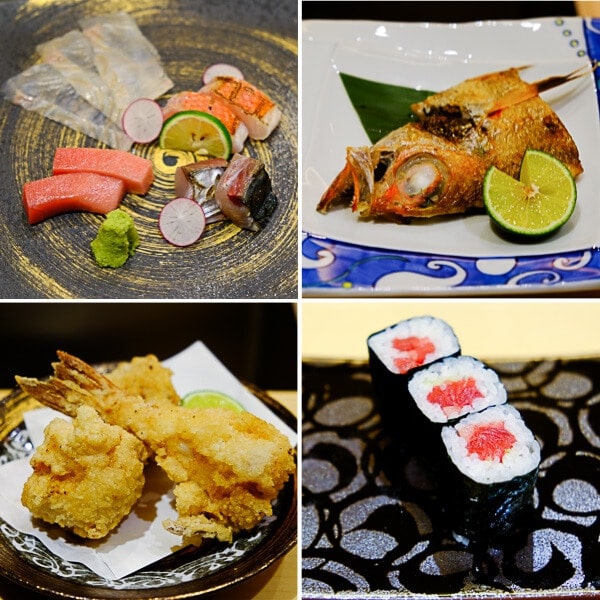 My favorite restaurant of the trip and one of my favorite Japanese restaurants of all time.
If you've read carefully, you'd have noticed that Ikkei and Butler are in the same building. We discovered Ikkei by pure coincidence. After three rounds of drinks at Butler, we wanted to have a Japanese dinner. It was our last night in Hong Kong and we didn't have any dinner reservations. I saw this place on the elevator panel as we were on our way out.
We were so lucky to come across this place, and I'm so glad I made the call to try it out.
Ikkei is a restaurant run by a Japanese couple. The chef, Kazu-san, who has been working in sushi restaurants in Japan for 15 years before opening this place, does the knife-work and cooking behind the bar. He serves each course as it's ready. His wife, Akie-san, grew up between Hong Kong, Japan, and California. She's in charge of the rest of the restaurant, which included serving us some very nice Japanese sake and chatting with us throughout the meal. She is friendly, humorous, and hospitable. We got to learn a lot of behind-the-scenes secrets of the restaurant and learned about sushi while enjoying the live cooking by the chef.
The restaurant is simple and cozy and contains just 14 seats. They offer only a chef's choice set menu (omakase), which contains six courses at a price of HKD999 (USD128). The menu changes every day, depending on the ingredients available. According to Akie-san, they import all the fish and seafood from Tokyo's Tsukiji market (the largest wet market in the world). The fish is selected by a trustworthy handler they know personally, who tastes and judges the ingredients early each morning, selects and purchases the good ones, and ships them to Hong Kong by air. The chef won't know what he'll be cooking with that day until two o' clock in the afternoon.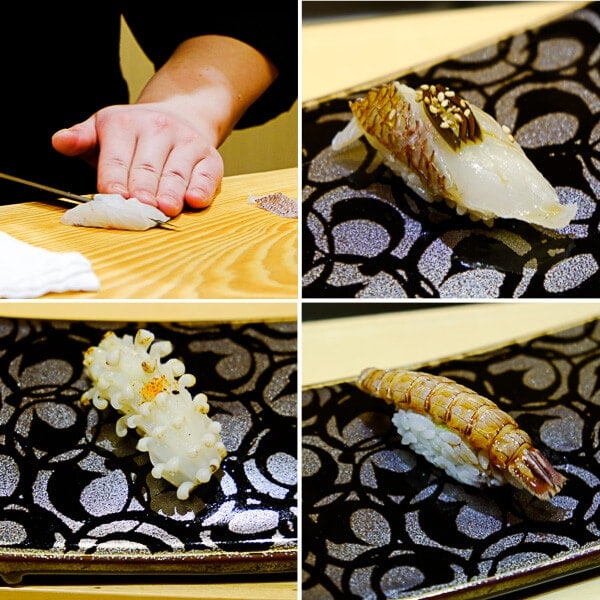 The dining experience was perfect.
We got the chance to enjoy some real-deal Japanese food that is almost unobtainable outside of Japan. For example, we didn't see the familiar salmon sushi, because salmon is not a popular fish to use in traditional sushi (and doesn't come from Japan). We didn't need to use soy sauce on most of the sushi, because the chef used a unique dressing on each piece. We were totally wowed that a piece of near-raw mackerel could taste like heaven.
If you've ever watched the documentary (Jiro Dreams of Sushi) about Sukiyabashi Jiro, you understand that sushi is an art and that it takes a chef's lifetime to perfect. Even with the same fish, all sushi will come out tasting differently depending on the chef's method and skill. The sashimi and sushi we had at Ikkei were wonderful and blew my mind. Each piece was prepared to bring out the best texture and flavor, and that changed my perspective toward certain fish.
The courses of the day:
Herring roe (数の子) as the appetizer
Sashimi: fatty tuna (中トロ), mackerel (鯖), kinmedai (金目鯛), flounder (ヒラメ) – a Foodgasm I wished had never ended
Grilled snapper head (真鯛焼き) – Melt-in-your-mouth tenderness plus buttery flavor
Nigiri sushi: snapper (真鯛), mantis shrimp (蝦蛄), uni (ウニ), squid (イカ) – I really wished they'd served two pieces of each!
Fugu (フグ) – Properly cut by a certified chef in Japan. Great texture and glad we're still alive!
Maki sushi of two types of tuna (中トロ、マグロ) – Looks plain but tasted way better than any other maki sushi I'd ever had. The combination of two types of tuna gave it a full-bodied flavor.
Miso soup with fish – Didn't know that a bowl of miso soup could be so tasty and delicate.
The dinner was indeed a feast of fish and seafood. We were so excited during the meal that we ordered a second bottle of sake (the sparkling kind; first time trying and it was very tasty) after finishing the first bottle (they offer three different labels every day, imported from Japan, must-try), and some umeshu (try it out if you haven't).
If you love real Japanese food (like me), this place is a must-go. If I lived in Hong Kong, I'd go there for dinner regularly. At the time we visited, they had only been in business for five months and the restaurant was absent from Google Maps and most review sites. If I were to rank the place, I'd say, it's exceptional cuisine and worth a special journey.
Address
8/F Mody House
30 Mody Road, Tsim Sha Tsui
Hong Kong
T: +852 2312 2863
*** THE END ***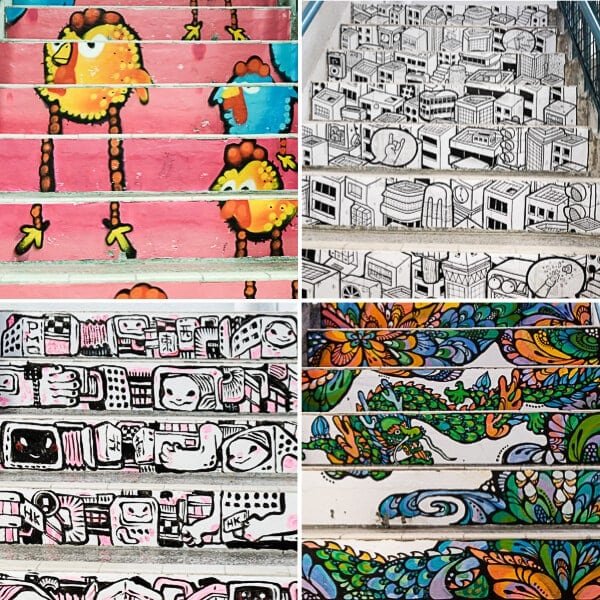 (Interesting stairs at PMQ – an artsy area for startups and creative, and design businesses)